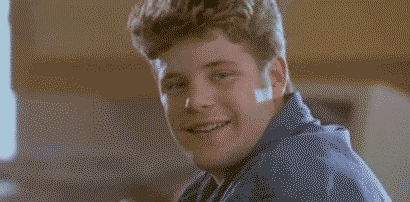 About
Denied Encino Man is a reaction GIF of American actor Michael DeLuise shaking his head in disapproval in a scene from the 1992 comedy film Encino Man. On image boards and discussion forums, the reaction GIF is often used to convey disapproval or rejection of an idea once thought to be promising.
Origin
The 1992 American comedy film Encino Man was released on May 22nd, 1992. In the scene captured by the reaction GIF, Dave (Sean Astin) waves to his crush Robyn (Megan Ward) and Matt (Michael DeLuise) quickly pops up in front of Robyn and shakes his head while wearing a grave expression. The clip was first uploaded to YouTube by Youtuber landmatter[2] on October 24th, 2008. As of June 2014, the video has gained over 20,000 views.
Spread
One of the earliest uses of the GIF as a reaction image was posted on the online Poker forum TwoPluTwo[3] on March 2nd, 2010, by user jt217 in response to user The Big Dirty's question:
"Does anyone have the gif where the guy looks over at the girl and the other guy pops out shaking his head lol"
On October 12th, 2011, a user on Yahoo Answers[11] posed a question about the GIF's scene asking:
"What's the movie where a guy waves to a girl but then her boyfriend comes out of nowhere and shakes his head?"
A since deleted used answered Encino Man.
On May 16th, 2012, gif-central[10] published an entry titled "Encino Man-No" highlighting the GIF. On November 4th, 2012, Redditor plagued doctor posted an animated GIF that had characters from Team Fortress 2 recreating the GIF to the subreddit /r/tf2[9]. As of July 2014, the GIF has gained over 2,700 points.

The reaction GIF was posted on several Tumblr blogs in 2012, with the three gaining over 100 notes posted by mindlesscomfort[4], 6trash6boat6[5] and itsnoteasybeingginger.[6] In 2013, the two which gained over 100 notes were posted by foxx-ommok[7] and revoilluminati.[8]
Various Examples
The GIF has often been edited so the disapproving head shake is given by a specific person or shows disapproval for an image added within the GIF.





Search Interest
External References