Zamii070 Harassment Controversy
Overview
Zamii070's Harassment Controversy refers to the online backlash against artist Zammi070[7][8] on Tumblr, who accused her depictions of characters from animated shows, most notably Steven Universe, of promoting race-lifting, transphobia and body shaming. In October 2015, Zamii revealed she had attempted suicide as a result of the online harassment she received.
Background
Leading up to her suicide attempt, Steven Universe fans on Tumblr accused Zamii070 for creating problematic depictions of the characters Rose Quartz and Fluttershy from Steven Universe and My Little Pony: Friendship is Magic, respectively and among other deviations, for perpetuating bigotry such as racism, transphobia and fatphobia (shown below). Zamii070 is also known for cosplaying, some of which was met with harsh criticisms as well.[9]




On October 19th, Zamii published a blog post saying that she was "going to sleep forever."

On October 22nd, Redditor dongerman submitted a post speculating that Zamii had "passed away" to the /r/homestuck.[5] On October 23rd, Zamii uploaded a video titled "I'm Sorry" in which she revealed that she was in the hospital receiving treatment and that she was going to "get better" (shown below).
Zamii later uploaded an update vlog, urging others with suicidal thoughts to contact a suicide suicide hotline.


Notable Developments
Online Reaction
On October 25th, Steven Universe creators publicly condemned Ziamii's harassers on Twitter (shown below).


The same day, Redditor heyyouyeahyou55 submitted a post titled "what happened to zami070" to the /r/OutOfTheLoop[2] subreddit. Meanwhile, a gallery providing background info on the harassment was uploaded to Imgur.[1] On October 27th, the Tumblr blog Plebcomics posted an illustration of a thin Rose Quartz to show her support to Zamii (shown below, left).[3] The same day, Tumblr user pessimisticnarcissistic[4] published a post defending the public shaming of Zamii and Tumblr user gamblingdemontor[6] urged people to unfollow if they "support people drawing canonly fat characters as skinny" or "whitewashing PoC representation" (shown below, right).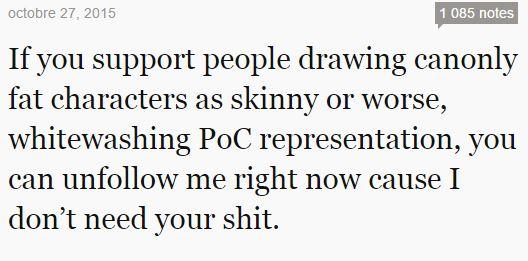 Search Interest
External References