About
"I Have the High Ground" is a catchphrase based on a line said by Obi-Wan Kenobi in the 2005 film Star Wars: Episode III -- Revenge of the Sith . Online, the phrase is often used in Prequel Memes, i.e. jokes regarding Star Wars: Episodes I, II and III.
Origin
"I have the high ground" is a line from the 2005 film Star Wars: Episode III -- Revenge of the Sith. During the film's climax, in which the characters Obi-Wan Kenobi (Ewan McGregor) and Anakin Skywalker (Hayden Christensen) duel on the fire planet Mustafar, Obi-Wan leaps over Anakin's head and onto a nearby hill. There he yells, "It's over, Anakin. I have the high ground."
The line has become a fan favorite inspiring memes, jokes, and other media. One of the earliest iterations comes by way of a Lego-themed webcomic on the website Irregular Webcomic,[1] published February 24th, 2006 (shown below).

Among the first versions of the line as a meme is a Demotivational Poster,. On November 9th, 2009, Motifake user Bartimus[2] posted an image from the scene with the caption "You've Lost."

Spread
Since 2013, the phrase "I have the higher ground" has been a popular catchphrase on 4chan's /tv/ board with users referring to it in conversation about Obi-Wan or the prequel trilogy.[6][7][8][9]
On May 26th, 2016, the stop-motion animated television series Robot Chicken parodied the "high ground" scene by having the the character Obi-Wan refer to his ownership of the high ground to justify his morally questionable behavior. Within one year, the clip has more than 2 million views on YouTube.
"I have the high ground" has become very popular on the subreddit /r/PrequelMemes,[5] where the quote is frequently inserted into other meme forms. On February 12th, 2017, Redditor yeezus-christ-[3] shared an Increasingly Verbose Meme (show below, left) using the line, garnering more than 1,300 points (96% upvoted) and 30 comments. That day, another user, ItsJonesyy,[4] posted a three-panel combining the "high ground" scene with images from The Avengers. The post received more than 1,200 points (98 upvoted) and 20 comments in two months.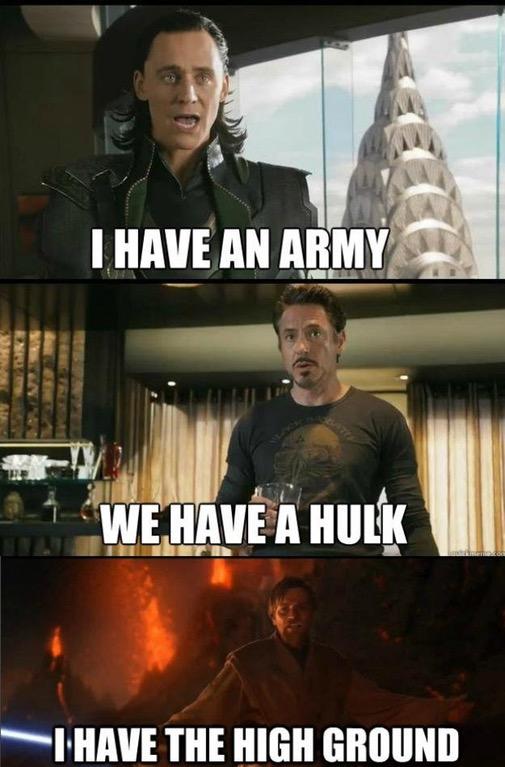 Various Examples






Search History
External References