Increasingly Verbose Memes
About
Increasingly Verbose Memes, also known as Deconstruction Comics, are a series of multi-pane images featuring a preexisting meme poorly redrawn in MS Paint several times – or, alternatively, successively degraded using JPEG compression – accompanied by a caption rewritten to become increasingly verbose with each successive illustration. The reciprocal relationship between the increasing verbosity and the decreasing graphic fidelity is a characteristic of some ironic memes.
Origin
On May 8th, 2016, Imgur[2] user AFuckingWhiteMale posted a gallery of Breath-in, Boi examples, featuring several redrawn illustrations of the original image with verbose variations of the caption "breath in / boi" (shown below).

Naming
This type of meme has a number of names attached to it due, in part, to a lack of comprehensive structure when creating these types of memes. Some early, alternate names to 'increasingly verbose' include meme corruption, deconstructed memes, verbose memes, and meme decay .
In November 2016, YouTuber The Kase Reibe called the meme style a "progressively verbose" meme[6], giving rise to the now common name "increasingly verbose" as it picked up in /r/coaxedintoasnafu in December 2016.
Precursors
The series Coaxed Into a Snafu features poorly redrawn variations of internet meme characters, along with reworded versions of their associated catchphrases (shown below, left). Additionally, the series bears many similarities to Verbose Memes, an image macro series featuring lengthy reworded variations of internet meme references (shown below, right). Similarly, the meme may be derived from Archaic Rap.


Spread
One of the earliest spin-offs dates back to October 7th, whenYouTube user 'The Kase Reibe' uploaded Press X to Doubt (below), a video spin-off of an L.A.Noire Increasingly Verbose Meme of the same name. Kase Reibe (presumably) narrates the increasingly verbose meme with their own voice, with their audio quality degrading over time in tandem with the video resolution.
On December 11th, Redditor Stop_Drop_And_Roll submitted an increasingly verbose image based on a picture of the Heavy Weapons Guy from Team Fortress 2 with the caption "put a dispenser here" (shown below, left). Within three weeks, the post garnered upwards of 3,700 votes (89% upvoted) and 70 comments on /r/tf2.[5] On December 20th, Redditor ChronicVenom submitted a post asking about the series to /r/OutOfTheLoop,[4] including an increasingly verbose version of Big Smoke's Order (shown below, right).


On December 25th, Redditor Thomasvdw14 submitted a Bee Movie-themed increasingly verbose image to the /r/dankmemes[3] subreddit, where it accumulated more than 1,200 votes (96% upvoted) and 30 comments (shown below, left). On December 27th, 2016, an increasingly verbose meme posted on /r/MemeEconomy[1] reached the front page of Reddit, amassing over 17,000 votes (84% upvoted) in 24 hours (shown below, right).


Various Examples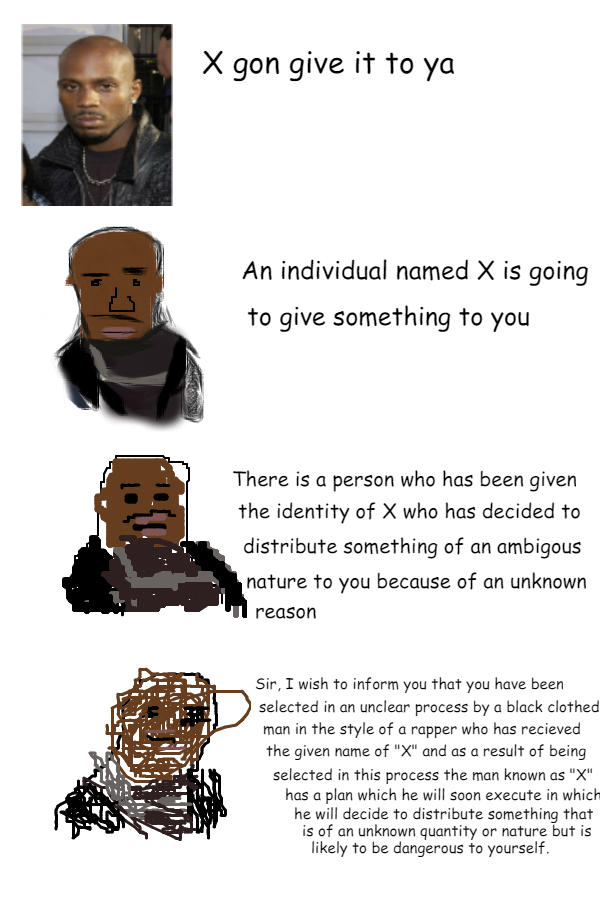 Search Interest
External References