Is He Stupid? / Is She Smart?
About
Is He Stupid? or Is She Stupid? is a catchphrase and phrasal template that started on the /r/okbuddychicanery subreddit in which users ironically ask about certain plot details of the Breaking Bad universe lore, calling out the villain Gus as "stupid" for complaining about a worker's cooking skills for his facade-restaurant. The trend became popularized in February 2023, inspiring other fandoms to post memes of plot details that the main character could've easily solved. As the trend expanded into March 2023, other variations of the phrase setup emerged, particularly Is He Smart? and Is She Smart?, among others.
Origin
On May 4th, 2022, Redditor u/Lebind[1] shared a picture of a Better Call Saul scene from season six episode four in which the villain Gus is commenting about an employee's cooking skills not being fit for the Los Pollos Hermanos restaurant. Redditor u/Lebind added the image in the subreddit /r/okbuddychicanery[2] with the caption "I was watching BrBa and got to this scene, ¿Why the does gus give a shit if Walt can cook a fucking chicken? ¿Is he stupid?" The post garnered 67 upvotes and six comments in a year (seen below).

Spread
On February 5th, 2023, Redditor u/Encajado[3] shared a picture of a Batman: Arkham Knight scene in which Batman is looking over the city after the villain Scarecrow activated a device that shrouded the entire city in a deadly fear gas. User u/Encajado added the image in the lore recap section of the /r/BatmanArkham[4] subreddit with the caption "Why doesn't Batman just call the Justice League for help? Is he stupid?" The post[5] received 5,500 upvotes and 550 comments in one month (seen below).

The trend was initially kept on the /r/BatmanArkham subreddit but spread to other subreddits and fandoms in early March 2023. For instance, Reddit[6] user /u/POKing99 uploaded an image to the /r/lotrmemes subreddit on March 11th, depicting Frodo from The Lord of The Rings with the caption "Why does he keep getting stabbed? Is he stupid?" The post (seen below) received 5,400 upvotes and 304 comments in five days.

The /r/MortalKombat subreddit community also joined the trend, with a post mocking Raiden's reasoning for killing Liu Kang in the 2011 Mortal Kombat game. Uploaded on March 15th by Redditor[7] /u/DeadshotCanTwine, the post (seen below) garnered 890 upvotes and 144 comments in a day.

Twitter[8] users also got on board in the trend, like @Sxmureye who, on March 14th, shared an image of Ace's execution in the One Piece anime with the ironic caption "Why didn't Ace just get up and leave? Is he stupid?" The tweet received 3,690 likes and 171 retweets in two days (seen below).

Other variations of the phrase also spread in March 2023, such as "is she not smart?" For example, on March 19th, 2023, Redditor Terraknor posted one such meme using this version on the /r/FireEmblemHeroes[11] sub, receiving over 580 upvotes in five days (seen below).

Is He/She Smart?
Additional counter-versions to the original "is he/she stupid?" memes emerged going into late March 2023. For example, Redditor[10] IndependentUpper5965 posted one using the caption "Is he smart?" on March 20th, receiving over 1,700 upvotes in four days (seen below, left). On March 24th, Redditor Existing-One-3199 posted another example to the /r/freefolk[9] subreddit, receiving over 1,800 upvotes in 12 hours (seen below, right).


Various Examples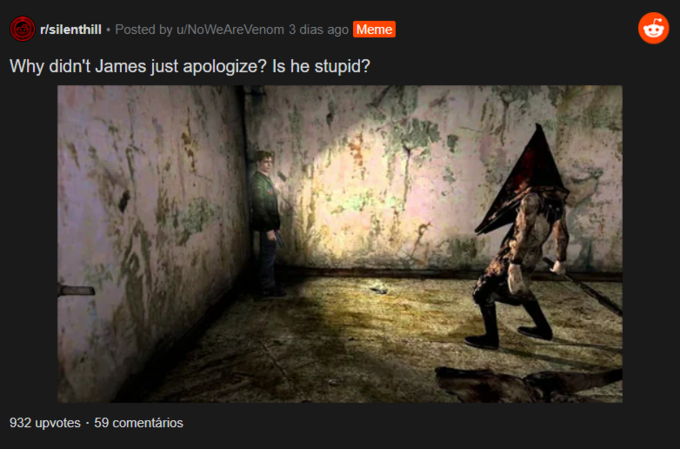 Search Interest
External References
Recent Videos
There are no videos currently available.