About
Batman is a DC comics superhero who fights crime in the fictional city of Gotham. His secret identity is Bruce Wayne, a play-boy billionaire who uses his money to finance gadgets, vehicles and other crime-fighting technology. Wayne's motivation for becoming Batman stems from witnessing his parent's murder at the hands of the criminal Joe Chill when he was eight years old. Batman regularly faces certain villains including the Joker, Two-Face, the Penguin, Bane, Poison Ivy, Killer Croc, Mr Freeze, Ra's al Ghul, the Scarecrow and the Riddler.[1]
History
Batman was first introduced in May of 1939 in Detective Comics #27 (shown below, left), illustrated by artist Bob Kane.[2] The character had several cameo appearances in the series before receiving a solo title in 1940, which introduced the villains Joker and Catwoman. In 1966, the television series Batman was launched, which starred actors Adam West as Batman and Burt Ward as his sidekick Robin[3] (shown below, right). On July 30th, 1966, the film Batman: The Movie was released, featuring the same cast as the television series.[4]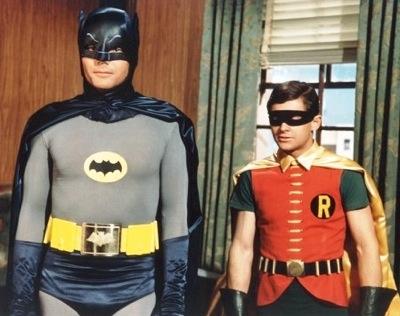 On June 23rd, 1989, the Tim Burton film Batman [5] (shown below, left) was released, which starred Micheal Keaton as Batman and Jack Nicholson as The Joker. The sequel Batman Returns was released on June 19th, 1992, which featured Danny DeVito as the Penguin and Michelle Pfeiffer as Catwoman[6]. The cartoon television show Batman: The Animated Series[12] (shown below, right) first aired on September 5th, 1992 and ran 85 episodes before ending on September 15, 1995. The show introduced Joker's sidekick Harley Quinn and reinvented the back story of the villains Two-Face and Mr. Freeze. It was then succeeded by The New Batman Adventures.[13]


On June 16th, 1995, the film Batman Forever [7] was released, which replaced Micheal Keaton with Val Kilmer as Batman (shown below, left). On June 20th, 1997, the film Batman and Robin [8] was released, with George Clooney as Batman, Arnold Schwarzenegger as Mr Freeze, Uma Thurman as Poison Ivy and Alicia Silverstone as Batgirl. The animated series Batman: Beyond [14] (shown below, right) first aired on January 10th, 1999, which took place 20 years after Bruce Wayne retired as Batman, having handed over the alter ego to the teenager Terry McGinnis.


On September 11th, 2004, the television series The Batman[15] premiered, which ran for five seasons before ending on March 8th, 2008. On June 15th, 2005, the film Batman Begins [9] (shown below, left) was released, which was directed by Christopher Nolan and starred Christian Bale as Batman. On July 14th, 2008, the sequel The Dark Knight was released, starring Aaron Eckhart as Two-Face and Heath Ledger as Joker[10]. On November 14th, 2008, the show Batman: The Brave and the Bold[16] (shown below, right) premiered on the Cartoon Network, which ran for three seasons before ending on November 18th, 2011.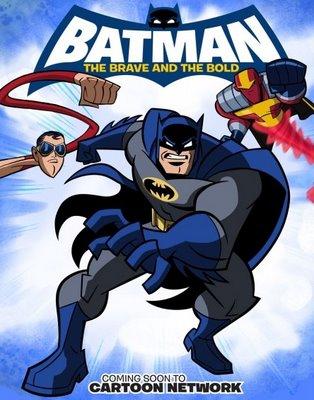 On August 25th, 2009, the video game Batman: Arkham Asylum[17] (shown below, left) was released by Rocksteady Studios for the PlayStation 3, Xbox 360, PC and Mac. The game revolved around Batman's visit to Arkham Asylum, a mental hospital used to rehabilitate many of Batman's greatest enemies. On October 18th, 2011, the sequel Batman: Arkham City [18] (shown below, right) was released, in which the player battles enemies in a mega-prison designed by the villain Hugo Stange.


Reception
By 1966, sales in Batman comic books rose significantly following the release of the Batman television serious, reaching close to 900,000 copies at its peak. Frank Miller's limited 1986 comic series The Dark Knight Returns was considered a huge financial success, and was suspected of igniting a resurgence in the character's popularity. Batman: The Animated Series won four Emmy Awards from 1993-1996 and was nominated for six more. Tim Burton's 1989 film Batman earned over $400 million and won an Academy Award for Best Art Direction. Christopher Nolan's 2008 film The Dark Knight received eight Academy Award nominations, winning Best Sound Editing and actor Heath Ledger was awarded Best Supporting Actor after his death.
#Batfleck
On August 22nd, 2013, Warner Bros. announced that Ben Affleck will replace Christian Bale as Batman for the film series, beginning with the upcoming Batman-Superman crossover film slated for release in July 2015. The news of Affleck's casting immediately triggered negative reactions on Twitter, where many fans demanded Bale to remain on the project and others expressed skepticism towards Affleck, citing his previous superhero role in the 2003 film adaptation of Daredevil.

According to social media analytics firm Fizziology, 71% of the 96,088 tweets within the first hour of Warner Bros.' announcement were negative comments. In the following 24 hours, several Batman-related hashtags began trending on Twitter, most notably #Batfleck[26] and #BetterBatmanThanBenAffleck[27], as well as a slew of photoshopped images portraying Affleck as Batman and his close actor friend Matt Damon as Robin (shown below).



Meanwhile, Kentucky resident John Roden submitted a Change.org[28] online petition pleading the film studio to remove Ben Affleck from the cast, which gained more than 14,000 signatures in less than 24 hours.
Online Presence
The official DC Comics Batman page[21] features a blog as well as sections dedicated to the comics, films, television, video games and characters in the series. The Batman Wiki[22] includes detailed information on the franchise, including character bios and summaries of comics, television episodes, films, toys and books. As of July 12th, 2012, the Batman public figure Facebook[23] page has accumulated over 4.8 million likes. Batman on Film[24] is a fan blog with news, reviews and a podcast dedicated to covering the Batman films. Batman-related media can be found on the microblogging site Tumblr under the tag "#batman."[25]
Related Memes
Batman Is a Dick
On November 9th, 2011, artist Sam Spratt uploaded an illustration to his Tumblr blog[19] titled "Batman is a Dick" [20], which featured a smirking Batman holding two thumbs up. Spratt intended for the illustration to be used to make image macros shared under the hash-tag "#batmanisadick", with captions pointing out irrational decisions and contradictions in Batman's behavior. The series is also referred to as "Scumbag Batman" in reference to the Scumbag Steve advice animal character.



Bane's Quotables
Previous to the release of the 2012 film, The Dark Knight Rises[11], the primary antagonist, Bane was reknowned for several lines uttered during teaser trailers. Notable lines said by Bane include "When Gotham is Ashes, You Have My Permission to Die", "Your Punishment Must Be More Severe" and "Let the Games Begin", with the first often used as a snow clone "When X is Ashes, You Have My Permission To Y".


Other parodies of Bane include photo-shopping of the Mask he wore, unique to the film's version of the character, onto other characters and people typically with derivatives of one of his notable lines.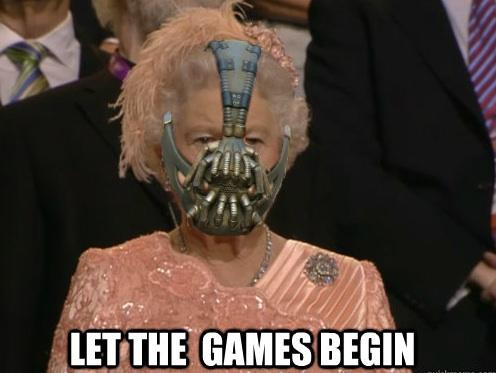 I'm The Goddamn Batman
I'm the Goddamn Batman is a catchphrase used to parody the intimidation techniques used by Batman. The phrase originates from the second issue of All Star Batman And Robin The Boy Wonder, a series written by Frank Miller in which Batman is portrayed as a sadistic and abusive psychopath.

Some Days, You Just Can't Get Rid of a Bomb!
"Some Days, You Just Can't Get Rid of a Bomb!" is a catchphrase inspired by a scene in the 1966 film Batman: The Movie in which Batman runs around holding an enormous bomb looking for a safe place to dispose of it, but is constantly thwarted by various hazards.

Why So Serious?
"Why So Serious" is a line quoted in a scene from the 2008 film The Dark Knight in which the antagonist Joker (played by Heath Ledger) explains a possibly fabricated story about the origin of his scars.
Batmanning
Batmanning is a YouTube video series and photo fad in which the subject hangs vertically from an object by their feet, mimicking a bat's roosting position.

Some Men Just Want to Watch the World Burn
"Some Men Just Want to Watch the World Burn" is a line quoted by Bruce Wayne's butler Alfred (played by Michael Caine) in the 2008 film The Dark Knight. It is often used as an ironic caption in image macros and inspired the snowclone template "some X just want to watch the world Y."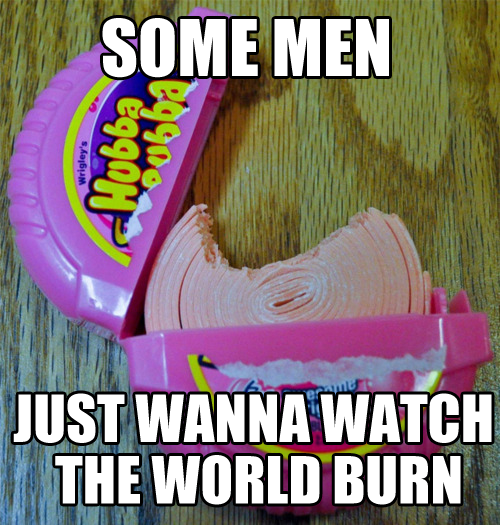 Chacarron Macarron / Batusi Dance
Chacarron Macarron / Batusi Dance is a YTMND fad combining the incoherent gibberish chorus from the song "Chacarron Macarron" by the Panamanian artist El Chombo and the Batusi dance from the 1960s television series Batman.

Batman Eats a Hotdog
Batman Eats a Hotdog (snowclone: Batman eats (a) X) is an exploitable YouTube video which inspired remixes featuring Batman eating various food items.
My Parents Are Dead / Batman slapping Robin
My Parents Are Dead / Batman Slapping Robin is a exploitable comic-book panel featuring Batman slapping his sidekick Robin with a speech bubble for each character.

Dark Knight 4 Pane
Dark Knight 4-Pane Comics are an exploitable comic series featuring screen captures of the Batman and Joker from the interrogation scene in the film The Dark Knight.

Search Interest
External References
Recent Images 1,231 total