Joe Biden "Liquid Swords" Tweet
This submission is currently being researched & evaluated!
You can help confirm this entry by contributing facts, media, and other evidence of notability and mutation.
About
Joe Biden "Liquid Swords" Tweet refers to a popular tweet by @blippoblappo which imagines former Vice President Joe Biden interrupting a question directed towards former President Barack Obama about what his favorite Wu-Tang Clan album by grabbing the podium and announcing "Liquid Swords!" The tweet has been called by many one of the best on the site and has inspired parody versions.
Origin
On April 26th, 2014, Twitter user @blippoblappo[1] tweeted the original joke. It imagines a scenario in which a reporter asks President Obama about his favorite album by rap group Wu-Tang Clan. Obama is about to brush off the question when Biden grabs the podium and declares Liquid Swords (1995), a solo album by Wu-Tang Clan member GZA.[2] The tweet gained over 30,000 retweets and 42,000 likes (shown below).

Spread
The tweet was quickly celebrated as one of the best tweets on Twitter. It was named the best tweet of 2014 by Raleighco[3] and was chosen as "the best tweet of all time" in a fanpost on Blackshoediaries[4] in early 2015. It was later referenced again during the 2016 United States Presidential Election after Hillary Clinton selected Tim Kaine to be her running mate.[5] When Biden took the stage at the 2016 Democratic National Convention, people joked about hoping he would reference Liquid Swords in his speech, which Select All[5] covered.


Meanwhile, others imagined which albums Tim Kaine would grab the podium for. In these tweets, Tim Kaine is imagined as a dad-rock and classic-rock enthusiast.



The tweet has continued to be a popular reference on Twitter. For example, a tweet by patbcurana[6] posted September 14th, 2017 that paired the caption with a picture of a baby gained over 23,000 retweets (shown below, left). Another tweet by @deanvannguyen[7] posted on September 17th referenced the popular The Ting Goes meme.


Various Examples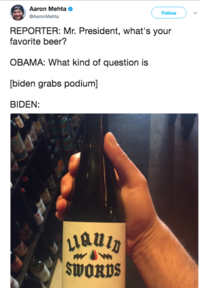 Search Interest
External References
Recent Videos
There are no videos currently available.