This submission is currently being researched & evaluated!
You can help confirm this entry by contributing facts, media, and other evidence of notability and mutation.
About
#KyloRenChallenge is a hashtag photo fad in which people attempt to recreate the infamous shirtless Kylo Ren scene from the 2017 epic space opera Star Wars: The Last Jedi. In the photographs, people pose bare-chested with high-waisted black pants on to mimic the film's antagonist character as portrayed in the scene.
Origin
On December 14th, 2017, Star Wars: The Last Jedi was released in theaters. That day, a thread about the film's "shirtless Kylo Ren scene" was created on 4chan's /tv/ board, in which an anonymous user responded with a picture of the scene (shown below).[7]

On December 23rd, the earliest known usage of #KyloRenChallenge was posted by Instagram [2] user @lazar0d1az. In the video post (shown below), a man appears shirtless with high-waisted pants and a Kylo Ren helmet on. Within two weeks, the post received more than 40 likes and 200 views.
Precursor
Prior to the inclusion of the hashtag, some men online had already begun posting pictures of themselves shirtless in high-waisted black pants (shown below), a reference to The Last Jedi. These photographs were uploaded following the release of The Last Jedi on December 14th, 2017.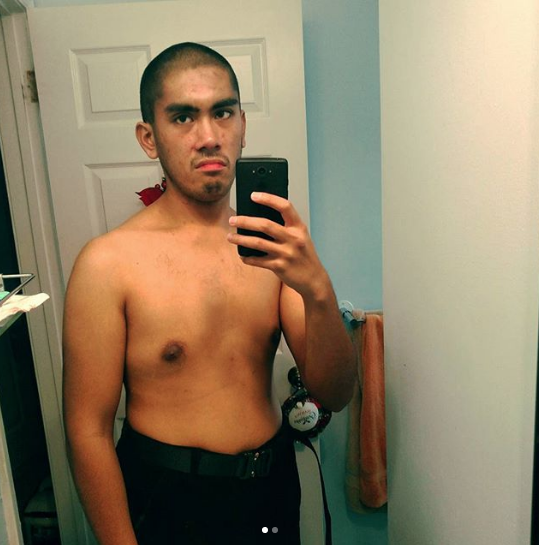 Spread
On December 30th, 2017, singer and recording artist John Mayer posted a selfie inspired by the shirtless Kylo Ren scene from Star Wars: The Last Jedi to Instagram.[2] He captioned the post, which shows a shirtless Mayer in a pair of high-waisted black pants, with "#kylorenchallenge." Within two days, the post has received more than 315,000 likes.

Following Mayer's post, more people started to post pictures of themselves and other objects participating in the challenge (examples below).
Several media outlets covered the popularity of the challnege, including BuzzFeed, [3] io9, [4] Mashable,[5] Billboard[6] and more.



Various Examples






Search Interest
External References