About
Makeup Transformations refer to significant alterations to someone's appearance using advanced makeup artistry techniques. Online, before-and-after photographs featuring notable transformations are often shared on various web forums and community sites.
Origin
The origin of makeup transformation photographs online is currently unknown. On October 22nd, 2004, the hoax debunking website Museum of Hoaxes[1] posted several examples of transformation photos from the Yossi Bitton Makeup School website, claiming the images had been photoshopped.



Spread
On October 6th, 2006, YouTuber Tim Piper uploaded a Dove Real Beauty video in which a woman is given a makeover and photoshopped for a billboard ad, gathering upwards of 17 million views and 6,400 comments in the next eight years.[5] On May 19th, 2007, YouTuber DrawLove uploaded a timelapse video in which he applies makeup to himself to transform into the drag persona Amnesia Sparkles (shown below).
On July 9th, 2010, the /r/MakeupAddiction[4] subreddit was launched for discussions about makeup artistry, including examples of notable makeup transformations. On June 3rd, 2011, the Internet humor site AcidCow[10] posted a gallery of makeup transformation photographs featuring Asian women (shown below).

>

>

>
On March 9th, 2013, a gallery of photographs featuring adult film stars with and without makeup taken from makeup artist Melissa Murphy's Instagram[9] feed was submitted to the /r/NoFap[7] subreddit (shown below). Two days later, BuzzFeed[8] highlighted several pictures from the gallery.



On October 3rd, Redditor water_anus submitted before-and-after photos of a woman's makeup transformation to the /r/pics[6] subreddit, where it gained over 2,100 votes (90% upvoted) prior to being archived (shown below).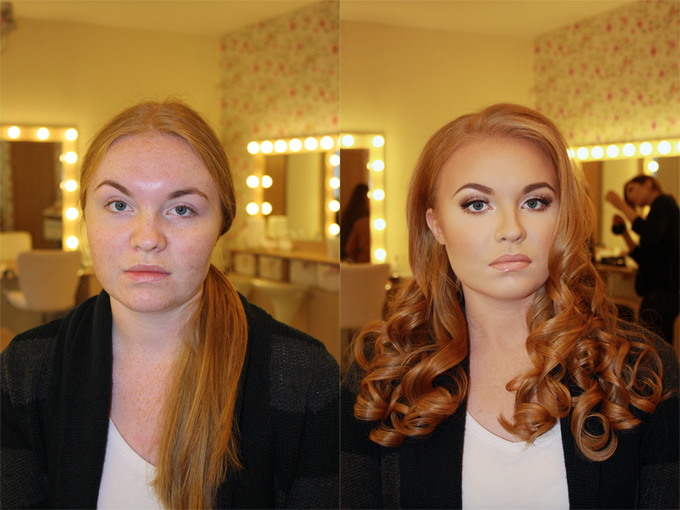 On October 27th, makeup artist Elsy Anthonijsz posted a grid of makeup transformation photos demonstrating a contouring technique to her Instagram[11] feed, garnering more than 2,200 likes in 10 months (shown below). On November 6th, Redditor jwwhoa submitted the photos in a post titled "Contouring is the new Photoshop" to the /r/WTF[12] subreddit, where it received upwards of 2,600 votes (83% upvoted) and 700 comments prior to being archived.

On February 13th, 2014, Anthonijsz uploaded a makeup tutorial video to YouTube featuring the same model from the Instagram post, which gathered more than 7.5 million views and 7,200 comments within six months (shown below). On June 27th, YouTuber Trisha Paytas uploaded a video titled "Makeup Transformation," gaining over 340,000 views and 1,300 comments in the first two months. On July 30th, BuzzFeed[1] highlighted several before-and-after photographs featuring other makeup transformations by artist Melissa Murphy.
#MakeUpTransformation Parodies
On August 12th, 2014, BuzzFeed[3] highlighted several examples of parody makeup transformation photos posted to Instagram and Twitter with the tag #makeuptransformation, which feature men applying makeup in three panels followed by a fourth panel of a celebrity (shown below).



Search Interest
External References
Recent Videos
There are no videos currently available.