This submission is currently being researched & evaluated!
You can help confirm this entry by contributing facts, media, and other evidence of notability and mutation.
About
#NickiStoppedMyBag is a satirical hashtag which people use to blame rapper Nicki Minaj for problems that the rapper could not possibly have had any involvement in. The hashtag spread as a way to subtly mock rapper Cardi B, who after an altercation with Minaj at New York Fashion Week, claimed Minaj blocked her from some opportunities. In an Instagram post, Cardi B wrote to Minaj, "I let you sneak diss me, I let you lie on me, I let you attempt to stop my bags." "Stop my bags" is slang for blocking someone from making money.
Origin
On September 8th, 2018, after a physical altercation rapper Cardi B had with Nicki Minaj, Cardi B wrote a note on Instagram[1] accusing Minaj of trying to block her from opportunities, using the phrase "I let you attempt to stop my bags." The post gained over 3 million likes (shown below).

Spread
Minaj denied the claims, and after fans claimed the fight killed Cardi B's career, Cardi B posted a video about how her career is very successful at this point in her career (shown below).
Cardi B talks about people saying she's "over" after her #NYFW brawl. pic.twitter.com/dPPtQUICkF

— Pop Crave (@PopCrave) September 26, 2018
After that video was posted, Twitter users and fans of Minaj started the hashtag "#NickiStoppedMyBag" to mock Cardi B by tweeting the hashtag with unfortunate scenarios they sarcastically blamed on Nicki Minaj. For example, user ChristinaRoseMC sarcastically blamed Minaj for her drug dealer being out of product, gaining over 590 retweets and 2,700 likes (shown below, left).


Other popular tweets with the hashtag included a tweet by @troymarajj that gained over 4,200 retweets and 12,000 likes (shown below, left). Minaj herself got in on the joke by tweeting she was going undercover to steal more bags (shown below, right).


Various Examples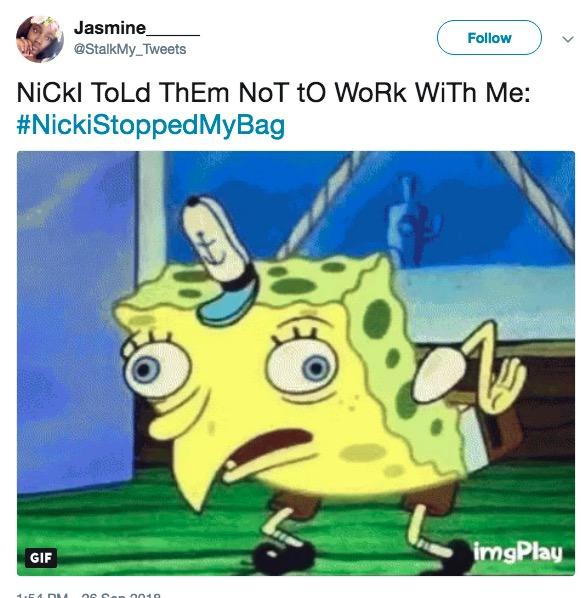 Search Interest
Unavailable
External References
Recent Videos
There are no videos currently available.