This submission is currently being researched & evaluated!
You can help confirm this entry by contributing facts, media, and other evidence of notability and mutation.
About
"Particle Man" is a 1990 alternative polka song written and recorded by the American alternative rock band They Might Be Giants about a group of four different men with unique features and abilities, the first of which is a microscopic being named "Particle Man." Though the song was never released as a single, "Particle Man" has been widely regarded as one of the band's most popular songs.
Origin
"Particle Man" originally appeared on They Might Be Giants' third studio album Flood, released on January 5th, 1990.[1] The song contains verses for four different characters, including the titular Particle Man. In addition, the lyrics describe Triangle Man as Particle Man's nemesis, Universe Man as an enormous character the size of the entire universe and Person Man as garbage can-dwelling character who is "degraded."
Spread
On February 1st, 1991, the song was made into a music video for the animated television show Tiny Tunes Adventures in the episode "Tiny Toon Music Television", in which the character Plucky Duck portrays both Particle Man and Person Man (shown below, left).[3] On September 5th, 2006, They Might Be Giants launched the "Particle Men" YouTube channel.[2] On January 2nd, 2009, YouTuber Indojackal uploaded a fan made music video for the song, gathering upwards of 960,000 views and 1,500 comments in the next six years (shown below, right).
On March 11th, 2013, They Might Be Giants tweeted a picture of a "Particle Man" flowchart (shown below).[5] The same day, the Internet news blog The Mary Sue[4] reposted the chart.

On December 31st, YouTuber Viva "IMMATOONLINK" Reverie uploaded a My Little Pony: Friendship is Magic-themed music video titled "Particle Mare" (shown below). In the first eight months, the video garnered more than 389,000 views and 2,500 comments.
Notable Examples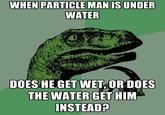 Search Interest
External References