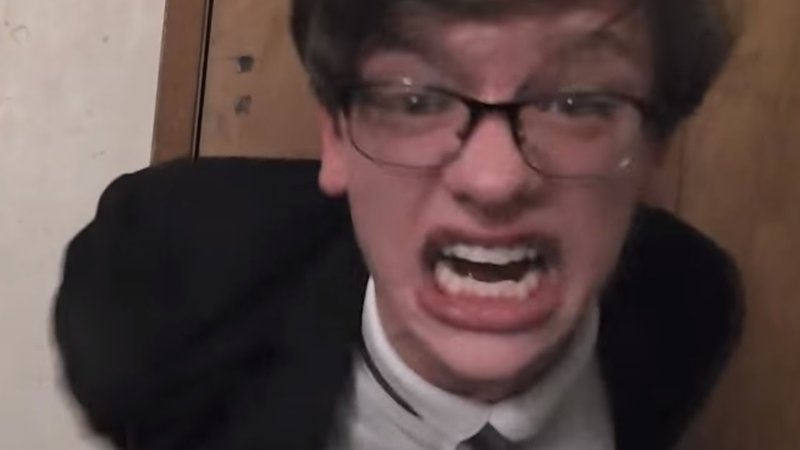 About
Dillon the Hacker is the nickname given to Dillon Henderson, a YouTube vlogger who is known for posting aggressive rants targeting 4chan, Reddit and PewDiePie. Since his online debut in May 2012, many viewers have questioned the authenticity of Henderson's videos, with some skeptics speculating that he had invented the hacker character to bait and troll easily irritated Internet users.
Online History
BG Kumbi Videos
On May 19th, 2012, YouTuber BG Kumbi posted a bait video titled "The War on 4chan… Join le 9gag Revolution!!", in which he declares war on 4chan for stealing memes from the website 9gag (shown below, left). On June 15th, Kumbi published a follow-up video announcing that his friend Dillon would be joining him in taking down 4chan, FunnyJunk and Reddit for stealing 9gag's memes (shown below, right).
Marky Mole Channel
On August 9th, 2013, the Marky Mole YouTube channel uploaded a video in which Henderson discusses being bullied and assaulted at school while wearing painted on whiskers and black-framed eyeglasses (shown below).
Dillon the Hacker Channel
On April 3rd, 2014, Henderson uploaded a video titled "Warning to Reddit … Reddit Will Be Hacked," in which he espouses his hacking abilities, refers to himself as "Big Daddy Dillon" and threatens to take down Reddit (shown below, left). The same day, he uploaded a similar video titled "Warning to 4chan," in which he claims to be the "leader" of 4chan and Anonymous.
Also on April 3rd, Henderson launched the @DillonTheHacker[4] Twitter feed. On April 6th, Motherboard[1] published an article about Henderson, speculating that Henderson may have been parodying previous threats against 4chan. On April 9th, The Daily Dot[2] published an interview with Henderson, in which he claims "there is nothing about Dillon the Hacker that is fake", claims to have been "hacking/coding" since he was "2-years-old" and warns that he will give 4chan creator Christopher Poole a "spanking" if necessary. Additionally, he revealed plans to form a hacker group with BG Kumbi called "The Meme Krew." Also on April 9th, a page for "Dillon The Hacker" was created on the YouTube Wiki.[5] On July 29th, a Facebook[3] page titled "Dillon the Hacker Sucks" was launched. In late July 2014, Henderson posted several videos insulting YouTuber PewDiePie and his fans known as the "Bro Army" (shown below). On July 13th, 2015, a page titled "Dillon The Hacker" was created on Encyclopedia Dramatica.[6]
YouTube Departure
On January 26th, 2016, Dillon uploaded a video titled "Goodbye, YouTube," in which he announces that he is leaving the video-sharing site and is planning its eventually demise (shown below). For unknown reasons although, he had returned and posted a rant video.
Death Rumors
On August 28th, 2019, Twitter user @tylerdamsma posted an announcement that Henderson had passed away exactly one month prior (shown below).
August 28, 2019
That morning, Twitter user @twtselma tweeted a similar message claiming that Dillon had "passed away" the previous month (shown below).
August 28, 2019
That same day, YouTuber Keemstar posted a tweet about the rumors of Henderson's passing, staying that he had "been trying to confirm" (shown below).
Dillon the hacker died???????? People are saying he passed away! Been trying to confirm but dont have any way to do so! pic.twitter.com/OVxhxft6Ph

— KEEM 🍿 (@KEEMSTAR) August 28, 2019
Also on August 28th, BG Kumbi tweeted a message in Henderson's memory, adding "Drink a Mountain Dew in Heaven with Jesus for me buddy" (shown below).
It was hard to keep this in for so long. RIP Dillon… my only friend in this dark world. Drink a Mountain Dew in Heaven with Jesus for me buddy. https://t.co/VvAjRf95G4

— BG Kumbi (@realbgkumbi) August 28, 2019
On August 29th, YouTuber PewDiePie tweeted a message in remembrance of Dillon, referring to him as "a talented young comedian" who "trolled my entire audience at one point" (shown below). The day, the tweet received more than 243,000 likes and 22,000 retweets.
Dillon the hacker was such a talented young comedian. He succesfully trolled my entire audience at one point. Such sad news to hear about his passing. My condolences to his family and close ones.
RIP Dillon

— ƿ૯ωძɿ૯ƿɿ૯ (@pewdiepie) August 29, 2019
Search Interest
External References