About
PewDiePie is the YouTube alias of Swedish comedian, vlogger, streamer and gamer Felix Kjellberg. He is best known for his comedy videos, Let's Play videos and livestreams. On August 15th, 2013, PewDiePie became the most subscribed YouTube channel of all time, briefly losing the position to the YouTube Spotlight channel later that year. In 2018, PewDiePie launched the Great Subscriber War campaign to maintain a subscribe count lead over the YouTube channel T-Series, which eventually overtook him in subscribers in April 2019.
Online History
Felix Kjellberg began his YouTube account PewDiePie[1] on April 29th, 2010 after he forgot the password for his previous YouTube account that was started on December 19, 2006, Pewdie. The earliest kept video was a Minecraft playthrough video showing a zombie that had spawned in a minecart. In the first few months following this video, he began uploading more playthroughs of Call of Duty: Black Ops, and started uploading playthroughs of Amnesia: The Dark Descent and Dead Space 2.
Personal Life
Felix Kjellberg was born on October 24th, 1989[13] and lives in Brighton, United Kingdom with his pugs Edgar and Maya and toad Slippy. On March 28th, 2012, PewDiePie did his first newspaper interview with Swedish site Expressen.se[7], noting that he was able to make his YouTube channel his full time job and will be moving to Italy with his then-girlfriend (now fiancee), Marzia Bisognin. Online, Bisognin is known as CutiePie[14] and the couple often appear in videos together. Kjellberg also maintains his own Tumblr[2], Facebook[3], Instagram[12], Twitter account[4] and deviantArt[11] page. Marzia, like her partner, has also run for Queen of the Web.[6] On April 27th 2018 PewDiePie proposed to Marzia as revealed by the latter on Instagram, and on a video uploaded by her on June 15th 2018 she reveals the wedding will be held sometime next year.
Highlights
PewDiePie's YouTube channel has over 3,500 uploads, 18 billion views, and 63 million subscribers. On average he gains 20,000 subscribers and 7 million views a day. His most viewed video, A Funny Montage, which garnered over 80 million views, is the only video that has more views than his subscriber count.
Reputation
With milestone accomplishments like the most subscribed and most viewed channel on YouTube, PewDiePIe is quite often cited as one of the most famous and commercially successful YouTube celebrities. Due to his iconic status in the mainstream gaming world, PewDiePie's Let's Play series has prompted an Oprah-like effect on the sales of indie games after being featured in his episodes. As of June 2015, the PewDiePie channel has received over 9 billion video views, and according to Swedish newspaper Expressen, PewDiePie earned $7.4 million from his YouTube videos in 2014. However, since late 2016-early 2017, PewDiePie has been recognized by some people as a racist, bigot, and a nazi, following the release of several videos by the Wall Street Journal that features PewDiePie making a series of antisemitic jokes. PewDiePie and his fans claim these clips were taken out of context. Disney nonetheless cut ties with the streamer shortly after.[50]
Charity
On February 1st, 2012, PewDiePie entered the King of the Web[5] contest, a social media competition that awards cash or merchandise prizes to the winners of a weekly competition. After receiving more than a million votes, he was crowned King of the Web on February 29th, 2012.[22] After receiving the cash prize of $6750 in April, he donated the entire amount to the World Wildlife Foundation.
Since then, PewDiePie has also donated over $34,000 dollars to St. Jude Hospital out of funds he received from being a YouTube partner (shown below, left). Furthermore, PewDiePie has also encouraged his fans to be active in charity. After gaining 10,000,000 subscribers on YouTube, he posted a video encouraging fans to donate to the charity: water association to provide clean water for developing nations (shown below, right). Though the initial goal was intended to be at least $25,000, the Bro Army amassed over $100,000 in the span of two days. PewDiePie would eventually decide to personally donate $1 for every 500 views the video in question received.
Adults React To PewDiePie
In 2012, Something Awful Let's Players slowbeef and Diabetus expressed interest in doing a Retsupurae parody of PewDiePie's videos, though not without some concerns about potentially inviting backlash from his "Bro Army" fans that may put their channel at risk. Eventually, PewDiePie gave a seal of approval in the form of a letter to slowbeef.
On October 14th, 2012, Retsupurae uploaded "Adults React To PewDiePie" (shown below, left), along with a "worksafe" version of the video, which cut out various reactions alluding to drugs and violence, on the following day (shown below, right). Both videos were met with huge negative and positive reception from PewDiePie's fandom and anti-fandom. Due to the controversy surrounding the video, "Adults React" became the most watched and liked video on the channel in the span of a few days.
Following the release of the video, fellow Something Awful user General Ironicus posted his own interpretation as to why the video gathered the praise it did, as well as to give a critique to PewDiePie's fanbase.[31] In addition, slowbeef and Diabetus held a podcast discussing the fallout of the video, opinions concerning PewDiePie himself, and special thanks to those who contributed content.[32] A follow-up podcast discussing Retsupurae-related news, as well as a couple of corrections to the previous podcast, was also posted shortly thereafter.[33]
Eventually, the parody would warrant a response from PewDiePie himself:
Pretty funny I'll admit! :)

But seriously though, have you never heard: "If you don't like it, then don't watch it"?

Actually never mind, keep watching! Your extra views gets me extra cash!

lolololol
This message generated a broad controversy as well. In addition, a number of users that watched the video were appalled by his frequent use of the word rape as a punch-line, eventually leading to his decision to stop making rape jokes.[30] PewDiePie later on December 31st 2012 created a video apology for his comment, as well as an apology for any offense taken to the jokes related to rape (video has since been removed, shown below is a re-upload from a different channel).
South Park Appearance
On December 3rd, 2014, an episode from the animated TV show South Park titled #REHASH[35] was aired featuring Original footage from PewDiePie on the usual small square at the top left like in his videos, in the episode character Eric Cartman attempts to copy PewDiePie´s style of lets play to be famous, which causes annoyance to all his friends, only to be stopped by PewDiePie himself.[36]
Tuber Simulator
On August 29th, 2016, PewDiePie announced via Twitter[42] an upcoming game called Tuber Simulator, a free-to-play game in which players can rise through the ranks of YouTube to become famous. The Verge[43] and Forbes[44] both covered the announcement of the game. On September 29th, it was released on Google Play and the App Store, and two days later was the most downloaded app on the App Store.

Isis Joke Controversy
On August 30th, 2016, PewDiePie unverified himself on Twitter because he found the notifications annoying.[38] The same day, he retweeted a tweet by satirical news site Sky News[39] that jokingly suggested he was unverified due to ties with the terrorist group Isis. He then jokingly confirmed that he and fellow YouTube gamer jacksepticeye had been unverified on Twitter due to their ties to Isis. The following day, PewDiePie's account was briefly suspended.[40] Mashable[41] picked up the story, where it gained over 1.3 thousand shares. PewDiePie quickly got his account back, but the ordeal prompted him to record a video explaining what happened (shown below).
Threat to Delete Channel
On December 2nd, 2016, PewDiePie released a video in which he announced he was deleting his channel when he hit 50 million subscribers. He did this due to complaints he had with Youtube changing their algorithm so that people did not see content from channels they'd subscribed to and changing the prominent "Recommended" section of YouTube to show more of whatever is on the "Trending" tab. He claimed this was bad for content creators on YouTube and that when he hit 50 million subscribers he would delete his channel and start fresh.
On December 6th, Reddit user GiveMeBackMySon posted a question asking why PewDiePie was deleting his channel to /r/OutOfTheLoop[45] in a thread that gained 3,824 points. "Breitbart[46] covered the exit and cited other prominent YouTubers, including H3H3 Productions, who were unhappy with the algorithm change and claimed that it promoted paid media and clickbait.
#PewDiePieIsOverParty
On January 5th, 2017, PewDiePie uploaded a video titled "I Won an Award," in which he jokingly celebrates being ranked #18 in a video titled "100 Most Handsome Faces of 2016," saying "18 nigga!" (shown below).
That evening, many viewers began criticizing his use of the word "nigga" on Twitter, along with the hashtag "#PewDiePieIsOverParty" (shown below).[48] Meanwhile, others mocked the hashtag for being an overreaction to the video. On January 5th, 2017, Redditor hahathatsrich submitted a post asking about the hashtag to /r/OutOfTheLoop.[47]


"Death To All Jews" Controversy
On January 11th, 2017, PewDiePie uploaded a video titled "I've Discovered The Greatest Thing Online…", in which he purchases several custom Fiverr videos. In one of the videos, Fiverr users Funny Guys hold a sign reading "Death To All Jews" while laughing (video has since been removed, shown below is a re-upload from a different channel). Over the next week, the video gained over 7.3 million views and 64,800 comments.
On January 16th, 2017, the Funny Guys Fiverr channel released an apology for the "Death To All Jews" sign after they were banned from the site (shown below, left). That day, PewDiePie tweeted at Fiverr to give the men their channel back.[49] On January 17th, PewDiePie uploaded a video titled "In my defense..", in which he laments modern news media for being clickbait rather than presenting truth, citing coverage of various controversies including the "Death To All Jews" video (shown below, right).
Disney Severs Ties
On February 14th, 2017, the Wall Street Journal[50] reported that Disney had severed ties with PewDiePie following several videos he made with anti-semitic jokes. The decision ended a partnership PewDiePie had with Disney's Maker Studios, with which gave PewDiePie co-ownership of a network called Revelmode. The controversy had made PewDiePie popular on Nazi-themed website The Daily Stormer, who ran a banner calling itself the "#1 PewDiePie Fansite."

Two days before the Wall Street Journal article, PewDiePie addressed the controversy on his Tumblr[51] saying that while the jokes were being taken out of context, he understood that they were ultimately offensive and that he in no way endorsed anti-semitic views.
"Pimba" YouTube Comments
In April 2017, the Brazilian YouTuber Davy Jones[54] told his fans to flood PewDiePie's comments board with the Portuguese word "Pimba," which Jones frequently says on his YouTube channel.[53]
"Pimba" has numerous connotations in Brazilian culture. Urban Dictionary[52] defines it four ways:
"A. slang code word for having any type of sexual pleasure with another in Portuguese.

B. anything you want it to be when referring to something sexual again in Portuguese

C. to agree with.

D. Portuguese pop music"
Following the influx comments, Davy Jones, who has more than one million subscribers, posted another video (shown below), which Google translated to "WE DOMINATE THE PEWDIEPIE." Published on April 12th, the video has received more than 347,000 views.
Hej Monika
On December 12th, 2017, PewDiePie sang the Swedish song "Hej Monika" in a video discussing the Doki Doki Literature Club character Monika (shown below).
On December 29th, YouTuber PartyInBackyard uploaded a remix of the PewDiePie music video, which gathered upwards of 2.1 million views and 8,300 comments over the next month. On January 17th, 2018, a page for "Hej Monika" was created on the PewDiePie Wiki.[56] On January 27th, PewDiePie reposted the PartyInBackyard remix.[55]
Meme Coverage
On June 22nd, 2017 PewDiePie began his LWIAY series and opened the r/PewdiepieSubmissions subreddit on the same day. The first episode featured him reacting to his fans' edits of him recording himself in front of a green screen (which was recorded a month before), performing comedic acts. The series originally followed what LWIAY stands for (Last Week I Asked You), and is a slight bootleg version of fellow friend and YouTuber Jacksfilms' series, YIAY (The Y standing for Yesterday). This was the case for the first 10 episodes in which PewDiePie on the 10th episode gave up the "challenges" and decided for his fans to continue making non question-related memes as the majority were doing before. Shortly afterwards in November, PewDiePie began his Meme Review series, in which out of boredom and randomness he clapped twice in a pattern, saying "Meme Review", in which his first memes that he reviewed were the Stolen Bike meme and Loss. It began to become a weekly series, and among the fourth episode PewDiePie added "Bonus Meme" possibly out of randomness as well, where he goes crazy and shouts "Bonus Meme" and claps again. In February 2018 the bonus meme became a running gag around fans of PewDiePie stating their "disappointment when there isn't a bonus meme". A month later a "drought in bonus memes" occurred, which was revealed that PewDiePie's editors, Brad and Sive (hired in 2017, although Brad has been a cameraman for PewDiePie since 2015) have been editing out the bonus meme in which PewDiePie supposedly has been filming all along. Since then, it has became a meme as well that Brad and Sive edit out anything that don't approve of and supposedly "bully" PewDiePie when he requests them to edit out something, in which they decline and leave in anyways (such as a mess-up in his speech or when he enters the closet and comes back out to stop recording the video as the specific part where he exits is not supposed to be shown). Around March 2018 it has also became a meme that PewDiePie kills memes when he reviews them or when he claps twice, similar to the legit thinking of some people towards Behind the Meme (the logic is when a meme is reviewed, the joke is explained, in which apparently gets into the dumb logic that normies start using the meme and it ruins it for everyone).
Eat the Child
On January 9th, 2018, YouTuber Billy Krankavitch began uploading videos to his FaZe Lampshade account titled "Eating a picture of pewdiepie everyday until he eats a picture of me". This series was later recognized on February 28th when Felix tweeted the Day 46 submission from his subreddit /r/PewdiepieSubmissions/ and then commented (in a now deleted tweet[60]) that he had to reach at least 100 eaten pictures. (Seen below)

On March 5th, at the end of his LWIAY #24 video, Felix commented that he would not be eating the kid and asked him to stop (seen below). This prompted submissions to the /r/PewdiepieSubmissions/ subreddit that attacked PewDiePie for refusing to eat the kid and called him out for deleting the tweet.
Sometime after the LWIAY video was posted, Krankavitch's channel was banned after copyright strikes and many of the original videos were lost. On June 20th, Krankavitch created another channel and resumed the challenge after Felix agreed again to the challenge.[61] On July 5th, Polygon[63] interviewed Krankavitch about the series of events. Though many of the videos in-between were missing, on October 1st he uploaded the video for Day 100.[62] In response, the /r/PewdiepieSubmissions subreddit was filled with many image macros about Felix eating the child, and so on October 10th, Felix uploaded a LWIAY video titled "EAT THE KID" in which he ate a picture of Krankavitch. (Seen below)
Memes
PewDiePie has had memes made of himself ever since 2012 or 2013, but the memes fans made themselves weren't big on the channel like the current ones are now. One of them involves PewDiePie wearing a pink scarf and a tiara making a face and saying "I'm fabulous!". Ever since 2017, more memes have been created from his channel.
But Can You Do This?
In mid 2017, PewDiePie began working on merchandise for chairs and headphones, applied with a red aesthetic design. In September 2017, he ditched his old white table chair for his own custom made chair, which is in fact a Clutch Chair with his design on it as well as a Brofist, but didn't start advertising the chair until a few weeks later. During the same time the new chair was brought in, he filmed a "skit" with his dog Edgar and advertised his chair and his own headphones, which was uploaded two months later in November (for some reason those whole two months he didn't wear his own headphones but obviously had them stored somewhere) and ever since that video was uploaded PewDiePie has been wearing them ever since, along with the occasional swapping between those headphones and silver Razer headphones. When PewDiePie started advertising the chair, he talked about the price and the feature brought with Clutch Chairs that recline, allowing you to lean back in your chair without the chair falling, plus other things. The two main things became a meme weeks later with the catchphrase But can you do this?!! and "Only $399!".
HmmMmMMMmmmMm
On January 30th, 2018 PewDiePie uploaded a video of him reviewing the r/Hmmm subreddit, and said "Hmmm" a lot of times in a funny manner. The editors added the swirl effect at certain times in the video for comedic effect when he would "hmmm". It shortly became a meme with PewDiePie using the meme as well and every time after the first video the editors would put in the swirl effect when he would "hmmm".
Copyright Strikes
Since September 2017, PewDiePie has been the target of many copyright strikings, due to the content that is displayed usually in his You Laugh You Lose episodes that are copyrighted, or that the copyright claimer doesn't like what PewDiePie said or done in affiliation to them, so they get the abusive right to claim his video. In May 2018, Twitch streamer Alinity played PewDiePie's "TESTING OUT EYETRACKING" video on her stream, in which in a short clip of Alinity was shown along with other female Twitch streamers that were seen doing slightly naughty acts, and in the video PewDiePie struggles to keep his eye tracking device off their "attractive" parts, and jokingly responds "Stupid twitch thots. I will not let them win over me." and Alinity responds by saying she is going to "copystrike" PewDiePie for the word "thot" and afterwards for some reason shouts in the distance that she wants to "copystrike" him to possibly her boyfriend or whoever. Shortly after, Alinity's company, CollabDRM, supposedly claimed the video for probably that reason Alinity stated, and in response PewDiePie removed the clip of Alinity in his video as well some other clips and added more clips onto the video. Once PewDiePie addressed the situation a few more days later, his fans supposedly attacked Alinity for her negative acts, whilst being called out on certain things.
Earnings
On July 3rd, 2015, Swedish newspaper Expressen[38] reported that PewDiePie earned SEK 62 million (appx. $7.4 million) in advertising revenues for his videos on YouTube in 2014, citing the annual report submitted to the Swedish Companies Registration Office by the celebrity vlogger's company, Pewdie Holdings AB. Following the disclosure of Kjellberg's earnings, Expressen's article began circulating on Facebook and began trending on the site, which immediately drew angry reactions on both Facebook and YouTube from those who follow his channel as well as the critics.

On July 7th, Kjellberg uploaded a video titled "Lets Talk About Money" to address the backlash over his earnings , which gained over 4.7 million views within the first 48 hours.
Dalai Lama Tweets
On Twitter, PieDiePie frequently posts meme images in responses to tweets published by the 14th Dalai Lama Tenzin Gyatso. On May 4th, 2018, PieDiePie tweeted the word "Despacito" in response to a tweet posted by the Dalai Lama (shown below, left). On June 1st, PewDiePie replied to a tweet posted by the Dalai Lama with a Shrek's Cringe Compilation image macro (shown below). Both tweets have since been removed.


On September 10th, PewDiePie replied to a Dalai Lama tweet with a Thanos Car meme (shown below, left). On September 28th, he posted a "Will You Fight?" image macro to the Dalai Lama (shown below, middle). On October 1st, PewDiePie tweeted a Crying Cat photoshop to the Dalai Lama (shown below, right).



Subscriber Duel Against T-Series
In August of 2018, SocialBlade reported that the YouTube channel T-series, which produces Bollywood music videos, would likely overtake PewDiePie as the most subscribed-to channel on YouTube should their daily rate of new subscribers continue.[64] On October 5th, 2018, PewDiePIe responded to the channel's encroachment on his subscriber count with a satirical diss track titled bitch lasagna (shown below).
A coordinated effort by PewDiePie's fans has kept him number 1 as of October 30th, 2018. One of those efforts was from YouTuber MrBeast, who bought billboards to encourage people to subscribe to PewDiePie. His video about the stunt gained over 9 million views (shown below).
On October 21st, PewDiePie posted a Q&A video in which he answered a question about T-Series (shown below). He responded, "It's already a heated subject now that a company is taking over. Everyone is going on the rant, 'YouTube is not really becoming YouTube' and, 'it's never going to be the same now'… I don't really care about T-Series, I genuinely don't, but I think if YouTube does shift in a way where it does feel more corporate, [then] something else will take its place. I think people enjoy this connection so much, I think something else will just show up, if it feels too corporate."
69 Million Subscribers Milestone
On November 6th, 2018, PewDiePie published a video titled "We made history!!!!" in which he announced that his channel had reached 69 million subscribers before T-Series (shown below).
Printer Hack
On November 30th, 2018, Grandayy tweeted[65] a photograph of a printed messaged urging readers to unsubscribe from T-Series, subscribe to PewDiPie and use the hashtag "#SavePewDiePie" on social media. Within 72 hours, the tweet gained over 59,100 likes and 10,000 retweets.
Apparently someone is hacking unsecure work printers all over the world and printing this message. This is not a meme. pic.twitter.com/iBGyetEYVI

— Dr Grandayy (@grandayy) November 30, 2018
That day, Twitter user @HackerGiraffe claimed responsibility for the hack, calling for viewers to "spread the word" about printer security vulnerabilities. According to The Verge,[66] TheHackerGiraffe discovered 800,000 vulnerable printers while browsing the internet-connected device repoistory Shodan.io, and sent the message to only 50,000 of them.
"People underestimate how easy a malicious hacker could have used a vulnerability like this to cause major havoc. Hackers could have stolen files, installed malware, caused physical damage to the printers and even use the printer as a foothold into the inner network. The most horrifying part is: I never considered hacking printers before, the whole learning, downloading and scripting process took no more than 30 minutes."
On December 2nd, PewDiePie uploaded a video titled "Pewdiepie Printer Hack," which discussed the printer exploit (shown below). Within 24 hours, the video accumulated upwards of 7.6 million views and 73,700 comments.
E;R Channel Promotion Controversy
On December 9th, 2018, PewDiePie uploaded a video titled "Don't Subscribe to PewDiePie," during which he promoted 28 other channels at the end of the video (shown below). Within 72 hours, the video gained over 12.3 million views and 73,900 comments.
The following day, YouTuber Hasan Piker of The Young Turks uploaded a video accusing PewDiePie of promoting a "Nazi's YouTube Channel" (shown below). Within 48 hours, the video gained more than 91,000 views and 4,600 comments.
That day, The Verge[67] published an article about the controversy titled "PewDiePie gives shout out to hateful, anti-Semitic YouTube channel." On December 11th, PewDiePie uploaded a video titled "PewDiePie's biggest Oopsie," in which he explained that he was unaware that E;R's videos contained references to Nazis and revealed he would remove the channel shoutout from his previous video (shown below).
Roblox Ban
On February 12th, 2019, PewDiePie posted a video saying he had been banned from Roblox and that his account had been deleted two days prior. According to Roblox, this was because his account was found in violation of the terms of service. However, PewDiePie felt he had not done anything banworthy. He had recently streamed himself playing Roblox, but had not done anything offensive or banworthy on the stream. He later discovered that the Roblox staff had banned him following the E;R controversy as well as any mention of him. Fans who wrote anything related to PewDiePie had their accounts terminated or warned.
Later, Roblox staff clarified that the ban was automatic for anyone who used the phrase "pewdie," due to negative memes and behavior from users with the phrase "pewdie" in their name in December of 2018.[68] They stated the account PewDiePie himself used was incorrectly banned and was reinstated. The story was covered by The Verge.[69]
2019 Christchurch Mosque Shootings
On March 15th, 2019, shootings took place at the Al Noor Mosque and Linwood Islamic Centre in Christchurch, New Zealand. The attacks were livestreamed by the shooter on Facebook. During the livestream, the shooter can be heard saying "subscribe to PewDiePie" (shown below).
I can hear them writing the headlines right now. pic.twitter.com/y4z6ata97D

— Mister AntiBully (@MisterAntiBully) March 15, 2019
That day, PewDiePie tweeted[70] that he was "absolutely sickened" that the shooter uttered his name (shown below). Within 24 hours, the tweet gathered upwards of 400,000 likes and 98,000 retweets.

Petition to Remove PewDiePie From YouTube
On March 15th, 2019, Change.org user Maria Ruiz started a petition titled "Remove White Supremacist Content From YouTube" in which she called for the removal of the PewDiePie channel from YouTube.[71] The petition gained over 63,000 signatures in three weeks.

In the petition, Maria Ruiz mentioned past controversies related to the streamer, including him saying the n-word during livestream , and highlighting the fact that the Christchurch shooter said "subscribe to PewDiePie" during the livestream.
The petition also called for YouTube to "develop AI to find and remove extremist material instead of having the SPLC do their work for them". In the comment section of the petition, highest-upvoted comments argued in favor of PewDiePie.[74][75]
Several notable news outlets reported on the petition, including Dexerto[72] and Bounding Into Comics.[73]
Saiman Says Pilgrimage
On November 11th, Indian YouTuber Saiman Says uploaded a video in which he showcases billbords purchased to promote the PewDie Pie channel (shown below, left). The video gained over 2.2 million views and 147,000 likes. PewDiePie has mentioned Saiman Says on his own channel but has never met him in real life. On April 21st, Saiman Says uploaded a YouTube video entitled " PewDiePie, I'M COMING FOR YOU !!! (meet me pls?🙏)" in which Saiman is shown on the the beach in Brighton where "Bitch Lasagna" was filmed saying that he has taken a pilgrimage to meet PewDiePie (shown blow, right). The video has accumulated over 161,000 views in two days.
That same day, after the video became viral on Reddit Saiman[76] took to twitter in response saying, "So a post about my video is trending on the subreddit. Some are thinking it's creepy. No, I din't come to the UK just to meet Pewds. I had a prior project in the UK (my @WatfordFC vlog) and I later decided that this would be a fun idea. I just hope to meet @pewdiepie as a fan" (shown below). The tweet gained 562 likes in two days. Many are reaching out to PewDiePie through Twitter and Reddit calling for him to meet Saiman. News outlets like Metro,[77] The Daily Dot[78] and Dexerto[79] have reported on the video.

100 Million Subscribers Milestone
On August 25th, 2019, PewDiePie became the first individual YouTube creator to surpass the 100 million subscriber mark, and the second YouTube channel to do that after Indian musical channel T-Series.
On the same day, multiple congratulations posts and memes were posted by PewDiePie viewers and fellow content creators on Reddit, Twitter and other online platforms (examples shown below). On Twitter, the official account for YouTube made a congratulations post with a 40-second video which gained over 1.9 million views on the platform (shown below, bottom).[80]



Married to marziapie</a> 💍<br>Revived our love of Minecraft ⛏️<br>Reached 100 million subscribers on YouTube ✔️<br>What a month to celebrate and congratulate <a href="https://twitter.com/pewdiepie?ref_src=twsrc%5Etfw">PewDiePie 👊 pic.twitter.com/4rGuNDDwyx

— YouTube (@YouTube) August 25, 2019
100 Million Play Button and ADL Donation Controversy
On September 9th, 2019, PewDiePie teased a 100 million subscribers milestone gift from YouTube (shown below, left). On September 10th, 2019, PewDiePie uploaded a video titled "Unboxing 100 MIL YouTube AWARD!!" in which he revealed his Red Diamond Creator Award.
In the video, PewDiePie announced that he would be donating 50,000 USD to an international Jewish non-governmental organization Anti-Defamation League, which in 2017 commended[81] Disney's decision to sever ties with the creator following videos in which he performed a Nazi salute and hired two Fiverr freelancers to hold up a "Death to all Jews" sign.[82]

Following the upload, multiple users on YouTube, Twitter and other platforms speculated that PewDiePie's decision to donate to the organization might have been forced, with some of the commenters accusing ADL of blackmail and with others criticizing the aforementioned groups.[83][84] Additionally, a number of users on YouTube reported that some comments were being removed from the video.[85]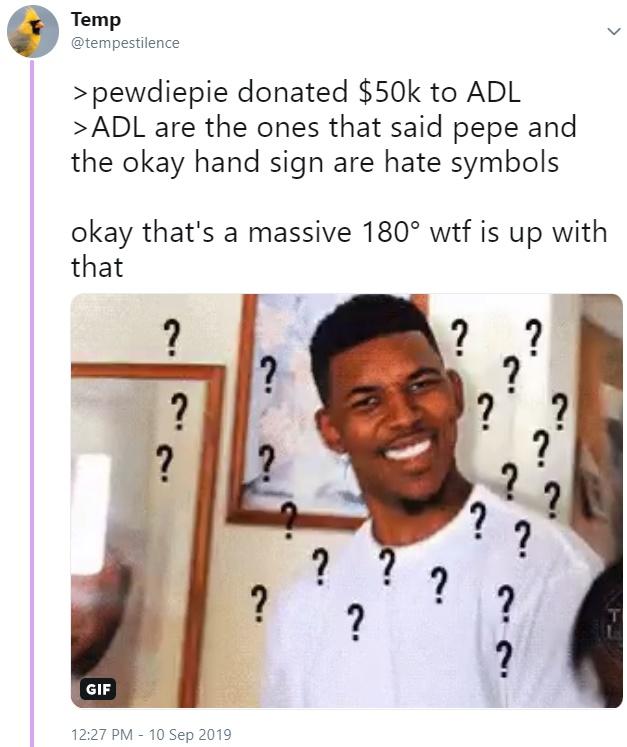 On September 11th, 2019, PewDiePie posted a response clarifying the reasons behind his donation.[86]

I wanted to show publicly that I can move past it and move on.
On September 12th, 2019, PewDiePie announced that he would be taking his time to decide a different organization to donate to.[87]
Cultural Appropriation Comments
On December 9th, 2019, PewDiePie uploaded a video of himself reacting to r/FacePalm posts (shown below). The video gained over 4.5 million views in three days. In the video, he states that he will never believe cultural appropriation is a real thing.
That day, Twitter users spoke out for and against the statement made. Twitter user @TolasTicia[88], tweeted, "PATRIARCHY AND WHITE SUPREMACY… @pewdiepie literally said cultural appropriation is not a thing 🤦🏾‍♀️This is minimizing countless communities that have been suppressed at the expense of white supremacists with the same mindset. Cultural appropriation EXISTS! PERIOD" (shown below, left) while Twitter user @_Unima_[89] tweeted, "So do many others, it doesnt exist and is stupid concept designed for prople who like segregation" in response to a Metro UK[90] article written on the subject (shown below, right).


Break From YouTube
On December 14th, 2019, PewDiePie posted a video titled "YouTube's New Update Has A BIG FLAW!" in which he addressed recent content policy changes introduced by YouTube and discussed the removal of the Content Cop episode about LeafyIsHere. In the episode, PewDiePie announced that he would be taking a break from posting videos on the platform in early 2020, saying that he feels "very tired".
I am taking a break from YouTube next year. I wanted to say it in advance because I made up my mind, I'm tired. I'm feeling very tired. I dunno if you can tell. Just so you know, early next year I'll be away for a little while. I'll explain it later, but I wanted to give a heads up.
Search Interest
External References