About
Jared Knabenbauer, more commonly know as ProJared[1], is a YouTube video game reviewer who is most known for his One Minute Reviews. Other than his One Minute Reviews he makes long video reviews, Top 10s, and discussion videos. He, like most video game reviewers, has a Let's Play channel called "ProJared Plays." [2]
Origin
Projared posted his first video onto YouTube on September 17, 2010, Called "Two Worlds – ProJared." The Video has gained a little over a million views since it was posted.
Videos
ProJared's most popular video, "How to Make Slender Not Scary" has over six million views, with his second being "Worst Console Ever – ProJared" at over three million views. Many of his other videos range from hundred thousand to a million views. He has also appeared on Game Grumps.
Online Relevance
ProJared has a good amount of followers across social media. As of August 27, 2015 he channel has 681,020 subscribers and 82,670,936 views. His Facebook has over 53,000 [6] likes, his Twitter has 94,000 followers [5] and his Twitch has over 31,000 [4]. Finally, his Reddit has 2000 readers.[3]
Cheating Scandal
On May 9th 2019, ProJared announced that he and his wife Heidi O'Ferrall were getting a divorce in a statement posted to Twitter (shown below).[7]

The announcement made the split seem amicable, but shortly after it was posted, O'Ferrall posted several tweets alleging that Knabenbauer had been cheating on her with Holly Conrad, known as Commander Holly on YouTube, the ex-wife of Ross O'Donovan of Game Grumps (shown below).



Furthermore, she alleged that he solicited from and sent nudes to fans via Snapchat (shown below, left). This was corroborated by many who came forward with stories about receiving nudes from ProJared and being asked to send nudes. She also called out Conrad saying she looked "insecure" in the nudes she sent to Knabenbauer (shown below, right).


Conrad had initially replied to Knabenbauer's tweet saying she was there to support him if he needed (shown below, left). She later stated "If you want to believe a hyperbolic statement from someone you don't know on the Internet with no previous background information and use it to demonize strangers, so be it" (shown below, right).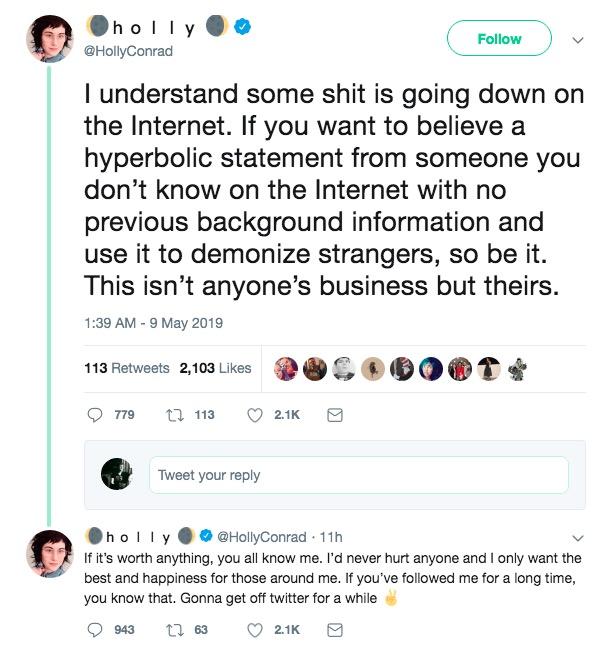 After the scandal, ProJared's subscriber count on YouTube quickly plummeted by the thousands. As of May 9th, 11:55 AM EST, it has dropped to 998,000 and continues to decline.[1]
The scandal was covered by Daily Dot[8] and Gaming Revolution.[9] A thread on the scandal gained over 6,500 points on /r/LiveStreamFail.[10] Meanwhile, some on Twitter took the opportunity to defend JonTron after his racism scandal which caused "Jontron" to trend, though most of the discussion regarding was commentary that Jontron was irrelevant to the situation (examples shown below).


Search Interest
External References