Warning: This page contains material that may be considered not safe for work.
About
Susu Family was a YouTube channel that features a woman from performing household tasks with her child. However, some have criticized the videos' perceived sexualized elements. Due to this, the channel has been suspended.
History
Susu Family joined YouTube on April 7th, 2010.[1] In the description for the channel, they wrote:
"Hello Everyone! I am Nguyet. I am from Vietnam. I would like to share you about Vietnam lifestyle with my channel is Susu Family Channel. With this channel, you can learn about how does Vietnam survive? I will share you about fishing style, bird trap and other things related to Vietnam lifestyle. Let watch and enjoy with my Channel. Thank you very much!!!"
On December 17th, 2018, the page was suspended for violating YouTube's user agreement.
Reputation
Before the channel was closed, the channel had received nearly 300,000 subscribers and 39 million views. The most popular upload, "Mom Teaching Baby Wash Clothes in the Bathroom," received more than 4 million views before removal.[1]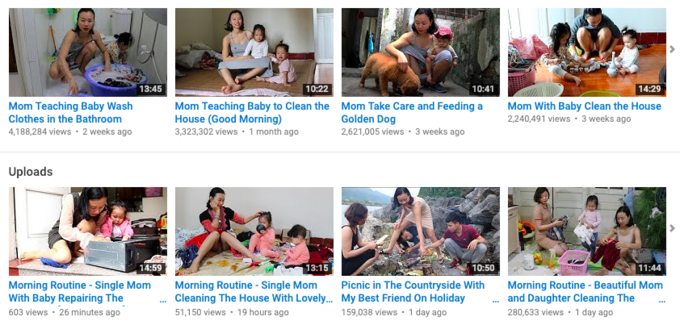 Criticism
The Susu Family page claimed to make educational videos for parents. These videos tended to feature Nguyet performing a variety of daily tasks, such as making the bed or washing the car. However, these videos also frequently showcased her exposing her underwear and breasts in ways that some believed to be sexualized. Additionally, each video began with a warning that read, "This video is graphic and may disturbing to some viewers. Viewer discretion is advised."
On December 16th, 2018, YouTuber PaymoneyWubby posted a video entitled "Creepy Mom Videos Need To Stop." In the video, the YouTuber explores some of the videos, pointing out these criticisms, focusing on the age of the children being breastfed and the frequent exposing of Nguyet's underwear. The video received more than 1.1 million views in two days (shown below). The video was also posted in the /r/videos subreddit, where it received more than 54,000 views (76% upvoted) and 5,500 comments in 24 hours.[2]
The following day, Redditor HaC3rPr0 posted that the page had been removed. They sited YouTube's expulsion notification, which reads, "This account has been terminated due to multiple or severe violations of YouTube's policy against spam, deceptive practices, and misleading content or other Terms of Service violations."[3] However, another Redditor in the thread noted that the channel's creator has begun posting videos on other YouTube channels.
Search Interest
External References