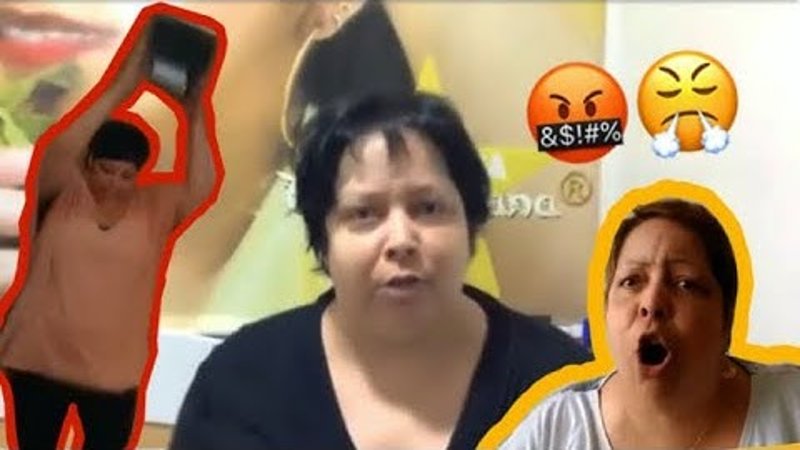 Tulla Luana / Web Diva Tulla Luana
This submission is currently being researched & evaluated!
You can help confirm this entry by contributing facts, media, and other evidence of notability and mutation.
About
Tulla Luana Fontes dos Santos, also known as Tulla Luana or the self-titled Web Diva Tulla Luana is a Brazilian YouTuber known for making vlog videos in which she appears excited, defending her rights as a consumer, or giving her sincere point of view on various subjects. Tulla's screams and expressions became the basis for many GIFs and memes across multiple social media platforms, especially in content created by the LGBTQIA+ community.
History
Tulla Luana is a Brazilian born on February 5th, 1970, who published her first video on YouTube about misleading advertising in the late Orkut [1] social media game Happy Harvest[2]. According to her, one of the ads promised an advantage in the game but after she acquired it, they delivered another one. The video, posted on November 10th, 2010, gained virality on YouTube,[3] garnering 1.4 million views in 12 years (see below). Her YouTube[4] channel currently (March 2023) has around 301,000 subscribers.
Online Presence
After the 2010 viral video, people started to follow Tulla's YouTube channel, not necessarily correlating with the content she uploads, but to the hundreds of GIFs and out-of-context memes that are created from her videos, in which she commonly loses her temper, screams and makes strong facial expressions. The memes are shared on Facebook, Instagram and Twitter. For example, on April 11th, 2014, a Facebook[5] post from a Lana Del Rey fan complaining about her new song used a screenshot of Tulla Luana looking sad at the camera to express their concern. The post garnered 484 likes and 21 shares in nine years (seen below).

Tulla's clips in which she screams or has mental breakdowns were archived to be used as reaction memes on Twitter[6] by the user @bestoftulla. For instance, a clip uploaded on September 11th, 2022 shows the Brazilian saying "shut up" in Portuguese, which garnered 857 likes and 229 retweets in seven months (seen below).
cala boca cala boca pic.twitter.com/PQwfRqAwdv

— acervo web diva tulla luana (@bestoftulla) September 11, 2022
Tulla Luana TikTok Audio Lip Dubs
With a staggering collection of catchphrases and funny audios, TikTok[7] users re-uploaded some of Tulla's content on the platform, creating new lip dub trends. For example, user @thenahqs posted on February 3rd, 2023, a collection of Tulla Luana's videos each one of them representing a song from Taylor Swift's album Reputation. The video (below, left) garnered 116,000 plays and 23,000 likes in a month. TikTok[8] user @rafisvieira used another viral audio of Tulla swearing to lip dub with overlay text about a friend's sleepover in his house. The video, uploaded on December 31st, 2022, garnered 796,000 plays and 173,300 likes in three months (below, right).
Various Examples
gif da web diva tulla luana batendo na mesa e virando voto o banner faixa de bolsonaro embaixo para pra lula 2022 pic.twitter.com/kjCAs0aJsv

— 📁 acervo de memes (@qqrmeme) September 29, 2022
Search Interest
External References