This submission is currently being researched & evaluated!
You can help confirm this entry by contributing facts, media, and other evidence of notability and mutation.
About
Pepsi United Spicer is a series of mock conversations inspired by three major public relations scandals that occurred consecutively over the period of a week in early April 2017. On Twitter and elsewhere, many people joked about how each controversy effectively attempted to one-up on the preceding event, underscoring the progression of absurdity and public outrage that dominated the social media discourse throughout that week.
Origin
Kendall Jenner's Pepsi Ad
Kendall Jenner's Pepsi Ad refers to a commercial for Pepsi starring Kardashian family member Kendall Jenner in which Jenner joins a protest and offers a police officer a can of Pepsi. Released on April 4th, 2017, the commercial (shown below) came under intense criticism for its attempt to evoke and commodify protest movements, such as Black Lives Matter, and the tense relationships between those groups and police.
United Airlines Passenger Removal
United Airlines Passenger Removal refers to the controversial ejection of a passenger from a United Airlines flight. On April 9th, 2017, the airline informed an overbooked flight at Chicago's O'Hare International Airport that passengers would be randomly selected to forfeit their seats. Later that day, a video[1] of police forcibly and violently removing a man from his seat went viral on Twitter. When the CEO attempted to apologize, he sparked another outrage for his use of the words "re-accommodate" and "volunteer."
Sean Spicer's Hitler Gaffe
Sean Spicer Hitler Gaffe refers to a comment made on April 11th by White House Press Secretary Sean Spicer, in which he suggested that Hitler didn't use chemical weapons on his citizens. "We didn't use chemical weapons during World War Two," Spicer said. "You had someone as despicable as Hitler who didn't even sink to using chemical weapons." Spicer's comments prompted a public backlash.
By early afternoon on April 11th, 2017, the public outrage against Sean Spicer's "Hitler" gaffe had eclipsed that of the PR failures by both Pepsi and United Airlines, quickly giving rise to the fruition of a composite meme known as "Pepsi United Spicer."
Spread
At 2:16 p.m. (EST), moments after Spicer's scandalous remark disputing the Nazi's use of chemical weapons during World War II, Twitter user @JoeGlo[6] tweeted the earliest known instance of a mock three-way conversation involving Pepsi, United Airlines and Sean Spicer. In the following 24 hours, the tweet received more than 4,200 retweets and 8,400 likes. Minutes later, Twitter user @McJesse[7] tweeted, "PEPSI: Check out this PR disaster. UNITED: That's amateur hour. Watch this! SEAN SPICER: Hold my beer." The tweet received more than 4,800 retweets and 7,900 likes.


Throughout the day, dozens of other Twitter users began making similar jokes in which Spicer challenges himself to outdo the PR disasters of Pepsi and United.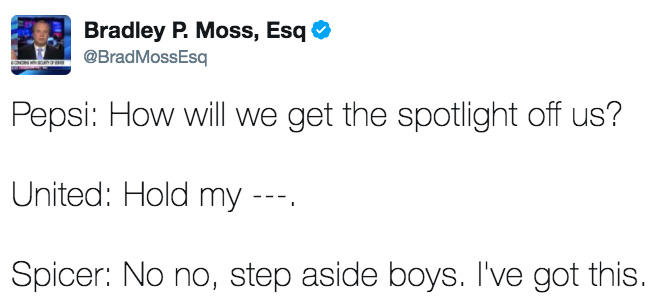 At 6:43 p.m. (EST), Twitter user @chrismelberger[9] photoshopped Spicer into a United airplane holding a Pepsi, adding the caption "if twitter this past week was a person here he is." The tweet garnered more than 15,600 retweets and 27,700 likes.

News Media Coverage
Several outlets covered the emergence of Pepsi United Spicer, including The Washington Post,[2] The Daily Dot,[3] New York Magazine,[4] and TIME.[5] On April 12nd, Twitter[8] compiled the best of Pepsi United Spicer jokes into a Moment listicle highlighting the "unholy triumvirate of PR disasters."
Notable Examples






Search Interest
External References