This submission is currently being researched & evaluated!
You can help confirm this entry by contributing facts, media, and other evidence of notability and mutation.
About
Sean Spicer is a Republican political strategist who served as the White House Press Secretary, and later, as acting White House Communications Director under the Trump administration. Upon entering office in January 2017, Spicer became a frequent target of online ridicule and criticism for making a number of false or controversial statements during press briefings and his contentious relationship with the White House press corps.
History
In February 2011, Spicer was chosen as the communications director for the Republican National Committee (RNC). Under his direction, the RNC expanded its presence on social media and created its own television production department.
Trump Administration
On December 22nd, 2016, Spicer was selected as the White House Press Secretary for the Trump administration. Following the resignation of Jason Miller as the Trump administration Communications 48 hours later, Spicer was named as the replacement for the position.
White House Easter Bunny
On March 3rd, 2017, Twitter user @JordanUhl[3] posted a picture of White House Press Secretary Sean Spicer dressed as the White House Easter Bunny. The picture comes from when Spicer served as assistant United States trade representative for media and public affairs in the Bush administration and took on the duties of Easter Bunny.[4] The post received more than 500 retweets and 800 likes.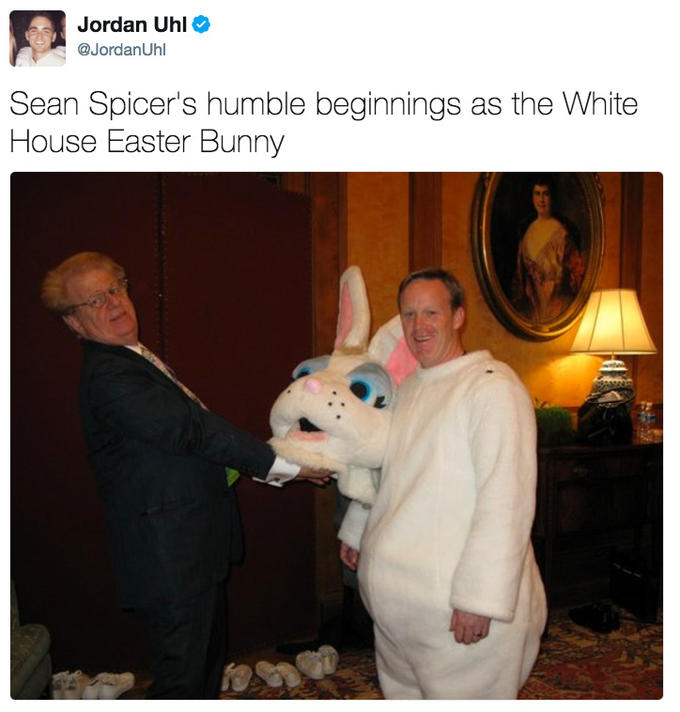 Spicer later acknowledged his role as the Easter Bunny in a March 28th tweet,[5] shown below, which received more than 1,300 retweets and 2,400 likes.

On April 15th, 2017, Melissa McCarthy parodied Sean Spicer's performance as the Easter Bunny as well as his infamous Hitler gaffe on Saturday Night Live.
Online Presence
As of July 2017, Spicer maintains both the @SeanSpicer[3] and @PressSec[1] feeds on Twitter, holding more than 372,000 and 2.03 million followers respectively.
Twitter Password
On January 25th, 2017, Spicer tweeted out a seemingly random series of letters, prior to immediately deleting the tweet (shown below, left). The following day, Spicer tweeted the characters "n9y25ah7," leading many to speculate that he was accidentally publicly tweeting his password (shown below, right).[2]


The Onion Retweet
On January 28th, 2017, Spicer retweeted a satirical article about his role in the Trump administration to provide "robust and clearly articulated misinformation" (shown below). Following the retweet, many speculated that Spicer was unaware that The Onion was satirical, while others claimed he was making a joke. Within two weeks, the tweet garnered more than 19,000 likes and 16,500 retweets.

Venmo Account
On February 6th, 2017, it was discovered that the privacy settings on Spicer's Venmo account were left public, allowing people to view a feed of his account activity. After users began spamming his account with requests for money, screenshots of the public feed began circulating on Twitter (shown below).

Resignation
On July 21st, 2017, Spicer announced his resignation as the White House press secretary shortly after Trump appointed Anthony Scaramucci as communications director. Spicer went on twitter to announce the news, saying "it's been an honor & a privilege to serve @POTUS @realDonaldTrump & this amazing country. I will continue my service through August." The tweet gained 25k likes and 7k retweets in just a few hours.

Reputation
Saturday Night Live Skit
On February 5th, 2017, actress Melissa McCarthy impersonated Spicer in a skit on Saturday Night Live (shown below).
Related Memes
#SpicerFacts
On January 21st, 2017, former White House Press Secretary Sean Spicer held his first press conference under President Trump. There, he chastised the media for supposedly falsely reporting on the size of the crowd at Trump's inauguration. Despite photographic evidence to the contrary, Spicer insisted Trump's inauguration had the highest attendance numbers ever, echoing Trump's claim that 1.5 million people attended his inauguration when the official report placed the number at 250,000. Following Spicer's press conferences, users began mocking the disprovable statements made by Spencer by tweeting outlandish statements with the hashtag #SpicerFacts, often with pictures of Spicer.



Spicer Hiding in the Bushes
Following President Trump's firing of FBI director James Comey on May 9th, 2017, Sean Spicer, reportedly, unable to send an email statement fast enough, shouted a response on the firing at reporters from his office, before locking himself inside. As pressure for a statement mounted, Spicer escaped his office, and the press found him hiding in the bushes behind several press sets near the White House. Spicer acquiesced to answer some questions as long as he wasn't filmed doing so, requesting that the reporters and camera people turn the lights off.[5]

Over the next 24 hours, "Spicer hiding in the bushes" became a top search query on Twitter,[4] with many people tweeting jokes about the former press secretary. One of the most popular was posted by Twitter user @davidmackau, who captioned a picture of Spicer in the easter bunny costume with President George Bush and wife Laura "found this photo of sean spicer hiding between the bushes." Posted on May 10th, the post (shown below) received more than 3,600 retweets and 10,800 likes in the first six hours.

Throughout the day, people tweeted more jokes about Spicer (shown below), many of them referencing the Homer Backs Into Things meme. Twitter published Moments page to catalogue and archive some of the most popular tweets.[6] Several news sites also covered the event, including The Daily Beast,[4] Business Insider,[7] Newsweek,[8] and more.



That night, Spicer responded to a Washington Post report that claimed he was hiding in the bushes. In a correction to the story "After Trump fired Comey, White House staff scrambled to explain why,"[5] the Post wrote:
"EDITOR'S NOTE: This story has been updated to more precisely describe former White House press secretary Sean Spicer's location late Tuesday night in the minutes before he briefed reporters. Spicer huddled with his staff among bushes near television sets on the White House grounds, not "in the bushes," as the story originally stated."
The idea of Spicer making such a small, grammatical correction to the story, again, became the subject of mockery on Twitter (shown below).


SpicerSpinsMoviePlots
#SpicerSpinsMoviePlots is a Twitter hashtag used to mock the way former White House Press Secretary Sean Spicer offers a positive viewpoint on bad news surrounding the administration of President Donald Trump during his press conferences by offering positive viewpoints on famous characters and scenes from popular films.

Sean Spicer's Hitler Gaffe
Sean Spicer Hitler Gaffe refers to a quote from former White House Press Secretary Sean Spicer, in which he suggested that Hitler didn't use chemical weapons on his citizens.
Pepsi United Spicer
Pepsi United Spicer is a series of mock conversations inspired by three major public relations scandals that occurred consecutively over the period of a week in early April 2017. On Twitter and elsewhere, many people joked about how each controversy effectively attempted to one-up on the preceding event, underscoring the progression of absurdity and public outrage that dominated the social media discourse throughout that week.

White House Press Briefing Sketch
CNN White House Press Briefing Sketch refers to a number of hand-drawn illustrations depicting White House Press Briefings that cameras were barred from. Online, the sketches became a popular source of image macros and parody.

Search Interest
External References