This submission is currently being researched & evaluated!
You can help confirm this entry by contributing facts, media, and other evidence of notability and mutation.
About
Periodic Table Parodies are nonscientific variations of the periodic table, an arrangement of known chemical elements with their corresponding atomic numbers and electron configurations, populated with a set of entities bound by a single topic or theme.
Origin
The standard periodic table layout was developed by American chemist Horace Groves Demin in 1923 based on Russian chemist Dmitri Mendeleev's earlier version from 1871 (shown below).

The exact origin of periodic table parodies is unclear. According to the Internet Database of Periodic Tables,[9] artist and chemist Joseph Di Gregorio illustrated "The Periodic Chart of Contemporary Elements" in 1980, which contained pop-culture terms in place of the original elements (shown below).

Spread
On August 1st, 1999, The Atlantic[4] highlighted a mock periodic table titled "The Periodic Table of Rejected Elements," containing unrelated terms with spellings that resemble elements from the original periodic table (shown below, left). On January 27th, 2001, the Periodic Table of Comic Books[3] website was launched, featuring a periodic table with each element linked to a page from a comic book containing a reference to the respective element (shown below, right).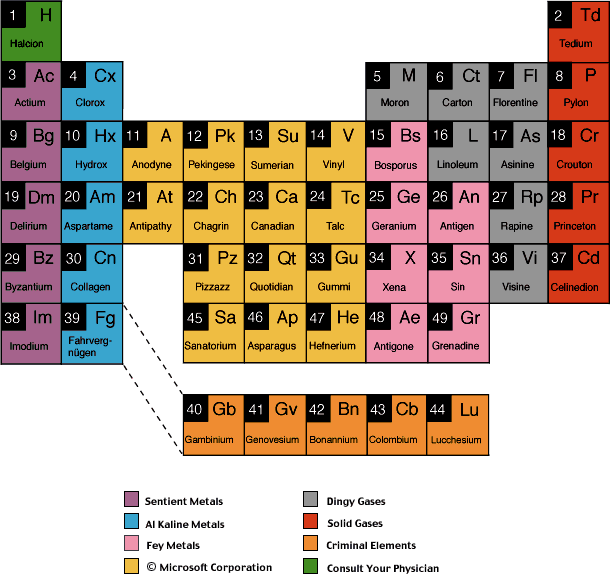 On June 5th, 2009, a "Canadian Periodic Table of the Elements" was submitted to the satirical wiki site Uncyclopedia[5] (shown below, left). On October 29th, Redditor adelaidejewel submitted a photograph of a periodic table-themed picnic table to the /r/pics[2] subreddit, where it gathered upwards of 3,300 upvotes and 270 comments (shown below, right).


On May 21st, 2010, the pop culture blog Blastr[6] posted a Star Wars-themed periodic table parody (shown below, left). On December 17th, the automobile news magazine Car and Driver[7] highlighted a periodic table populated with various sports cars (shown below, right).


On February 14th, 2012, Redditor rach11 submitted a photograph of cupcakes decorated and arranged to resemble the periodic table of the elements to /r/pics,[8] where it gained over 2,900 upvotes and 130 comments prior to being archived. (shown below). On January 31st, 2013, the Internet humor blog Mental Floss[1] highlighted several notable periodic table parody examples.

Notable Examples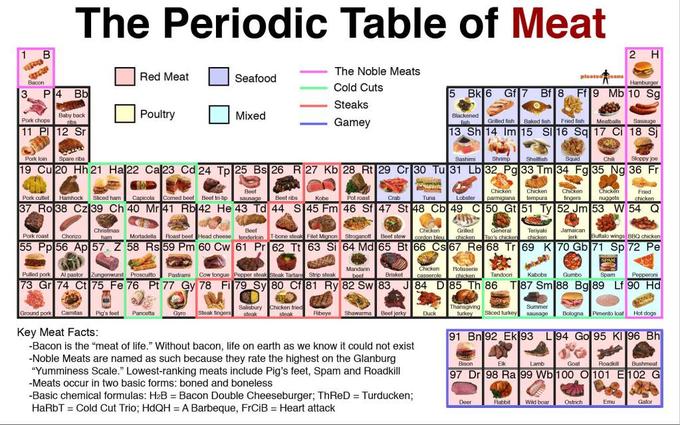 Search Interest
Not available.
External References