Pigtail Theory / Hair Theory
This submission is currently being researched & evaluated!
You can help confirm this entry by contributing facts, media, and other evidence of notability and mutation.
About
The Pigtail Theory or Hair Theory is a theory popularized on TikTok in late 2021 claiming that servers, strippers and other service workers get better treatment and tips from customers if they wear pigtails. It is speculated that this is because pigtails make women look younger, arguably like children, thus inspiring creepy older men to tip them more. The theory first went viral in September 2021 when TikToker @aliveandwellandsexy posted a video alluding to the theory, inspiring other TikTokers to test it for themselves and retell their own experiences with wearing pigtails at work.
Origin
On September 26th, 2021, TikToker[1] @aliveandwellandsexy posted a video captioned, "When you wear pigtails to work and make double amount of tips than usual," garnering over 1.4 million views in two years (shown below).
The video inspired numerous comments from other TikTokers claiming that they also get better tips and treatment from customers, specifically older men, when they wear pigtails (examples shown below).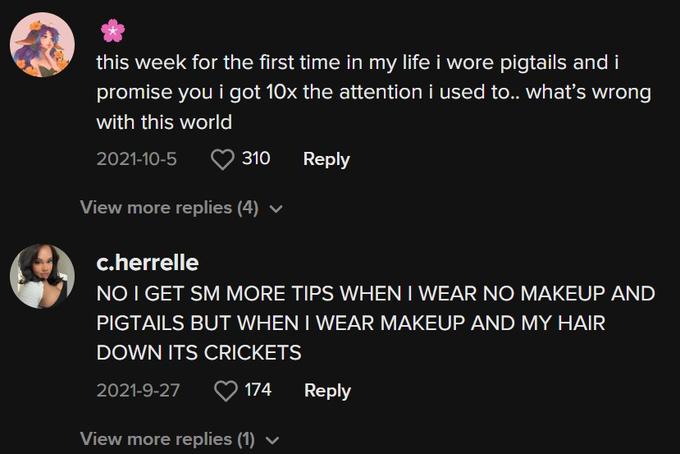 Spread
Throughout 2022, TikTokers began posting similar videos about getting better tips when wearing pigtails, as well as testing the theory out for themselves and reporting if it worked or not — many finding that it did (examples from August 2022 shown below). On August 17th, BuzzFeed[2] then reported on the theory. On October 16th, TikToker[3] @lils_yi posted a video testing the theory and suggested it worked.
The theory saw an increase in virality throughout early 2023 as users continued to test it. On January 15th, 2023, Business Insider[4] notably published an article on the theory as it saw a resurgence online.
On February 25th, 2023, TikToker[5] @wdistmwtsmbtah posted a video testing the theory, garnering over 6.5 million views in two months (shown below, left). On March 31st, The Tab[6] then reported on it. That day, TikToker[7] @rachelmdarby posted a video explaining how it worked and noted that it inspired "old men" to compliment her and look at her more, garnering over 145,000 views in three days (shown below, right).
Various Examples
Search Interest
External References