#SafetyPin / Safety Pin Movement
This submission is currently being researched & evaluated!
You can help confirm this entry by contributing facts, media, and other evidence of notability and mutation.
About
#SafetyPin is an activist campaign in protest of the United Kingom's withdrawal from the European Union and the election of Donald Trump as the 45th President of the United States. While the pin is meant to symbolize that that wearer is an ally to members of marginalized groups, some have accused the campaign of being an empty gesture and form of virtue signalling.
Origin
On June 26th, 2016, following the successful vote to allow the United Kingdom to withdrawal from the European Union, Twitter user @cheeahs started a campaign urging people who opposed the referendum to wear an empty safety pin to symbolize solidarity against racism (shown below).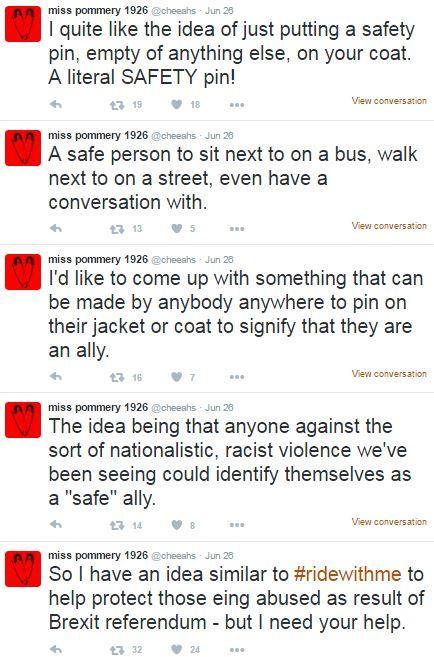 Precursor: I'll Ride With You
Following the Sydney hostage crisis in 2014, the hashtag #IllRideWithYou was launched in opposition to Islamophobia in Australia (shown below).

Spread
Following @cheeahs tweets in late June 2016, other Twitter users began promoting the hashtag #SafetyPin in opposition to racism and xenophobia (shown below). In the coming days, various news sites published articles about the campaign, including The Independent,[1] Think Progress[9] and The Guardian.[10]



2016 United States Presidential Election
On November 10th, 2016, people began promoting the safety pins in protest of Donald Trump's election as the 45th President of the United States (shown below).



On November 11th, Star Wars: Rogue One screenwriter Chris Weitz posted the Rebellion symbol from the film with a safety pin, along with the message "Star Wars against hate. Spread it" (shown below).

That same day, Twitter user Morgan Jerkins expressed frustration with the safety pins, stating she would prefer people to "work and educate yourself and your loved ones on white supremacy" (shown below, left).[8] Meanwhile, actor Patrick Stewart tweeted a photograph of himself wearing a safety pin (shown below, right).[7] Also on November 11th, Redditor GamerGhazzawi submitted a post asking about the pins to /r/OutOfTheLoop.[6]


On November 12th, The Huffington Post[3] published an article titled "Dear White People, Your Safety Pins Are Embarassing," which criticized the pins as a empty gesture of support for marginalized groups. Meanwhile, a thread was launched on 4chan about the pins, in which various users suggested launching a troll campaign to associated the pins with support for Donald Trump or white supremacy (shown below). On November 14th, The Daily Dot[2] reported that the safety pins were being "co-opted by white supremacists."

Search Interest
External References