2014 Sydney Hostage Crisis
This submission is currently being researched & evaluated!
You can help confirm this entry by contributing facts, media, and other evidence of notability and mutation.
Overview
2014 Sydney Hostage Crisis was a 16-hour standoff that took place at a Lindt Chocolate Cafe in Sydney, Australia where Iranian Muslim cleric Man Haron Monis took 17 people hostage in December 2014. The siege resulted in the deaths of Monis and two hostages.
Background
At 9:44 a.m. (AEDT) on December 15th, 2014, Monis took 17 hostages at the Lindt Chocolate Cafe at 53 Martin Place in Sydney, Australia. According to eyewitness reports,[1] Monis was carrying a "blue sports bag" and was armed with a shotgun.
Notable Developments
Online Reaction
On Facebook[3] and Twitter,[4] the hashtag "#sydneysiege" began trending worldwide within hours of the events unfolding. On Reddit live-updated thread[5] was created which had more than 17,000 viewers at peak. A post was also made to /r/worldnews,[6] which gathered more than 8,200 comments and 4,800 upvotes within six hours. After the attack, some Muslims in Australia expressed fear of retribution for their religion. Twitter user Micheal James retweeted a post by a man who claimed to have protected a Muslim woman wearing a hijab (shown below).

The idea to encouraged others to follow suit and Twitter user @sirtessa launched the hashtag "#illridewithyou" to organize a buddy system and to further show support.

The hashtag soon caught on, and in 3 hours the hashtag had been used over 65,000 times,[7] causing it to go trending worldwide.[8]

Australians offer to go with Muslim Australians in public places if they fear racist backlash #illridewithyou So much better than bigotry

— Julian Burnside (@JulianBurnside) December 15, 2014
14 Dec: Australian Muslim youth handed out 2000 flowers and 3600 water bottles to ppl in sydney #illridewithyou pic.twitter.com/22ikQczgnX

— Mina (@mina_ysf) December 15, 2014
Uber Surge Pricing
That day, the Uber_Sydney[9] Twitter feed announced they would be raising fares in the area to "encourage more drivers to come online & pick up passengers in the area" (shown below).

After many criticized the company for increasing rates during the crisis, Uber published a blog post[10] announcing that Sydneysiders would be getting free rides out of the area in order to return home safely.
End of Siege
During the 16-hour stand-off proceeded, between 10 and 12 hostages managed to escape the building. At 2:14 a.m. (AEDT), police raided the building, resulting in the death of Monis and two hostages.
Notable Images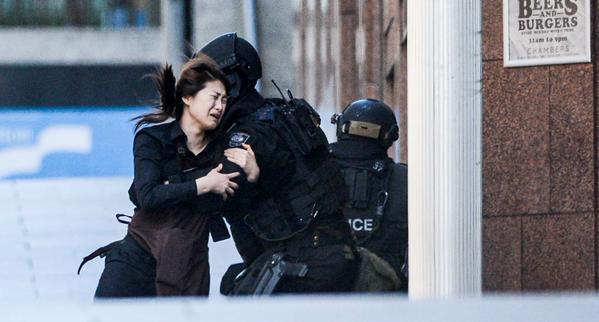 Search Interest
Currently unavailable.
External References