This submission is currently being researched & evaluated!
You can help confirm this entry by contributing facts, media, and other evidence of notability and mutation.
About
Skrulls are a fictional villainous extraterrestrials featured in Marvel Comics and the Marvel Cinematic Universe. First appearing in the Fantastic Four comics, Skrulls begat a series of photoshop based on a photograph of them previewing the 2019 film Captain Marvel.
Origin
The Skrulls first appeared in Fantastic Four #2, which was published in January 1962 (cover below).[1]

Spread
Captain Marvel Film Photoshops
On September 5th, 2018, Entertainment Weekly publsihed the first image of the Skrulls from 2019's Captain Marvel (shown below).[2]

Shortly after the image was posted, people began captioning the photograph, mocking the look and setting of the image, mostly saying that the image looks like an album cover. Twitter[3] @JoeTabs tweeted, "I can't wait for the Skrull's debut Christian Rock album." The tweet (shown below, left) received more than 580 retweets and 1,800 likes in 24 hours.
Twitter[4] user @JoshRaby tweeted a mock album cover with the titled "The Skrulls Help Me, I'm Killing You." The tweet (shown below, center received more than 25 retweets and 60 likes in 24 hours.
Twitter user @AcradeNoise tweeted,[5] "The Skrulls look like they're about to drop the most fire R&B album of all time. 'Secret Invasion of the Heart' headass." The tweet (shown below, right) received more than 35 retweets and 65 likes in 24 hours.
Several media outlets reported on the reaction to the photograph, including Polygon,[6] Moviefone,[7] Comicbook.com[8] and more.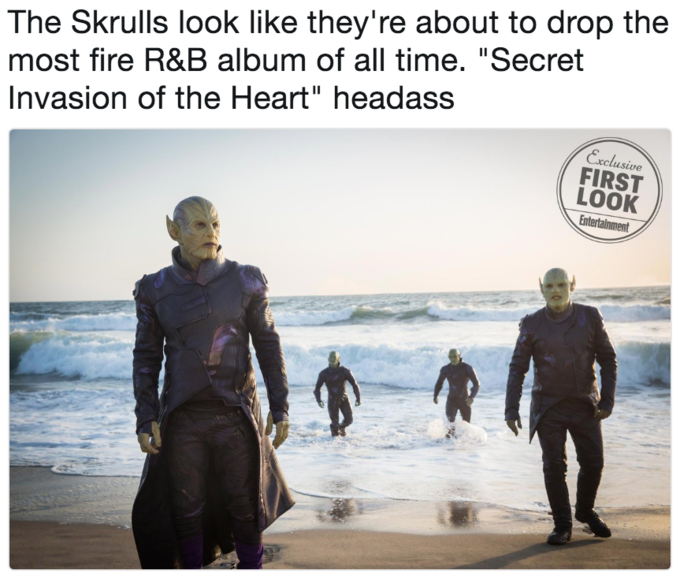 Various Examples






Search Interest
External References
Recent Videos
There are no videos currently available.