This submission is currently being researched & evaluated!
You can help confirm this entry by contributing facts, media, and other evidence of notability and mutation.
About
Sly Duck refers to a picture of an indoutka, a bird native to the tropics of South America, caught looking at the camera. Due to the bird's expression which people on Twitter interpreted as mischievous or sassy, it grew into a popular reaction image on the platform in late April, 2017. As of April 27th, 2017, there is no definitive name for the meme.
Origin
The picture of the indoutka comes from Russian site Kakprosto.ru.[1] On Twitter, the image appears to have been posted first by @whomstami,[2] who posted the photo with the caption "Why does this bird look like she has the tea on EVERYBODY I'm crying," gaining over 1,800 retweets and 4,100 likes.

Spread
A half hour after @whomstami's tweet, Twitter user @XLNB posted a series of tweets in a thread that would bring the picture its widest audience. His first,[3] captioned "When you grab the McDonald's and eat a little bit out of everybody's fries then take the one you didn't touch," gained over 28,000 retweets and 46,000 likes in two days (shown below). He would then write 9 more tweets with the bird as a reaction image, many of which were included in a Twitter Moment[4] on the 27th.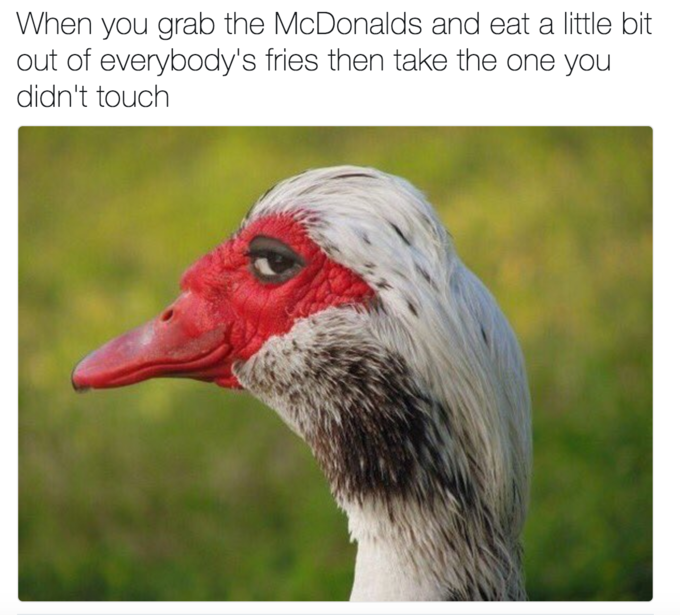 Various Examples






Search Interest
Unavailable
External References
Recent Videos
There are no videos currently available.