About
Soraya Montenegro is a fictional character and prominent antagonist featured in the popular Mexican telenovela María la del Barrio. On the Internet, the character has gained an ironic fan following for her traits of extreme jealousy and frequent resort to violence, including murder.
Origin
María la del Barrio (English: Maria of the Slums) ran for 90 episodes from August 14th, 1995 to April 29th, 1996. The series, which is a remake of the 1979 Mexican telenovela Los ricos también lloran (English: The rich also cry), enjoyed extremely successful ratings throughout its run and went on to become one of the world's most popular and widely syndicated TV shows ever, having been broadcast in over 180 countries and spawning a Filipino remake in 2011. The telenovela has stood the test of time and gained a cult show status, mainly due to the cast's comically melodramatic performance driven by unrealistic plot twists, particularly in regard to the supporting role of Soraya Montenegro, a wealthy and evil relative of the De la Vega family portrayed by Itatí Cantoral. Online, the character has long been celebrated as the single most memorable antagonist of the series and one of the most iconic villains in Mexican telenovela history, with "best-of" montage tributes to Soraya Montenegro entering circulation on YouTube as early as May 2008.
The Plot
The series follows the story of the protagonist character María Hernández (portrayed by Thalía), a young and humble woman from the slums on the outskirts of Mexico City who is welcomed into the home of affluent businessman Fernando De la Vega (portrayed by Ricardo Blume) at age of 15 following the death of her godmother. As María tries to settle into her new life at the De la Vega family's mansion, she quickly befriends and falls in love with Luis Fernando de la Vega, Fernando's eldest son, though not without challenges from other members of the family, mainly Victoria, Fernando's wife, Carlota, one of the housemaids, and Soraya Montenegro (portrayed by Itatí Cantoral), Victoria's niece who grows jealousy towards Maria due to her obsession with Luis Fernando and his family's fortune.
Spread
On May 7th, 2014, Tumblr user Roslips[15] uploaded a video clip of Soraya confronting her orphaned stepdaughter Alicia after she catches her kissing Fernando "Nandito" de la Vega Hernández, the long lost son of her ex-husband and the main protagonist. The scene quickly went viral on the microblogging site for its over-the-top qualities, most notably Soraya's line "maldita lisiada!" (English: "Damn crippled!") said to her wheelchair-bound stepdaughter and frantic violence that ensues. Over the next two years, the Tumblr video post accumulated nearly 550,000 notes (shown below).
The viral reception of the video clip on Tumblr soon prompted an influx of animated GIFs and screenshots depicting other memorable scenes featuring Soraya Montenegro, ultimately paving the way for her international fame in the social media. On November 27th, 2014, Redditor InsomniacAlways submitted a screenshot image of a teary-eyed Soraya with the audio-descriptive English subtitle reading "Cries in Spanish" in a /r/funny[16] post titled "Have you ever been so mad you cried in Spanish?" garnering more than 1.7 million views on Imgur and 3,742 points on Reddit.

On March 23rd, 2015, a single topic blog titled Life in Spanish[7] was launched on Tumblr with various screenshots of Soraya from María la del Barrio captioned with parody subtitles in English based on the snowclone [X in Spanish].



On April 22nd, 2015, BuzzFeed Spanish[14] ran a GIF compilation article highlighting memorable moments from the infamous scene. On May 5th, 2016, The Daily Dot[12] reported on the international fandom behind the fictional telenovela character on Tumblr and Twitter, including an interview with Tumblr user Roslips whom it credited for "catapulting Soraya to viral fame by posting screenshots and videos" in the social media.
Various Examples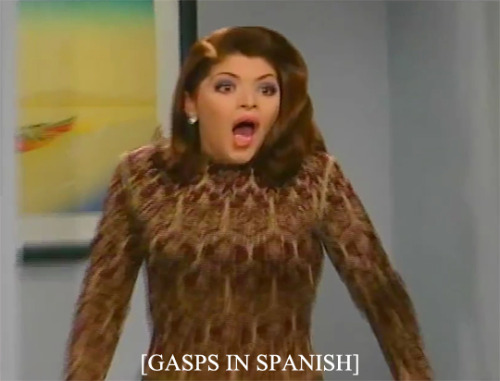 Search Interest
External References