This submission is currently being researched & evaluated!
You can help confirm this entry by contributing facts, media, and other evidence of notability and mutation.
About
Star Wars Prequel Eels refers to a series of nonsensical jokes, dialogue references and text blackout image macros that highlight the ray-finned fish as a central theme within the context of the Star Wars prequel memes.
Origin
The earliest known example of Prequel Eels was posted by Redditor [1] WhatsTomatoWithU on the /r/PrequelMemes subreddit on April 16th, 2018. The post featured the caption "When your pet eel keeps misbehaving" above a screencapture from the film Star Wars: Episode III -- Revenge of the Sith with the text blacked out to read "Oh, I have a bad eel." The post (shown below) received more than 43,000 points (86% upvoted) and 200 comments in two days.

Spread
The following day, Redditor[2] DoctorLovejuice posted a picture of Anakin Skywalker saying "…the biggest problem in the universe is no eels." The post (shown below, left) received more than 720 points (97% upvoted) in 24 hours.
That day, Redditor[5] DyspySocks posted "What started the whole eel thing in /r/prequelmemes?" in the /r/OutOfTheLoop subreddit. Within 24 hours, the post received more than 115 points (85% upvoted).
On April 18th, Redditor[3] A-Heroic-Guy posted a variation of the Peter Parker's Glasses in which Peter looks a the /r/PrequelMemes without glasses and it looks normal. When he puts on glasses, however, it says "eelMemes." The post (shown below, center) received more than 17,000 points (92% upvoted) and 140 comments.
That day, Redditor[4] swgamin posted a SpongeBob SquarePants meme of SpongeBob and Patrick playing a board game and rolling dice over whether they would get a Prequel Meme or an eel meme. The post (shown below, right) received more than 8,700 points (96% upvoted) and 65 comments in 24 hours.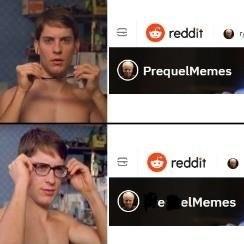 Various Examples






Search Interest
Not available.
External References
Recent Videos
There are no videos currently available.