About
Sheevposting is the act of parodying the Star Wars villain Darth Sidious, whose birth name was revealed to be Sheev Palpatine in the 2014 novel Tarkin. Similar to the practice of Baneposting. among the fans of The Dark Knight films, Sheev posting typically takes the form of image macros and photoshopped parodies based on still images of the character as portrayed in the franchise, most notably scenes from Star Wars Episode III: Revenge of the Sith wherein Palpatine reveals himself as a Sith Lord.
Origin
While various jokes (see Related Memes, below) regarding Palpatine were prevalent online for years prior to Tarkin's release, the term "Sheev Posting" was not employed to describe them until the October 14th, 2014 revelation of Palpatine's first name by an editor on the Wookipedia article titled "Darth Sidious."[2] Following this, various forums and image boards began to give their thoughts on the name. Cinemablend called the name "weird" on an article with more than 39 discussion comments,[3] while the science fiction criticism site Tor wrote at length about its possible origins:[4]
While it would be nice to have given the ultimate bad guy in Star Wars a more fearsome name (like Zardoz), Sheev at least fits within what we know of Palpatine's origins. The humans on Naboo, or at least the ones notable in the story, have names that originate from sanskrit words and terminology. Padme is a hair away from padma, the sacred lotus that is a symbol of divine beauty and purity in Hinduism and Buddhism. (Her last name fits phonetically with sanskrit words, as well, and could be very roughly translated to mean "I am a part of," if we take the Star Wars skewing into account.)
Spread
On December 13th, 2014, YouTuber diccolopick uploaded a video titled "Star Wars: Sheev vs Dindu" parodying the scene in which Palpatine is confronted by several Jedi Masters, led by Mace Windu (shown below).
On January 15th, 2015 Reddit user big_guyforu posted an image of various screenshots from a /tv/ thread as well as a video with audio of a man doing a Palpatine impression while his significant other awakens annoyed (both shown below).[1]

Sheev posting is especially popular on /tv/, where there are over 11,400 threads in which he is mentioned.[5] In the Star Wars forums "The Cantina," a thread was created calling 2015 "The Year of the Sheev."
Various Examples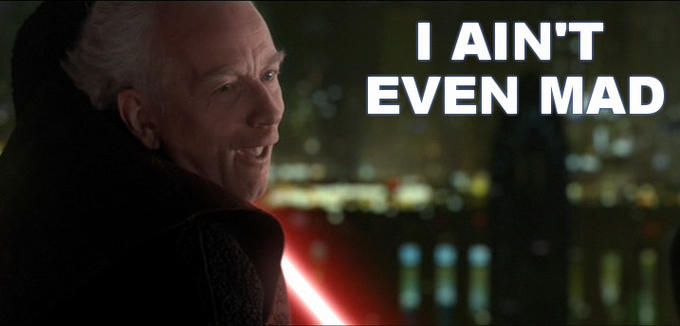 Related Memes
Let The Hate Flow Through You
Let The Hate Flow Through You is a memorable quote uttered by Emperor Palpatine in the 1983 Science Fiction movie Star Wars Episode VI: Return of The Jedi. The quote is often use as a reponse or a reaction image against negative posts on online discussions or for other various activities.

Do It
Do It refers to a phrase in the film Revenge of the Sith uttered by Palpatine to Anakin Skywalker in an attempt for coerce him into killing Count Dooku. The phrase and scene have been used and parodied online as a way to express one's wanting for an individual to do a certain task.

Sheev Spin
Sheev Spin refers to a clip from a scene in Revenge of the Sith where Palpatine is confronted by several Jedi Masters and attacks them by lunging at them while spinning through the air and emitting an otherworldly scream. The clip is widely mocked and parodied on sites such as 4chan and reddit.

Search Interest
External References