This entry contains content that may be considered sensitive to some viewers.
This submission is currently being researched & evaluated!
You can help confirm this entry by contributing facts, media, and other evidence of notability and mutation.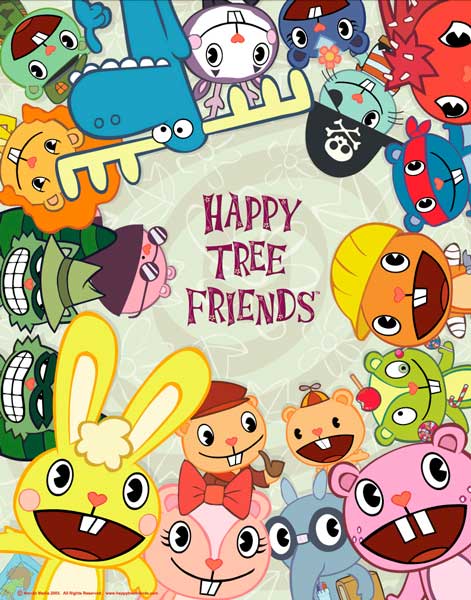 About
Happy Tree Friends[1] is a web animation cartoon series produced by Mondo Mini Shows also created Dick Figures, best known for combining cuddly innocuous animal characters with graphic depiction of bloodbaths, dismemberment and painful death. It has since gained an online following of cult status, reaching over 15 million views per month at its peak.
History
"Banjo Frenzy" episode shown in left. "Spin Fun Knowin' Ya!" episode shown in right.
In 1999, Mondo gave Aubrey Ankrum, Rhode Montijo and Kenn Navarro a chance to do a short for them. They came up with a short named Banjo Frenzy[2], which featured a dinosaur killing three woodland animals, a rabbit, squirrel and beaver with a banjo for laughing at him. From there, Mondo gave them their own Internet series, which they named Happy Tree Friends with an episode named Spin Fun Knowin' Ya![3] released in December 24, 1999.
Possible feature film
[researching]
Fanart
[researching]
Search Interest
External References