The Glorious PC Gaming Master Race

About
The Glorious PC Gaming Master Race is a facetious label used to attribute superiority to those who prefer to play video games on a personal computer (PC). Conversely, those who prefer to play games on a console are sarcastically referred to as "dirty console peasants." Although initially used in the context of PC vs. console debates, this mocking phrase has since spawned a number of derivatives to criticize elitist sentiments that are prevalent in other subcultures.
Origin
On January 23rd, 2008, online video game magazine The Escapist[2] published a review episode of the PC game The Witcher[1] as part of their review series "Zero Punctuation."[3] In the video, the narrator quips how The Witcher's complex structure makes the gaming experience optimized for PC users so that "those dirty console playing peasants don't ruin it for the glorious PC gaming master race." Within six years, the episode gathered over 400 comments and 650 Facebook likes on the Escapist website.
Spread
On February 23rd, 2010, a Facebook page[4] titled "Glorious PC Gaming Master Race" was created, which received more than 3,900 likes in the next three years. On April 30th, 2011, the r/pcmasterrace subreddit[5] was launched, in which Redditors submit posts related to the superiority of PC gaming. On July 21st, The Zero Punctuation review of The Witcher was uploaded to YouTube, receiving upwards of 200,000 views and 680 comments in the next two years. On June 14th, 2012, the video game blog VG 24/7[6] published an article about PC game modding, which referenced the glorious PC gaming master race. On November 25th, the gaming blog Kotaku[7] highlighted an artwork depicting the PC master race created by digital illustrator Saenji Oh (shown below), which accumulated over 60,000 views and 800 comments on Kotaku and nearly 1 million views on Imgur[8] in the next four months.

Additionally, threads discussing the glorious PC gaming master race have been submitted to Newgrounds,[9] IGN,[10] Rooster Teeth[11] and the Bodybuilding Forums.[12]
Notable Examples
Additional examples can also be found on Tumblr under the tags "#pc-gaming-master-race"[13] and "#master-race".[14]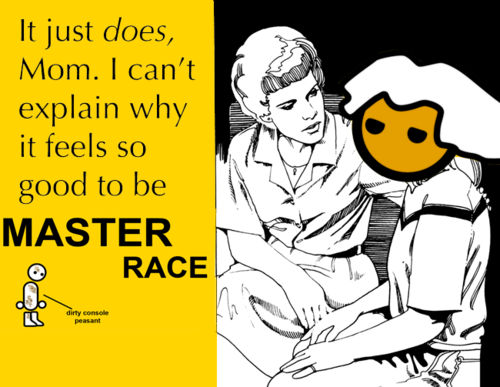 Related Term: Filthy Casual
"Filthy Casual" is a term used on message boards and in comments to negatively describe a gamer who only plays casual games that require a low level of commitment and skills. The label is believed to have originated from 4chan's /v/ (video games) board, where casual gamers are often looked down upon by hardcore gamers, with the earliest known use of the term[2] dating back to August 30th, 2008 in a self-satirical, meta-discussion thread illustrating how an average discussion plays out on /v/.

Search Interest
External References.