What Kind of Gamer Are You?
This submission is currently being researched & evaluated!
You can help confirm this entry by contributing facts, media, and other evidence of notability and mutation.
About
What Kind of Gamer Are You? is a series of memes that parody a skewed perception of time between game releases, expressed by referring to games released a decade ago as "ancient." In memes, the phenomenon is typically parodied through comical exaggeration.
Origin
Prior to April 11th, 2018, an unknown user posted a Gamer Joker meme titled, "What kind of gamer are you?" The meme distributed 15 popular games from the past 12 years between three Jokers portrayed by Jared Leto, Heath Ledger and Jack Nicholson, labeled, "New school," "Old school" and "Ancient Gamer," respectively (shown below).

On April 11th and 12th, Know Your Meme[1][2] users Artichoke and RandomMan archived the meme on the site, with the post garnering over 4,500 views and 23,200 views in five years.
Spread
On April 3rd, 2019, Know Your Meme[3] user Grobzoula posted the earliest found derivative meme using the format, an extended version that accumulated over 20 upvotes and 7,000 views in four years (shown below, left). On October 9th, 2020, Facebook[4] pate Molag Bal posted a parody version about The Elder Scrolls V: Skyrim re-releases, which gained over 480 reactions and 160 shares in two years (shown below, right).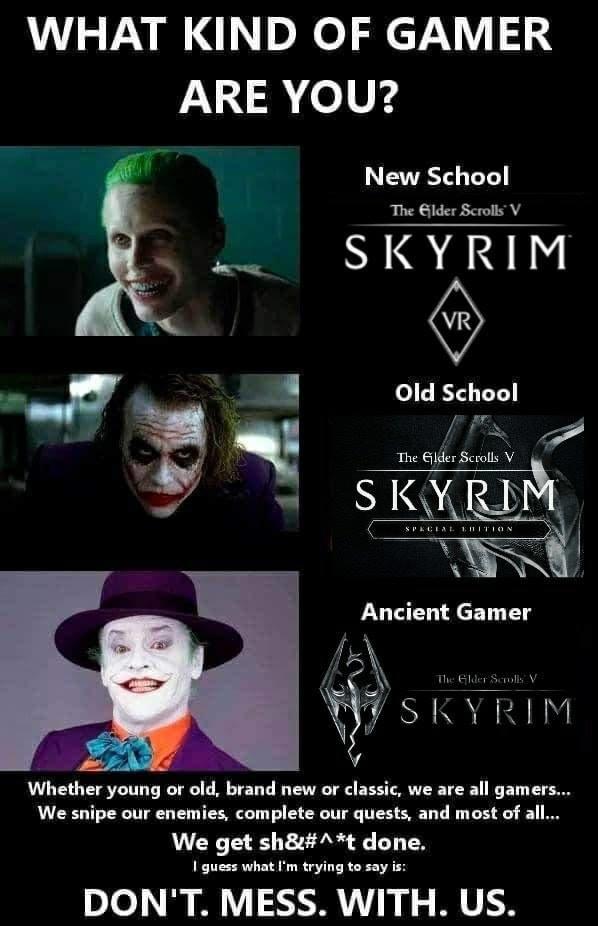 The format did not see active spread until October 11th, 2022, when Twitter[5] user posted an ironic version about horror games released within the last eight years, referring to Poppy Playtime players, a game released one year prior, as "old school gamers." The post gained over 4,200 retweets and 54,200 likes in four months (shown below).

The spread of the post prompted more use of the format in the following months, with several versions going viral across all major social media platforms.
Various Examples






Search Interest
External References
Recent Videos
There are no videos currently available.