Zodiac Killer Gary Francis Poste
About
Zodiac Killer Gary Francis Poste refers to reports in October 2021 that a team of cold-case investigators made up of ex-FBI and members of law enforcement discovered the identity of The Zodiac Killer as Gary Francis Poste, who died in 2018. The Zodiac Killer claimed to kill at least 37 people starting in the 1960s and is known for giving the police cryptic ciphers, one of which allegedly gives his full name if decrypted. The story broke on October 6th, 2021, inspiring discussion and memes about Poste dying before he could get caught. Poste was not linked by DNA and his identity as the killer has not been confirmed by working law enforcement or FBI.
Origin
On October 6th, Fox News[1] published an article claiming that a cold-case investigative team made up ex-FBI and law enforcement officers, called The Case Breakers, identified the Zodiac Killer as California resident Gary Francis Poste (shown below). Poste ran Pine Mountain Painting Co.[2] in Groveland, California with a partner Rodney Louis Hamlin before his death in 2018. According to the Fox News report, the Case Breakers drew this conclusion after finding new forensic evidence and photographs in Poste's darkroom showing scars on Poste that match a police drawing of the killer. They were also able to decipher one of the Zodiac's infamous letters to the police to reveal the name "Gary F. Poste" saying one needed to know the man's name beforehand to solve the cipher. They also linked Poste to the 1966 murder of Cheri Jo Bates two years before the first reported Zodiac murder. The Case Breakers full press release[6] is available online.

On February 22nd, 2016, Poste was arrested on suspicion of beating his wife, as reported by The Daily Mail.[3] The same article features an interview with a neighbor of Poste's, Gwen, who claims she believes Poste was the killer and backs up her belief by revealing that Poste taught her to shoot as a kid, sometimes going to the woods with him five times a week to practice. She also claims Poste's wife only slept on the couch, that she saw him take out anger on her and that she apologized to Gwen for not telling the cops about Poste's past. An anonymous whistleblower told the Case Breakers that he had witnessed Poste burying murder weapons and he groomed him into a "killing machine." On October 7th, the FBI told CNN[10] that the case was still open.
Spread
The Zodiac Killer became a hot topic of discussion in the days following the report as internet users dug up any additional information they could relating to Poste's online life. On October 6th, Twitter[5] user @dykecastoria posted a screenshot of the arrest info for Poste, gaining over 8,200 likes in a day (shown below).

On the same day, Twitter user @shtpst shared a screenshotted 2018 Facebook post from a Glynn Barnes together with Poste, with the word "Zodiac?" in the caption, suggesting Barnes knew about Poste's identity before he died (shown below, left). He also commented a screenshot from a 2012 Poll Code[7] asking "Who is the most likely Zodiac," showing a 2017 post by a Gary Poste in a thread questioning his involvement, further showing he suspected Poste was the Zodiac (shown below, right).


An additional 2018 comment on the poll by "Glynn Barnes" fully identifying the killer as Poste also surfaced (shown below).[8]

Many users also joked about Poste going to see movies about the Zodiac Killer story knowing he's the killer. For example, Twitter[9] user @sleep2dream posted, "The Zodiac Killer probably went to see Zodiac with friends and afterward was like, 'wow, that's crazy. anyway, y'all be safe" gaining over 81,000 likes and 8,700 retweets in a day. People also made jokes about him seeing the Ted Cruz Zodiac Killer memes in 2016 (examples shown below, left and right).


The Zodiac Killer Was A Lady Gaga Fan
On October 6th, Twitter[4] user heavystupidlove posted a screenshot of a 2016 Metacritic review by a "garyfrancisposte" for Lady Gaga's song "Joanne," reading: "A national treasure, like myself." The screenshot is photoshopped and the review cannot be found. The post gained over 21,000 likes and 2,300 retweets in a day (shown below).

A number of other Twitter[11][12] users followed this trend, photoshopping Metacritic reviews for various other artists' albums to make it seem like Gary Poste subtly admitting he's the killer (examples shown below, left and right).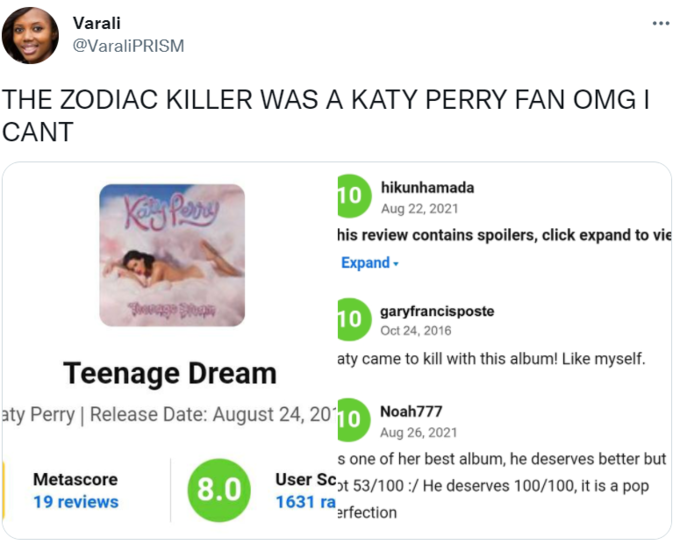 Various Examples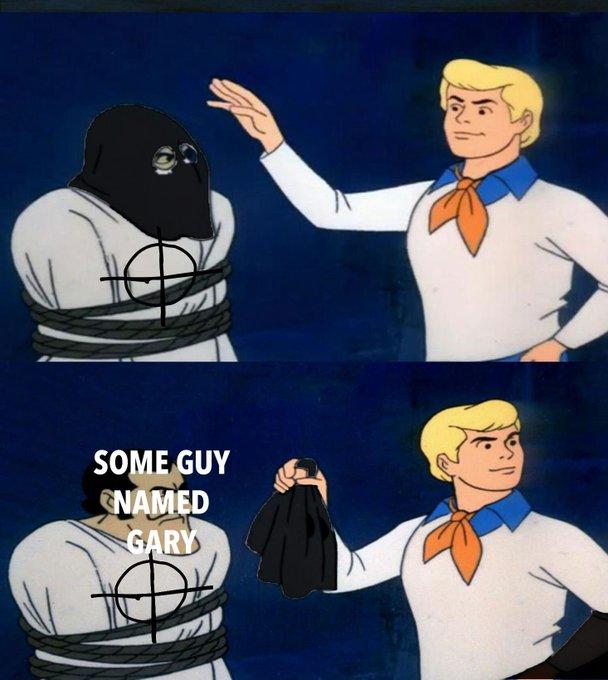 Search Interest
External References
Recent Videos
There are no videos currently available.