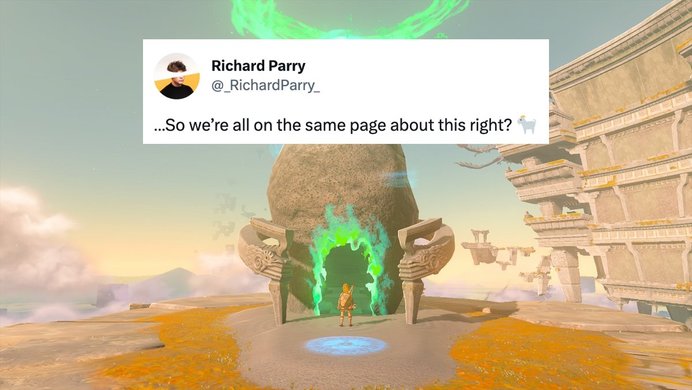 It's Tears of the Kingdom release day, and you know what that means: it's time for everyone to make jokes about Goatse.

Zelda players may remember the shrines of Breath of the Wild, which were puzzle rooms that could be completed in order to get materials to upgrade Link's health and stamina. They may also remember that the entrances to those shrines were simply doors that receded when Link stood on a platform.
The shrines have returned in Tears of the Kingdom, but they now have a fun new design upgrade. The shrines now appear to be vase-like rocks with two arms holding pillars. When approached, a gaping hole will appear between the "hands" of the rocks. It sort of looks like this:

Hardened internet veterans, trained with years of pattern recognition, were able to instantly see in the new shrine design all the signifiers of Goatse, a legendary internet shock image of a dude spreading his glutes wider than thought humanly possible, with the horrifying pink interior splayed out for all to see. The popularity of Goatse has waxed and waned over the years, but is currently seeing a resurgence on Bluesky, where rascals have been testing the sanity of the app's development team by posting the most bizarre rule 34 and shock content in internet history.

News of the so-called Goatse shrines is spreading through social media right now, but incredibly, this isn't actually the first time the Zelda franchise has incorporated Goatse-esque imagery. In fact, the fortune teller's shop in A Link to the Past has a symbol that features two hands holding a circle. While A Link to the Past predates Goatse, many older gamers have realized they can't go back and play the classic title without being reminded of the horrible hole-man.