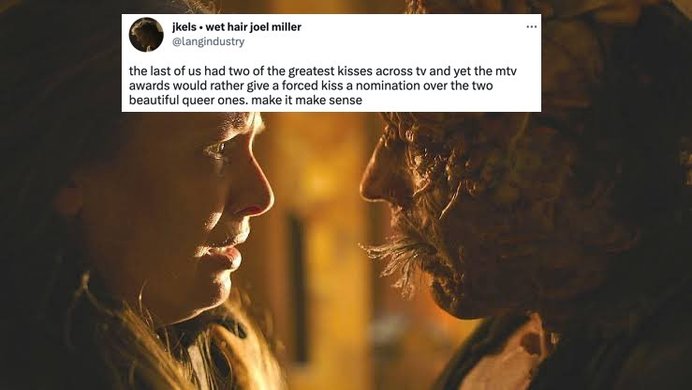 Minor spoilers for The Last Of Us ahead.
---

The MTV Movie Awards haven't exactly been must-see TV in recent years, but yesterday, the ceremony managed to regain some public attention in the form of outrage over nominating that kiss from The Last of Us TV series for this year's "Best Kiss" award.

Though the show had two widely celebrated LGBTQ-centric kisses (Bill and Frank's in episode three and Ellie and Riley's kiss in episode seven), MTV instead nominated an Infected pushing a fungi-tongue down Tess' throat at the end of episode two.
The moment was also notably one of the show's most controversial departures from the video game. In the game, Tess reveals to Joel and Ellie that she had been bitten in a tussle with some Infected hours prior and had little time to live. To get a swarm of FEDRA soldiers off Joel and Ellie's backs, Tess draws attention to herself, allowing them to escape.
In the TV show, the Infected pursue the trio, and Tess has a plot to blow them up along with herself in an abandoned building. However, she has trouble sparking her lighter, causing the Infected to rush past her. One Infected notices her and begins to try and spread his infection into her via a "kiss." While his "tongue" is deep inside her throat, Tess is able to finally spark the lighter and blow up the horde.
At the time, the "kiss" was not well received, as many felt it gave Tess a disgusting ending reminiscent of sexual assault rather than the triumphant sacrifice she pulls off in the game.
Despite being one of the least-well-received scenes in the otherwise widely celebrated Last Of Us show, it's now in the running for the bizarre honor of "Best Kiss," leaving numerous fans bewildered. In particular, fans were offended that the two, more genuinely moving queer kisses mentioned earlier were far more deserving of the award than Tess' horrific "kiss."



Tess and a zombie will have to compete with kisses from My Policeman, Daisy Jones and the Six, Outer Banks and Only Murders in the Building to take the crown for "Best Kiss in TV and Film" this year.
If it sounds outlandish that such a perceivably gross moment could take the crown, know that Jackass Forever's "Poopies" took the award last year for planting a smooch on a snake.