Last posted Nov 14, 2009 at 07:53PM EST. Added Nov 14, 2009 at 06:38PM EST
14 posts from 4 users
I was just wondering. For those of you who don't know what it is: It comes from Team Fortress 2.
Is there more to it then "Spy sappin mah sentry?"
I've only seen that.
it was branch off pretty much from the X in my Y? meme..
so. sorta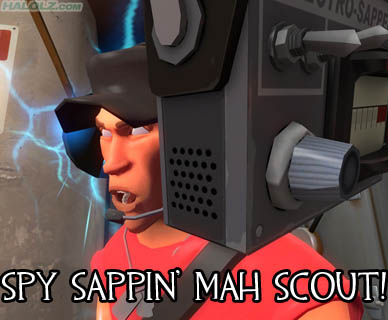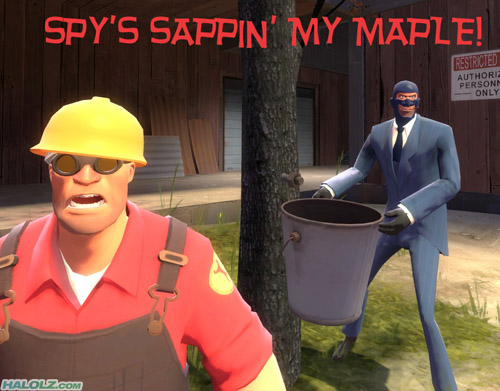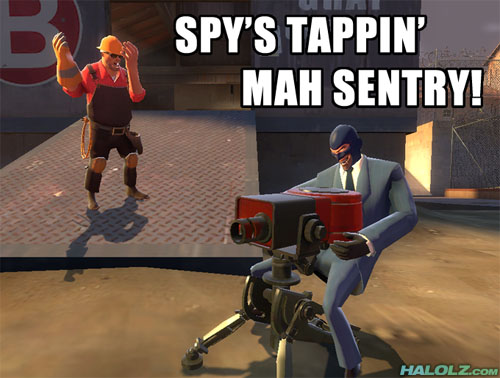 Some Halolz examples. Also huge on Youtube as comments that response to Tf2/Spy related videos
I bet you can find some Garry's Mod and Youtube Poop of it as well. I'll take a look.
There are a bunch of other TF2 related videos with "Spy sappin'" in the title, but there is no common thread. Some are TF2 gameplay footage, some are IRL re-enactments, very few make use of the catch-phrase other than just the video title.
I found this little Gmod-compilation:
The poop(s) is/aren't very good. To me it just have to depict on Gmod-screenshots. Let me know what you think.
Oops to late _;.
@ Chris: I just saw these alot on Halolz, and it is a great hit on Youtube, so I thought it was memetic. Oh, well.
It's funny, there is a more interesting subset of "spy sappin' mah" videos that look more like earlier Youtube fads related to this, but each video has under 500 views. Most of them are only about a month old. It's like the meme's skeleton has formed, but the views aren't there.
It's interesting. There are quite a few people making them all beginning in October, but nobody really watching.
I think out of interest of not causing any unnatural influence in this meme's growth, we probably shouldn't make a meme entry just yet.
O, wow. So it IS going somewhere. I'm glad it wasn't a fals alarm.
Right, but remember, we don't want our site's influence to taint the data on the meme's growth. For the time being, it would be worthwhile to take note that this exists, and check back on it occasionally, but a meme entry would be premature, IMO.
So, how can you know if it's a meme if you check back?
P.S. I really sound like a n00b right now.
Look for a generous spread of tens of thousands of views over a bunch of the videos. If that never happens, it was probably never a meme, just a bunch of imitation. If there's any quality to the videos that causes them to become popular, then it would appear that we are talking about a contagious idea. So you can understand why we don't want to attract any attention to it yet. That would be like forcing a meme.
I understand it now. I'll keep my eye on it.