Last posted Jun 27, 2010 at 03:57PM EDT. Added Jun 23, 2010 at 11:01PM EDT
44 posts from 23 users
Blargh. Gardevoir. The only psychic type you can catch before the first gym. Not to mention, many lulz are had with male ones.
Quick! Roll to detect traps!

Luxray because they are cool and cute! I remember styling my hair similar to Luxray's. I even named the hairstyle "Rentoraa" (Luxray's Japanese name).
lol >w< I was such a dork…
I would have to say… Myself.

Nah… I'm not THAT conceited.
This is my favorite pokemon.

Last edited Jun 23, 2010 at 11:26PM EDT

It's basically a fat, fuzzy me.
Tristans are the laziest of all Pokémon. They spend most of their time lying in grassy fields to eat barely doing anything; however, when threatened, they will suddenly get up and strike with great power. If the grass they've eaten around them is gone, they move to a new spot with more grass. Tristans usually eat grass that is in reach of them. Tristans also eat fruit, but they just wait until the fruits fall down from the trees instead of just climbing up and picking them.
While this Pokémon doesn't appear to do much most of the time, it has immense physical strength, stamina and surprisingly enough, speed. Much like other Normal-types, it can be taught quite a number of elemental attacks.

oh yeah, he's awesome

Because nothing says back the fuck off like flaming spines shooting out of your back.
Last edited Jun 24, 2010 at 11:16AM EDT
What is this I dont even?
ITT: 15 year olds like 2nd/3rd generation pokemanz
(Mudkipz are an exception)
Last edited Jun 24, 2010 at 12:05PM EDT
Actually, I changed my mind.
Last edited Jun 24, 2010 at 03:41PM EDT
EFFIN PIKACHU!!!
CAUSE HE'S PIKACHU!!!
wartortel hes the bad ass version of sqruitel

@quoi
WTF is that thing? Gen 5?
@thebushop yes that is a gen 5
@thread
Last edited Jun 24, 2010 at 05:57PM EDT
Mudkipz.
So I herd you liek them.
(it is contributing to the thread because I deliberately distorted the meme, to put mudkips first, as my answer.)
Because it doesn't get better than a giant frickin fire breathing flying lizard.
A fire breathing butt-head.
If you notice the Magmar's arms, it looks like he's trying to grab someone and his mouth is like "Boobies"
Last edited Jun 25, 2010 at 01:18PM EDT
A sexist pig and a child molester? Both such good choices.
@jack candle
you mean a dragon?
@ Butterin: No. A frickin CHARIZARD!
@ Ashbo: I think Magmar's more duck-ish. I've never seen a pig with a beak.
least favourite: staryou
did it even move?
It wilts when it faints and flashes the gem when hp is low (according to the anime).
If you combine two Staryu together and colored it purple, you get a Starmie.
http://www.youtube.com/watch?v=1ZXePHK_aRo&feature=related&safe_search=on
well ill be
starfish can fly :I
eevee and all evolutions
Last edited Jun 26, 2010 at 08:32PM EDT
misdreavus!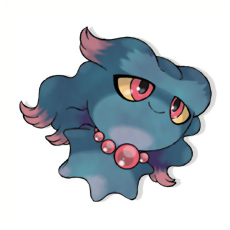 I like the ghost types mainly because they didnt have that many when they first started and I love ghosts.
Jordan what the fuck are you doing on KYM.
My second favorite is Mismagius


Evolved form of Misdreavus
@Viral Edge: What the hell is a leafeon?
IN MY DAY, EEVEE HAD THREE EVOLUTIONS AND THAT WAS IT!
AND WE LIKED IT!!!
@ashbo12 i donk know mabey commenting
No, this is not a Shop. This is from an actual game.
I actually saw that online, but it didn't have the link to the actual emulation.
omg that is a beast fire type wanna trade i have a charzard
The one that does not exist.
@Sweatie:
http://i.ytimg.com/vi/CntgPOII_sQ/0.jpg
http://s.ytimg.com/vi/mkMOdpIHS34/0.jpg
http://knowyourmeme.com/photos/55993
http://knowyourmeme.com/photos/55992
http://knowyourmeme.com/photos/55991
http://i522.photobucket.com/albums/w346/arvikun/Blog%20Images/touhoumon_current_team.jpg
http://skycoloreddays.wordpress.com/2008/12/31/i-want-to-be-a-touhoumon-master/
Yes, it IS real.
thak you pimp abra for the back up
ಠ_ಠ
where did that squirrel get that kick ass hat