PROTIP: Press 'i' to view the image gallery, 'v' to view the video gallery, or 'r' to view a random entry.
About
"Beating a Dead Horse," also known as "flogging a dead horse," is an idiom expression used in comments and forum discussions to indicate that a particular joke or topic has been brought up one too many times. The phrase is also associated with circle jerks, or rallying around cliche ideas and popular beliefs amongst members within a self-contained online community.
Origin
According to the Wikipedia,[1] the earliest known use of the expression with its current meaning was uttered by British politician and orator John Bright when referring to the Reform Act of 1867, which called for a more democratic representation in Parliament. In an speech describing his attempt to peak the Parliament's interest, he compared it to the act of flogging a dead horse to make it pull a load. On March 24th, 2000, an email regarding the phrase "beating a dead horse" was posted on the website Phrases,[4] which cited the origin as John Bright's speech regarding Parliament.
Spread
On March 6th, 2002, Season 6 Episode 1 titled "Jared Has Aides" of the animated television series South Park was broadcast on Comedy Central, in which Subway spokesman Jared Fogle repeatedly beats a dead horse.


Click to view the related South Park episode
On December 13th, the video game-related webcomic Penny Arcade[5] published a comic titled "Product Cycle," featuring a panel showing a man beating a dead horse (shown below).
On April 6th, 2004, Urban Dictionary[2] user liamofthe---- submitted an entry for "beat a dead horse," defining the phrase as the practice of overusing a bad joke until it is no longer funny. On March 21st, 2006, YouTuber orbit18 uploaded a video titled "Beating Dead Horse," which featured footage of a player hitting a dead horse in the role-playing video game The Elder Scrolls IV: Oblivion (shown below). In the following seven years, the video gained over 100,000 views.
On December 17th, 2007, a webcomic featuring a dead horse being hired for beatings was featured on the webcomic Dilbert[6] (shown below). On February 2nd, 2008, a page titled "Beat a Dead Horse" was created on the satirical wiki Uncyclopedia.[7]
On April 18th, 2009, a page was created on the trope database site TV Tropes[8] titled "Dead Horse Trope." On February 14th, 2012, a demotivational poster featuring a man sitting on a dead horse was posted by the blogger Kathy Dishman (shown below).[9]
Image Macro Series
On April 4th, 2012, a Quickmeme[3] page titled "Beating a Dead Horse" was created, featuring a photograph of three LEGO storm troopers from the science fiction franchise Star Wars beating a LEGO horse with baseball bats (shown below). The captions typically featured references to popular topics on the social news site Reddit, followed by the phrase "Give me karma." In the first year, the page received over 1,900 submissions.
Notable Examples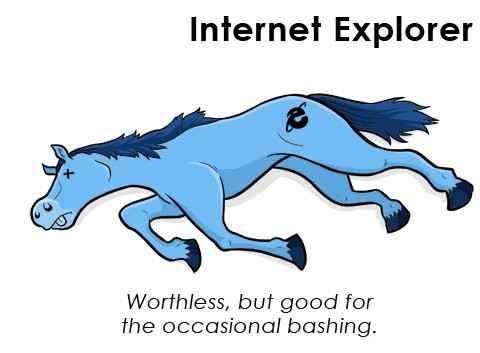 Search Interest
External References
Facebook Comments