PROTIP: Press 'i' to view the image gallery, 'v' to view the video gallery, or 'r' to view a random entry.
This submission is currently being researched & evaluated!
You can help confirm this entry by contributing facts, media, and other evidence of notability and mutation.
About
Bullshit Detector is a hypothetical measuring instrument that can supposedly determine the validity of a claim or argument. In online forums and comments, the device is most commonly summoned in response to a dubitable claim in the form of a reaction image.
Origin
On February 19th, 2006, a promotional website was launched for the "universal bullshit detector," a novelty wristwatch that makes a mooing sound when activated by the wearer.
Precursor
In Season 10 Episode 22 of the animated television series The Simpsons, originally aired on May 9th, 1999, the character Professor Frink uses a device to detect sarcasm (shown below).
Spread
On September 18th, 2009, the tech news blog Gizmodo[5] posted an article titled "Scientists Race to Develop Political Bullshit Detector," which contained an image of a "bullshit amplifier / detector" (shown below). On September 22nd, 2009, the fitness blog T-Nation[4] highlighted the same image in an interview with competitive power lifter Jim Wendler.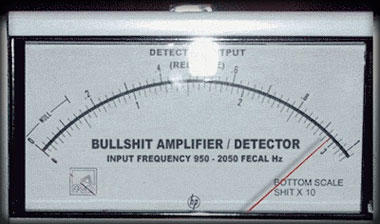 On July 15th, 2011, an Android app titled "Bullshit Detector" was submitted to the Google Play Store,[2] which features a needle indicator that responds to the tilt of a mobile device (shown below, left). On September 1st, a bullshit detector app was released on Apple's iOS store[3] with a similar interface (shown below, right).
On May 1st, 2012, a Facebook[6] page titled "The Bullshit Meter" was launched, which features a userpic of a bullshit detection reader (shown below, left). On July 1st, Paracast Forums[7] member stonehart posted a "B.S. meter" image in a thread about an unidentified flying object (shown below, right).
Notable Examples
Give-A-Fuck-O-Meter
In 2010, following the emergence of Internet slang expressions like "not a single fuck was given" and "look at all the fucks I give", and the subsequent unitization of the word "fuck," an animated GIF variation of the device dubbed the "Give-A-Fuck-O-Meter" rose to popularity, which exudes a more relaxed, carefree or apathetic attitude towards the claim in question (shown below).
Search Interest
External References
Facebook Comments