PROTIP: Press 'i' to view the image gallery, 'v' to view the video gallery, or 'r' to view a random entry.
This submission is currently being researched & evaluated!
You can help confirm this entry by contributing facts, media, and other evidence of notability and mutation.
About
Guerrillero Heroico (Heroic Guerrilla) is an iconic photograph of Cuban Marxist revolutionary Che Guevara.
Origin
The image of Guevara was taken by Cuban photographer Alberto Korda on March 5th, 1960, while attending a memorial service for victims of the La Coubre explosion in Havana, Cuba. According to historical accounts, Che briefly made a public appearance during the service, at which point Korda snapped just two frames of Che from a distance of about 25 to 30 feet before the guerrilla leader disappeared from sight. However, Korda's photo remained unpublished for seven years and he kept a cropped version of the original photo for his private collection.
The photograph was then acquired by a wealthy Italian publisher and intellectual by the name of Giangiacomo Feltrinelli in 1967. Feltrinelli had just returned from Bolivia where he had hoped his fame would help in negotiating the release of French journalist and professor, Régis Debray. Debray was arrested because it was believed that he was in connection with guerrilla operations led by Che Guevara. As Guevara's eventual capture and/or death seemed to be imminent with the CIA closing in on his whereabouts, Feltrinelli acquired the rights to publish Che's captured Bolivian Diary. At this time, Feltrinelli asked Cuban officials where he could obtain portraits of Guevara. He was directed to Korda's studio where he presented a letter of introduction from the government. The document asked for Korda's assistance in finding a good portrait of Che. Korda immediately knew that his favorite image of Che was perfect and pointed to the 1960 shot of Che hanging on the wall, saying that the photo was the best of those he had taken of Che. Feltrinelli agreed and ordered 2 prints. When the rich Itallian returned the following day to acquire the copies, Korda told him that the man did not have to pay, for he was a friend of the Revolution.
When Feltrinelli returned to Italy, he created thousands of copies of the poster to raise awareness of Che's precarious situation and impending demise. Later, in 1968, after Che was executed, Che's Bolivian Diary with Korda's photo on the cover was released worldwide. Feltrinelli also created posters to promote the book, which sold over 1 million copies. By this time, Korda's image had officially entered the public consciousness. Through Feltrinelli's actions, the picture had become famous.
As a life-long communist and supporter of the Cuban revolution, Alberto Korda claimed no payment for his picture. Even though many parodies and imitations of the portrait were reproduced on a mass scale for decades, Korda never asked for anything in return. Korda reasoned that Che's image represented his revolutionary ideals, and thus the more his picture spread the greater the chance Che's ideals would spread as well. However, Korda did not want commercialization of the image in relation to products he believed Guevara would not support, especially alcohol. This belief was displayed for the first time in 2000, when Smirnoff used Che's picture in a vodka commercial. Korda sued Lowe Lintas and Rex Features, the company that supplied the photograph to the vodka distillery. Lintas and Rex retorted that the image was in the public domain. The final result was an out of court settlement for 50,000 U.S. dollars to be given to Korda, which the photographer, in turn, donated to the Cuban health care system.
However, he was not against its propagation altogether, telling reporters:
"As a supporter of the ideals for which Che Guevara died, I am not averse to its reproduction by those who wish to propagate his memory and the cause of social justice throughout the world, but I am categorically against the exploitation of Che's image for the promotion of products such as alcohol, or for any purpose that denigrates the reputation of Che."
The Most Notable Variation
In 1967, Irish artist Jim Fitzpatrick was also using Korda's image as a basis for creating his own stylized posters:
"The first image I did of Che was psychedelic, it looks like he is in seaweed. His hair was not hair, it was shapes that I felt gave it an extra dimension. That was the image I produced for the magazine and that was done before he died and that is the important thing about that image. At first it did not print. It was considered far too strong and revolutionary. I was very inspired by Che's trip to Bolivia. He went there with the intent to overthrow the intensely corrupt government, helped by the Americans at the time, and that's where he died. I thought he was one of the greatest men who ever lived and I still do in many ways. And when he was murdered, I decided I wanted to do something about it, so I created the poster. I felt this image had to come out, or he would not be commemorated otherwise, he would go where heroes go, which is usually into anonymity."
Fitzpatrick "wanted the image to breed like rabbits" and hand-printed thousands of copies to give away to anyone for free in London. He printed about a hundred copies at a time to fulfill the demands of political groups in Ireland, France, and Holland who were the first to request the image. A batch was also sent to Spain, where they were seized by Francisco Franco's policemen.
Because of the high demand, Fitzpatrick formed a poster company called Two Bear Feet and produced a variety of posters in 1967 using the Korda image. All of them were created without copyright, because Fitzpatrick wanted them to be reproduced.
Because of Fitzpatrick's desire for the photo to have his signature style on it, he raised Che's eyes a bit more and added his initial, a reversed "F", on the left shoulder. It was not until the 40th anniversary of Che's death, that Fitzpatrick admitted to this fact stating:
"I'm a bit mischievous, so I never told anyone… I love the picture and wherever I am in the world, if I see it, I take a photo of it. I always have a chuckle when I see that little "F". I know that it's mine."
In November 2008, Fitzpatrick announced that he would be signing over the copyright of his Che image to the William Soler Pediatric Cardiology Hospital in Havana, Cuba. The reason for ensuring all future proceeds would go to the children's hospital was because "Cuba trains doctors and then sends them around the world… I want their medical system to benefit" as Fritzpatrick states. Additionally, Fitzpatrick publicized his desire to gift the original artwork to the archive run by Guevara's widow, Aleida March.
Appearance and Criticism Around the World
The very first time Cubans on a large scale became familiar with the photograph, despite its earlier reproduction in Revolución, was on hearing the news of Che's murder. Upon the news of Che's execution, it was enlarged and draped on a banner down the five-story building of the Ministry of the Interior in the Plaza de la Revolución in Havana. This building where Che himself had formerly worked, served as a backdrop to Fidel's eulogy on October 18, 1967, publicly acknowledging the death of Che Guevara before a crowd of over a million mourners. José Gómez Fresquet, renowned Cuban poster maker and graphic artist, recalls how on hearing the news of Guevara's death, he immediately worked all night, producing the poster to be used at the rally which would honor the guerrilla leader the following day. Korda had given Fresquet a copy of his photo as a basis for the poster, which he recreated on red paper. This was the first privately produced Guerrillero Heroico to be created in Cuba. Since then, the building has seen many versions of the image, and today a permanent steel outline adorns the building:
Guerrillero Heroico made its American debut in 1968, when the image appeared as a poster advertising the February issue of a literary magazine called the Evergreen Review. It was painted by Paul Davis. Formatted to fit New York subway billboards, the response was extremely negative, resulting in a bomb being thrown into the Evergreen Review offices. This was the original painting: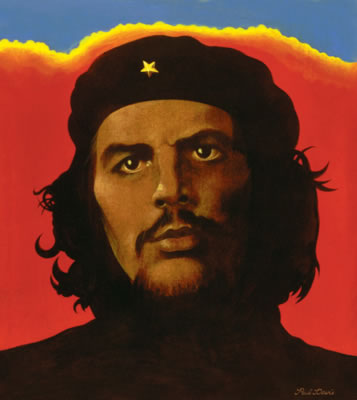 However, the fascination was not solely an American phenomenon. British journalist, Richard Gott, who met with Che Guevara several times, expressed a similar view to Korda's by stating how he was:
"… struck by Che's magnetic physical attraction, comparable to the aura of a rock star. Almost everyone had the same impression, and journalists were particularly susceptible… the red star in Che's beret was up there with 'Lucy in the Sky with Diamonds.'"
Argentine journalist, Julia Costenlos, recalls that in her view, the military theorist was:
"… blessed with a unique appeal, an incalculable enchantment that came completely naturally."
Indian Ambassador, K. Gajendra Singh, back in 1965 when he was a young diplomat in Algiers, recalls his own similar personal encounter with meeting Guevara; describing him as:
"… indisputably the dazzling star of the show… shaking his hand is like getting an autograph of a celebrity… Che's charismatic presence in green olive fatigues and black beret embodies the very best of the Hollywood and Bollywood stars all rolled into one"
British pop artist, Sir Peter Blake, has referred to Guerrillero Heroico as:
"… one of the great icons of the 20th century."
However, timing may have been perfect for Guevara, as Nick Bell, the former director of Eye magazine, has stated that if Che Guevara had been murdered in the airbrushed 70's, his face might not have made an everlasting image that's as iconic as it is today. The reason for this being the fact that when Korda's photograph was converted into the famous stencil portrait, it became easy, cheap, and super-fast to copy using the favored material and method of the 1960s: lith film and screen painting.
According to the V&A Museum:
"… the photograph enshrines Che as a mythic hero. Taken from below, the revolutionary leader with searching eyes and resolute expression becomes larger than life. A perspective that dominates the imagery of social realism, it bears an irresistible aura of authority, independence and defiance."
The V&A Museum goes on to state that Korda's famous photograph first deified Che and turned him into an icon of radical chic.
The Italian magazine, Skime, evokes even more praise, decreeing it:
"… absolutely the most famous of history… it captures beauty and youth, courage and generosity, aesthetic and moral virtues of a person who possessed all the characteristics necessary to be converted into a symbol of an epoch like ours, lacking in historic legends and mythic incarnations."
Jonathan Green, director of the UCR photography museum, has remarked that:
"… pop art is a rejection of traditional figuration, rhetoric, and rendition. Its egalitarian anti-art stance was the perfect corollary for Che's anti-establishment attitude."
Notable Appearances
Fitzpatrick's graphic was later used in a 1968 painting attributed to Andy Warhol, and was later on sold to a gallery in Rome. The painting used the same graphic processes used on the acclaimed Marilyn Monroe pieces. However, this painting was a forgery, created by Gerard Malanga who needed money. When Warhol heard of the fraud, he shrewdly authenticated the fake, providing that all the money from sales went to him. Here's the forged painting:
Here is a list of the most notable appearances:
In 1967, Polish artist, Roman Cieslewicz, designed a poster with the words "Che Si" (Yes Che) emblazoned over the revolution leader's face as his eyes and nose. This was later featured on the October 1967 cover of the French art magazine, Opus International.
In 1968, Elena Serrano produced a widely distributed poster entitled "Day of the Heroic Guerrilla", which shows telescoping images of Korda's photograph expanding to cover the entire red map of South America.
The 1968 February issue of Evergreen Review, featured Che's image in a painted form by Paul Davis.
The September 1969 issue of Tricontinental Magazine featured a conjoined image of Korda's Che with Ho Chi Minh.
During a 1969 student strike at Berkeley, a poster was produced and distributed with a speach bubble coming from Che's mouth containing the words: "Shut it down!"
In 1970, the Art Workers' Coalition produced a widely distributed anti-Vietnam War poster featuring an outline of Che on a yellow background, with his famous quotation: "Let me say at the risk of appearing ridiculous, that the true revolutionary is guided by great feelings of love."
The September 16, 1996 edition of Der Spiegel magazine entitled: "The Myth of Che Guevara", featured Che's image adorned with a halo of moving bullets.
A computerized rendition of Guerrillero Heroico appeared on the cover of the March 1-7, 2006 issue of Metro, above the title "The Blog Revolution."
The December 2008 issue of Rolling Stone Argentina features Guerrillero Heroico on the cover.
Alberto Korda's photo has received wide distribution and modification, appearing on countless numbers of t-shirts, posters, consumer products, protest banners, personal tattoos, and in many other formats. It has morphed into an iconic, counter-cultural symbol for the new generation.
(I'm still researching on its memetic spread on the internet itself. If you can be so kind as to help me out with this problem, go to this discussion: Poster Memes)
Legal Issues
The legal ownership and copyright status of Guerrillero Heroico is widely debated. Despite conflicting claims about whether or not the image is still under copyright, Korda's heirs have sought ownership of the image. Korda's daughter, Diana Diaz, pursued a successful lawsuit in 2003 in France against a Paris-based press rights group, Reporters Without Borders, for using the Che photograph in a poster campaign decrying Cuba as "the world's largest jail", aimed at dissuading French tourists from vacationing in Cuba after the jailing of 29 journalists.
Ariana Hernández-Reguant addressed the image's copyright status in 2004 in her article, "Copyrighting Che: Art and Authorship Under Cuban Late Socialism". She expressed a skeptical view towards Korda's heirs being able to establish ownership over the image, noting in reference to the lawsuits involving the image:
"There was never any official ruling on whether the depiction constituted a violation of copyright… Korda took the picture while working for a state-run newspaper, his actual property rights would be questionable under both Cuban and international law."
In 2007, law student Sarah Levy also addressed the potential legal status of the famous image in Cuba and the United States. It is her ultimate contention that:
"… in Cuba, the copyright protection in Korda's Guevara photograph would have already expired, and despite the claims of ownership from Korda's heirs, the State would now hold any rights associated with the photograph… Under the relatively low requirements articulated by U.S. courts, Korda's Guevara image should obtain copyright protection… The outcome of future litigation hinges upon the duration of protection available within a jurisdiction."
Guevara's heirs also believe they have legal justification to prevent the image's "exploitation". Guevara's Cuban widow, Aleida March, stated in 2005 that:
"We have a plan to deal with the misuse. We can't attack everyone with lances like Don Quixote, but we can try to maintain the ethics of Guevara's legacy."
In reference to this pronouncement, Guevara's daughter Aleida Guevara told Reuters:
"It will be costly and difficult because each country has different laws, but a limit has to be drawn."
However, the family has not yet mounted any court challenges.
Search Interest
Facebook Comments