PROTIP: Press 'i' to view the image gallery, 'v' to view the video gallery, or 'r' to view a random entry.
Warning: This page contains material that may be considered not safe for work.

About
Dick in a Box is a music video by the American comedy troupe The Lonely Island. The song describes putting one's genitals inside a box as the ultimate present for one's significant other.
Origin
The original video was produced as a "Digital Short" by The Lonely Island, creators of Like a Boss and I'm on a Boat,, which premiered on the sketch comedy television show Saturday Night Live (SNL) on December 16th, 2006. Said to be based on late 1980s R&B acts, the video featured actor Andy Samberg and performer Justin Timberlake attempting to woo women by presenting them with the gift of their penises in a gift-wrapped box. The video also describes the suitability of the gift for any occasion, from Christmas to "backstage at the CMAs," and provides a list of steps to present the gift.
1. Cut a hole in the box.

2. Put your junk in that box.

3. Make her open the box.

And that's the way you do it.
Spread
The week after the video premiered on SNL, several Urban Dictionary[2] entries with submitted for the phrase "dick in a box." On December 22nd, the Internet news blog Kottke[3] published a post titled "Ikea instructions for making Dick in the Box," which featured illustrations instructing how to create a "dick in a box" gift (shown below).

On March 12th, 2008, the video was uploaded to YouTube by Hulu, where it received over 36.9 million views and 22,000 comments within the next five years. On January 7th, 2009, a "Dick in a Box" Facebook[5] page was created, which received over 19,000 likes within the next three four years.
Notable Examples
Cosplay
Dick in a Box has been imitated in real life as the perfect last-minute idea for costume parties and occasions. Examples of these can be found under the tag "dick in a box" on the photo-sharing website Flickr.[6]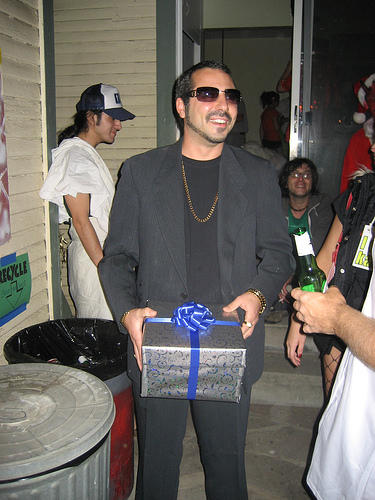 Search Interest
External References
Facebook Comments