PROTIP: Press 'i' to view the image gallery, 'v' to view the video gallery, or 'r' to view a random entry.
This submission is currently being researched & evaluated!
You can help confirm this entry by contributing facts, media, and other evidence of notability and mutation.

Background
On October 2nd, 2013, an anonymous user of 4chan's /b/ (Random) board[7] laid out a plan for an online prank to convince fans of Miley Cyrus that she had contracted AIDS (shown below). The post cited the singer's recent breakup with actor Liam Hemsworth and her overtly sexual stage performances as reasons why the prank would be believable. It also encouraged people to use the hashtag #CureForMiley[2] on Twitter to draw attention to the campaign. The post was subsequently archived via Pastebin.[1]

Pregnancy Rumor
The campaign came off the heels of a pregnancy rumor that had been circulating the web on September 30th, suggesting Cyrus was expecting a child with rapper Juicy J. In less than 24 hours, "Miley Cyrus Pregnant" had been mentioned more than 75,000 times on Twitter. Cyrus quickly dismissed the rumor by joking about it on Twitter that day.
waking up to the news that I'm now pregnant with therealjuicyj</a> baby</p>&mdash; Miley Ray Cyrus (MileyCyrus) September 30, 2013
Notable Developments
Later that morning, a Facebook fan page titled cureformiley[4] launched, gaining more than 300 likes within six hours. A screenshot of a fake CNN article (shown below) about Miley having HIV was posted to the r/4chan subreddit[3] where it gained more than 2,500 upvotes, 1,300 points overall and nearly 175 comments, many of which admonished the poster for drawing attention to the unfounded nature of the hashtag.

On Facebook and Twitter, users continued to circulate photoshopped images from TMZ and Twitter claiming to be proof of Cyrus' status, while on YouTube, the hashtag #CureForMiley began appearing in the top comments of her music videos. Around the same time, the hoax was explained on rumor-dismissing site Waffles at Noon[6] and internet culture blogs BuzzFeed[5] and The Inquisitr.[8] As of 2 p.m. (ET), #CureForMiley has been used on Twitter nearly 500 times[9] while "Miley HIV"[10] and "Miley AIDS"[11] have been mentioned more than 460 times combined.
Notable Examples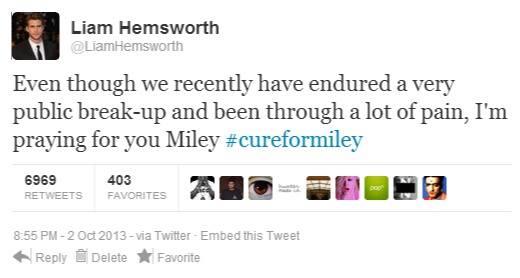 Search Interest
External References
Recent Videos
There are no videos currently available.
Facebook Comments