About
Miley Cyrus is an American actress and recording artist best known for her role as the title character in the Disney Channel series Hannah Montana between 2006 and 2011. In recent years, she has been ridiculed for live performances and online post depicting sexual behaviors and illicit drug usage.
Online History
Social Media Presence
As of November 2014, the Facebook page for Miley[30] has over 50 million likes. Her Instagram account[29] currently has 13.5 million followers and was created in May 2013. Miley's verified Twitter account (@MileyCyrus[28]) was created in March 2011 and currently has 18.8 million followers. The YouTube account for her music videos[54] was created May 2009 and (as of 2014) has 1.8 billion views as well as 6.9 million subscribers. Sub-reddit /r/mileycyrus[55] has 10,000 subscribers.
Death Hoax
In September 2008, members of Anonymous began to spread an internet death hoax rumor that Cyrus had been killed in a car accident. The rumor was paired with a screenshot of a fake Yahoo! News story[33] (shown below) and persisted via edits to her Wikipedia page and a front-page link on Digg.

Sex Tape Facebook Scam
As early as December 2010, Facebook scammers have conducted phishing schemes that use a fictional sex tape allegedly containing Cyrus as bait. The scam has since resurged on several occasions, most recently throughout September and October 2012.


We Can't Stop
On June 3rd, 2013, Miley Cyrus released "We Can't Stop", the lead R&B single from her upcoming fourth studio album Bangerz. The music video premiered on the MileyCyrusVEVO YouTube channel on June 19th, which has accrued more than 157 million views as of August 2013. Parodies of the video began appearing on YouTube as early as July 6th, 2013.
When the song was released, many critics interpreted one of the lines in the chorus as "dancing with Molly,"[1] a reference to a slang term for the drug methylenedioxy-N-methylamphetamine (MDMA). Initially, a representative from the song's production company Mike WiLL Made It[3] and Cyrus herself[5] insisted that the lyric was not a drug reference,[2] however, Cyrus later confirmed that it was about drugs in July[4], stating "You can Google me and you know what I'm up to, you know what the lyric is saying."
2013 VMA Performance
On August 5th, 2013, Cyrus performed a medley of pop songs at the 2013 MTV Video Music Awards, including "We Can't Stop," "Blurred Lines" and "Give It 2 U" with singer Robin Thicke and rapper 2 Chainz.
Photographs and GIFs of celebrities reacting to the performance from the crowd began to spread on Twitter, Tumblr and gossip blogs[16][6][7], including a still image of Will Smith and his family[8] watching the Lady Gaga performance that was erroneously attributed as a response to Cyrus. While her performance was airing on the East Coast, there were more than 306,100 tweets per minute about the VMAs, while Cyrus was mentioned a total of 4.5 million times during the entire broadcast.[9] That night, Buzzfeed[10] compiled 15 GIFs from the performance which was viewed more than 1.8 million times in less than 24 hours. Additionally, a handful of GIFs and other pieces of fan art were featured on Tumblr's curated LOL tag[11][12][13], gaining more than 100,000 notes each.



That night, Twitter users began criticizing the way Cyrus' latex outfit made her behind look with the hashtag #MileyAssSmallerThan[31], creating image macros comparing it to raw chicken or the backside of King of the Hill character Hank Hill. Within 24 hours, the hashtag was used more than 166,000 times.[32] The following day, a number of news media sites and internet culture blogs wrote about the performance as well as the online reaction including the Los Angeles Times[14], the Chicago Tribune[15], Mashable[17], Uproxx[18] and Slate.[20] Additionally, The Onion[25] criticized this coverage with a satirical opinion piece explaining why traditional news sites covered the event. The Daily Dot[21] reported on the sexist backlash Cyrus was receiving from people across social networks while a reporter at Vulture[19] suggested that the performance was a "minstrel show," exhibiting an appropriation of "ratchet" culture.[22] The racism debate was countered on The Daily Beast[23] and Mediaite[24], who both argued that Cyrus' twerking was nothing more than a dance move.
Wrecking Ball
On September 9th, 2013, the VEVO YouTube channel premiered a new music video for Cyrus' second single "Wrecking Ball" , featuring nude scenes of the singer in which she demolishes a room with a sledge hammer and wrecking ball (shown below).
On September 10th, Cyrus announced via her Twitter account that the music video had hit 12.3 million views on VEVO, breaking the record for the most viewed video within a 24-hour period previously held by the boy band One Direction.
We broke the record :) We hit 12.3 million on vevo :) keep watching #wreckingballonvevo thank you Smilers

— Miley Ray Cyrus (@MileyCyrus) September 10, 2013
Wrecking Ball has officially beat the @VEVO record. thank you smilerzzzzz

— Miley Ray Cyrus (@MileyCyrus) September 10, 2013
On the same day, several news sites published articles reporting on the record breaking video, including the Chicago Tribune,[38] Mirror,[39] E Online,[40] CBS News[41] and Perez Hilton.[42]
Pregnancy Rumor
On September 30th, 2013, the hip hop gossip blog Cream Bmp Daily[43] reported that Miley Cyrus and Juicy J "stole the show" at the 2013 BET Hip Hop Awards by announcing that they're expecting a baby on stage. According to the post, Three Six Mafia rapper Juicy J showed up on stage and told the audience "I can assure you that she's been doing a lot more than twerking," to which Cyrus reportedly responded "No, I'm really pregnant!" It also suggested that her father Billy Ray Cyrus had known about his daughter's pregnancy and joked about it on stage as well:
"She really broke my achy breaky heart" said Billy Ray Cyrus at first jokingly about the hit song he's known for but then going on to say they're are three things he thought would never be a part of his life; rap music, twerking and a black baby.
Throughout the day, Twitter ran abuzz with rumored reports about Cyrus' pregnancy announcement, further compounded by the fact that the ceremony wouldn't be televised until October 15th. According to Topsy, mentions of "Miley Cyrus Pregnant" on Twitter skyrocketed to more than 75,000 instances in less than 24 hours. That same day, Cyrus dismissed the rumor via her Twitter account with even more jokes:
waking up to the news that I'm now pregnant with therealjuicyj</a> baby</p>&mdash; Miley Ray Cyrus (MileyCyrus) September 30, 2013
Me: "did you know I'm pregnant with therealjuicyj</a> baby this morning&quot; <a href="https://twitter.com/CheyneThomas">CheyneThomas : "what are you gonna name it?" Me: "Juicy J Jr DUH"

— Miley Ray Cyrus (@MileyCyrus) September 30, 2013
#CureForMiley
On October 2nd, 2013, an anonymous user of 4chan's /b/ (Random) board[44] laid out a plan for an online prank to convince fans of Miley Cyrus that she had contracted AIDS (shown below).

Citing the singer's recent breakup with actor Liam Hemsworth and her overtly sexual stage performances as reasons why the prank would be believable, the post encouraged people to use the hashtag #CureForMiley[45] to disseminate the rumor.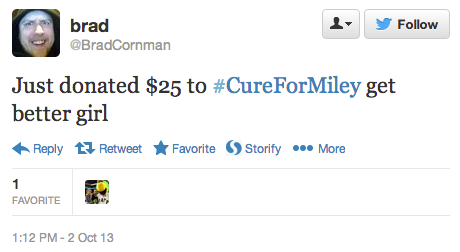 2013 TIME Person of the Year
On November 20th, 2013, TIME Magazine[44] launched a community poll for its annual "Person of the Year" contest. Although the poll required each voter to sign in via Twitter or Facebook first before casting a vote, perhaps having learned from the recent string of successful vote-rigging attempts, the poll quickly prompted two programmers, who go by the handles Gains and Marek, to develop an automated script allowing users to vote on behalf of strangers by plugging in any individual's Facebook ID number (shown below).


According to The Daily Dot's detailed coverage[45] of the rigging operation, Gains and Marek's C# and Ruby-based scripts went into effect on November 25th, at about 10:45pm, putting Cyrus at the 15th place on the list. By 12:40 a.m. on November 26th, Cyrus had jumped up to the fifth place, right behind the National Security Agency (NSA) whistleblower Edward Snowden, and on the following day, Cyrus topped the poll with more than 24% of the vote. The story was covered by LA Times.[46] On November 27th, Redditor Pwnk[48] suggested in r/conspiracy that Time itself rigged the results.

Googley-Eyed Miley Cyrus
On September 19th, 2014, Miley Cyrus[49] shared a childhood photograph of herself making a googley-eyed face via Instagram. With nearly 13 million followers under her belt, the photograph garnered over 700,000 likes in less than 72 hours.

Soon, Cyrus' followers on Instagram began sharing their reaction to her innocent childhood picture by superimposing her googley-eyed face onto more recent photographs of the singer that have marked some of her most controversial moments in public's eyes. Over that weekend, Cyrus highlighted a series of photoshopped images that she received from the fans and set her childhood photograph as her new Instagram profile picture, which was subsequently picked up by several Hollywood entertainment news sites, including Vibe[50], MTV News[51], Crushable[52] and BroBible.[53]






2015 Video Music Awards
On August 30th, 2015, MTV's 32nd Video Music Awards ceremony went underway with Miley Cyrus as the host of the night. The events of the night were covered by NY Times[56][57] and Mediate.[58]
Reputation
Drug Use
In December 2010, TMZ[34] obtained a video of Cyrus allegedly smoking salvia from a bong on her 18th birthday. The video quickly went viral and her father criticized her actions publicly on Twitter.[35] In a February 2011 interview, Cyrus stated that she made a mistake and was upset with herself for disappointing her fans and not thinking about the people who see her as a role model.[36] In July 2013, she spoke with Style Australia about her marijuana use[37], claiming she enjoyed it more than drinking.
Personal Life
Destiny Hope Cyrus was born on November 23rd, 1992 to Letitia Jean "Tish" (née Finley) and Billy Ray Cyrus[26], a country singer best known for his 1992 hit single "Achy Breaky Heart." Her nickname "Miley" is a shortened form of "Smiley," which her parents dubbed her as an infant for her happy disposition. After the success of Hannah Montana, Cyrus signed a four-album deal with Hollywood Records and released her debut studio album in June 2007, as part of a 2-disc album with the soundtrack to the second season of Hannah Montana. Her first single, "See You Again" (shown below), peaked at #10 on the Billboard Hot 100 and later was certified Platinum.
In 2009, she transitioned into film roles and launched a Walmart exclusive clothing line with Max Azria. In 2012, she announced her engagement[27] to actor Liam Hemsworth. Cyrus' fourth studio album, Bangerz is expected to be released on October 4th, 2013 and she maintains active Twitter[28], Instagram[29] and Facebook[30] accounts as of August 2013.
Search Interest
External References