PROTIP: Press 'i' to view the image gallery, 'v' to view the video gallery, or 'r' to view a random entry.
This submission is currently being researched & evaluated!
You can help confirm this entry by contributing facts, media, and other evidence of notability and mutation.
About
The King of GETs (often abbreviated to just "KoG") is an in-joke GET meme specific to 4chan's /a/ board, although it has since migrated to other boards, such as /v/, /jp/, /b/, and /vp/. The entire meme revolves around images of Yami Yugi from Season 0, with this image in particular:
Whenever a poster wishes to show that he wants to start a thread involving GETs, all he needs to do is post a Yami Yugi image from Season 0 and have his post number end in 5. This would, in turn, start a "GET Game" to see how many others could have their posts end in 5. An explanation as to why this is so effective can be seen below:
The second most common seen image is Yami Yugi holding up a five of diamonds. However, this image is an edit:
Origin
The very first 5 GET can be seen in this image:
(view the entire thread here)
Since that time, the King of GETs has gotten countless posts that have ended in a 5, resulting in a massive explosion of off-topic threads on /a/ involving nothing but getting 5 GETs. In time, the main image was modified several times to increase its viability:
In 2012, KoG threads were so common that this image was used to describe them: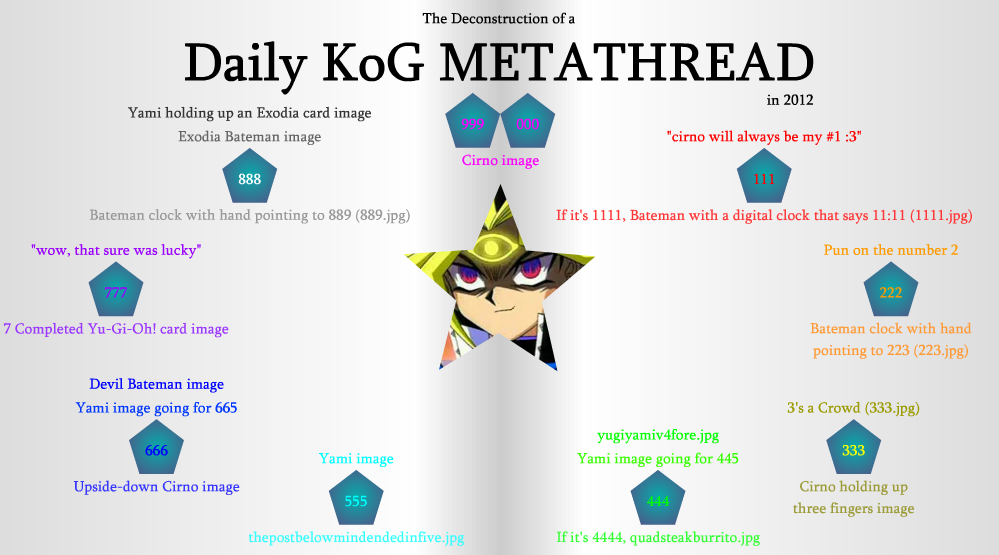 Explanation
As to why the number 5 was chosen, many answers were given, but none were definitively proven:
To date, this is the only canon reference in the official Yu-Gi-Oh! Manga that shows Yami Yugi associated with the number 5:
Source: Yu-Gi-Oh! Manga Chapter 41, Page 23
Ability to get GETs
Unlike Doubles Guy where one only has to get doubles, people who post Yami images are held to high expectations. A single 5 GET is not usually enough anymore to start an uprising on the board. Unsurprisingly, this has not stopped the supernatural power of the King of GETs, expanding his ability to extend to quints (or greater) and palindromes:
(view the entire thread here)
(view the entire thread here)
(view the entire thread here)
The 55555555
GET
Due to KoG being associated with the number 5, the anticipation spiked as soon as this was posted:
On September 25th, 2011, a mock up image of what the 55555555 GET might look like was posted on /a/:
(view the entire thread here)
A little before the GET, /sp/ was goaded to try and take the GET themselves:
This was the result:
(view the entire thread here)
Later, this happened on /sp/:
The battles between /a/ and /sp/ for GETs continue to this day. It has been summed up by many with this picture:
Connection to Cirno
KoG, with his post ending in 5, is often coupled with Cirno, who has her post often end in 9. This was mainly attributed to the fact that KoG was started in a Cirno thread. A small in-joke on /a/ has it where Cirno is always off by 1 from a 9 GET. This little in-joke was exploited for this GET:
(view the entire thread here)
However, the in-joke of being off by 1 is not always attributed to just a 9 GET:
(notice how Cirno is off by 1 from a sextuplet GET and two 9 GETs)
(view the entire thread here)
(view the entire thread here)
(view the entire thread here)
Eventually, people found out that "BA" and "KA", a play on Cirno being called a "baka" (Japanese for fool/moron/idiot), were 2 of the 5 concepts of the ancient Egyptian Soul.
Connection to Doubles Guy
It is stated that the King of GETs gave Doubles Guy a massive popularity boost thanks to this incident:
(view the entire thread here)
Since then, whenever a 5 GET thread is started on /a/, Doubles Guy will show up, and vice versa.
(view the entire thread here)
Combining the two shows good potency for a metathread (a thread or post that goes contrary to what the topic of discussion of that board or thread is all about about; this usually garners a large amount of replies in a short amount of time).
Connection to Newface
Akin to Doubles Guy, this incident gave massive popularity to Newface:
Both the creation of the thread by KoG and support post made by KoG helped Newface to pull off one of the biggest upsets in /b/'s history.
Influence on /a/
Due to the negative stigma surrounding GETs, the King of GETs was both greatly praised by trolls and flamed by people wanting to discuss anime. As such, other boards would come into /a/ and troll them. KoG has been known for starting up more than a few storms on /a/: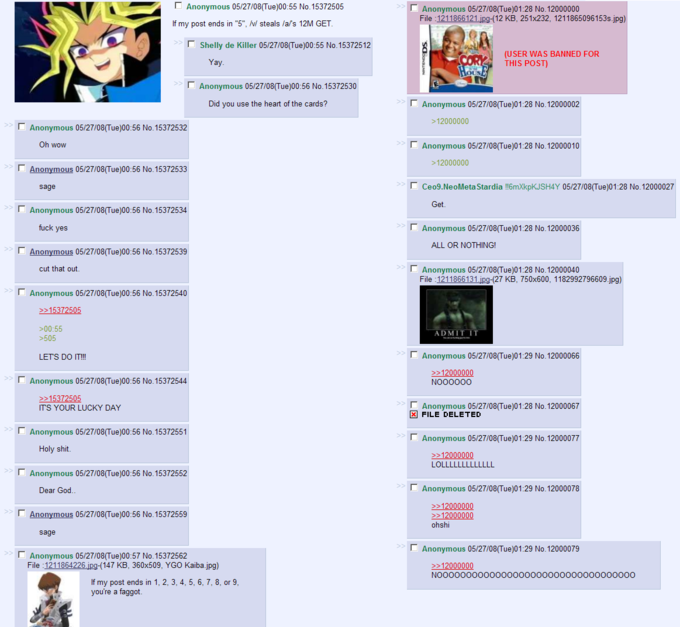 (view the entire thread here)
All of these pictures were influenced one way or another by KoG going to another board and daring them to try and steal /a/'s GET.
KoG's popularity grew to such a point that moot temporarily renamed /a/:
Influence on /jp/
moot has said on numerous occasions that there would never be a Touhou board on 4chan, but moot made an exception for a short period of time at the request of KoG by changing /jp/:
(view the entire thread here)
(view the entire thread here)
Influence on /v/
For the most part, this meme isn't directly affiliated with /v/. When the threads do exist, it's usually to egg on /v/ to come to /a/ and try to steal an upcoming /a/ GET. However, this GET caused an incredible uproar when it happened, making the thread 404 within minutes:
(view the entire thread here)
Influence on /vp/
During the first few weeks of /vp/'s existence, this meme migrated over to /vp/ to produce a barrage of connected GETs never seen before on any board:
Called "The Amber Saga" on /vp/, this has not since been duplicated in /vp/'s history. Around four million posts later, this occurred:
The GET itself alongside the context of the failed GETs helped give a clear reminder of the influence of this meme on their board.
(view the entire thread here)
Notice how this thread was posted at 05:05.
Longevity
Unlike most memes that fizzle out after a few months, the King of GETs has been going strong now for over five years and shows no sign of stopping in the near future. What has kept this meme going for so long is its adaptability to various board changes, its commonality in words to remember, and its ability to combine with various other memes for added effect:
An edit of this image was used for this thread on /b/:
This thread was later stickied and remained on /b/ for hours, garnering over 2,000 posts and, thanks to an image limit removal, over 1,000 images.
To read all of the King of GETs threads currently in the /a/ part of chanarchive, click on a number:
1 2 3 4 5 6 7 8 9 10 11 12 13 14 15 16 17 18 19 20 21 22 23 24 25 26 27 28 29 30 31 32 33 34 35 36 37 38 39 40 41 42 43 44 45 46 47 48 49 50
Search Trend
According to Google Insights, searches for "King of GETs" started around March and ended in May of 2007. This was before the King of GETs meme started, so the reason for this is unknown. Activity for "King of GETs" goes back to almost non-existent until November 2007, the time that the meme started. The activity peaked around April 2012, which coincides with KoG's two million GETs on /b/, 390M and 394M.
Facebook Comments