Warning: This page contains material that may be considered not safe for work.
This submission is currently being researched & evaluated!
You can help confirm this entry by contributing facts, media, and other evidence of notability and mutation.
About
Giga Nigga is the moniker given to a peculiar "phostoshopped"/memes/sites/photoshop photograph of famous bobybuilder Paul Dillett showing up his muscles with a grin on his face. Beyond the racist connotation, parodies emerged on 4chan, transforming him into a fierce online forum game boss that users have to defeat by successfully triggering what is commonly known as a quads get, which means having the last four digits of a post number being the same.
Origin
The photoshop itself was widely shared online among bodybuilding enthusiasts (shown below, left). An early example from October 31st, 2007, can be found in a forum thread on the Bodybuilding Dungeon website[1]. The actual photograph of bodybuilder Paul Dillett was taken as early as 1998 (shown below, right).


While it has not been archived, the Giga Nigga nickname is rumored to have originated on imageboard 4chan. The first recorded roll game with him was on Funnyjunk, posted as a comment by the user Xerke on May 28th, 2011. Though the actual initator itself is lost to time, the comment made by Pineapplepeople, combined with everyone rolling only quads when Funnyjunk allows rolling up to nine digits, confirms that it is the earliest recorded use on the internet (shown below).

Another one of its earliest online mention was on website blol.me[2] in which user Stefanus commented "GIGA NIGGA IS LOOSE!" on a repost of the photoshop, dated July 14th, 2011.
Spread
After the initial posting, the roll game continued to be popular on Funnyjunk, as a post of a screenshot[3] from August 8th 2011 by user Gardevoir shows an edited version of the photograph being supposedly "defeated" by another user rolling 3,333 (shown below). This post by Gardevoir has obtained 144 green thumbs in 10 years.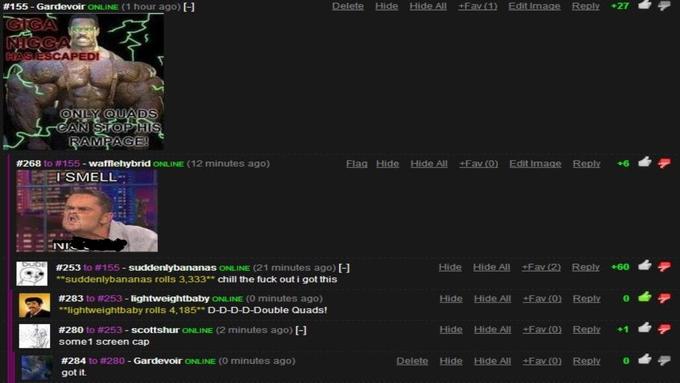 On Funnyjunk as well as other meme sites, several references to the game, either on the site itself or on 4chan, were posted between 2011 and 2012[4][5]. Around December 2011, a macro titled "Gigga Nigga" was submitted to the troll.me website[6], accumulating to 12 pages of parodies as of March 2015. On January 6th, 2012, the macro, titled "Giga Nigga" this time[7], was submitted to Meme Generator. There, it ranked #3,973 on the site and accumulated over 900 parodies as of March 2015.

Related Memes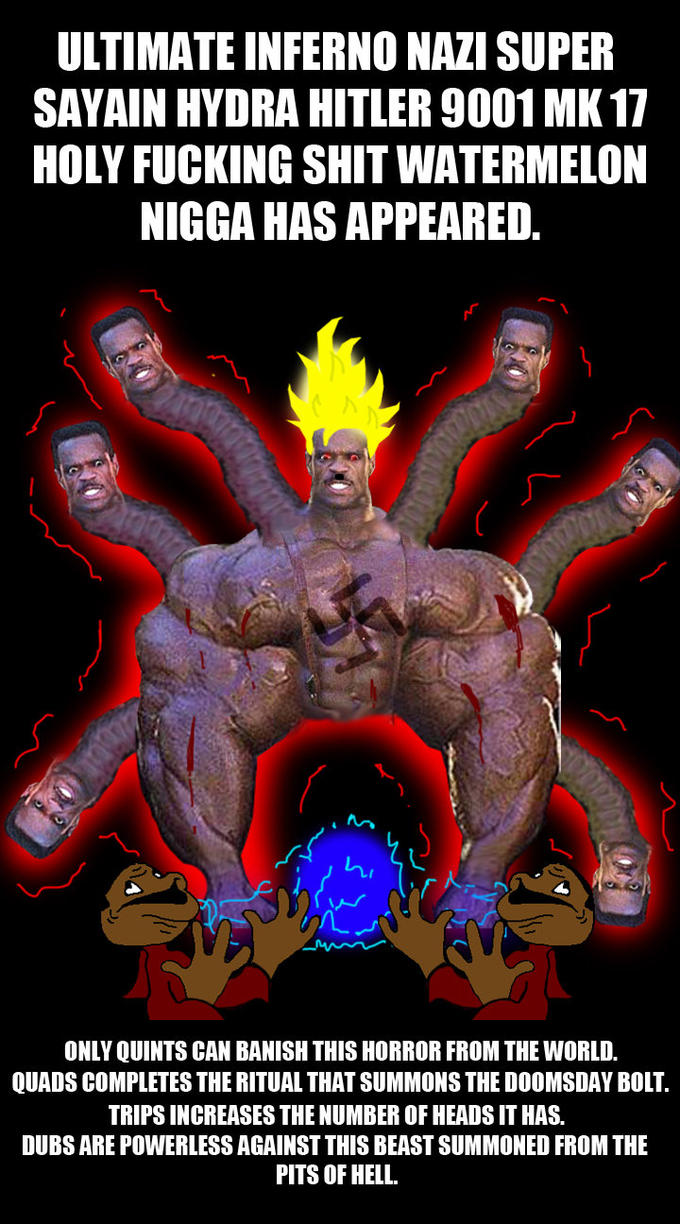 Search
External References