PROTIP: Press 'i' to view the image gallery, 'v' to view the video gallery, or 'r' to view a random entry.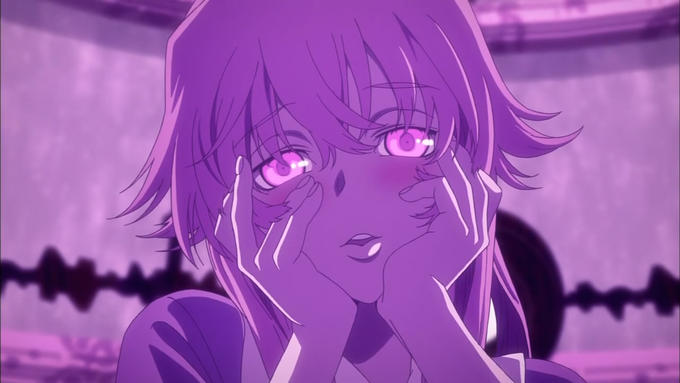 About
Mirai Nikki Yandere Face, also known as "Yandere Trance", "Yuno Face" or "Ecstatic Yandere Pose" (Japanese: 恍惚のヤンデレポーズ, Koukotsu no Yandere Pose), is an exploitable image from the Fall 2011 anime Future Diary (未来日記, Mirai Nikki ).[1] It's variations mostly stem from amateur Japanese artists on pixiv, but they have gained popularity across the internet. These images have made appearances on 4chan's /a/ board, Tumblr, and deviantART.
Origin
The meme originated from a scene at the end of the first episode of Mirai Nikki titled "Sign Up" which aired October 10th, 2011. After hearing about his involvement in the game, The protagonist Yukiteru "Yukkii" Amano is terrified of how his future will unfold. However, Yuno Gasai, the stalker of him, turns to him and tells him, "Don't worry, Yukkii… I will (ahn♡) protect you." while making this very unusual face.
Yuno on her own is popular for being the poster child of the "yandere" (crazy stalker) archetype, but this image in particular seems to have stuck with fans. She and Yukkii are involved a Survival Game set up by a character named Deus Ex Machina. The game consists of twelve players who are given future-telling diaries which they must use to kill each other off. The last one standing among them is given the right to take Deus's role as the god of time and space. Yukkii is a shut in school student and the unwilling protagonist of this series, but he ends up teaming with Yuno who serves as his strongest (although sometimes unwanted) ally.
Spread
The extremely dramatic nature of this scene, showing how obsessed and crazy Yuno is, left a strong impression on viewers and parodies of it began to appear on the internet shortly after.
There are a few known templates for this exploitable posted on pixiv.[2][3][4] It has several hundred variations with more being added every day.[5] The main points are the dramatic face and eerie lighting which can let you turn any character into a "yandere" character. Besides, a considerable number of entries parody characters outside the "yandere" archetype. Yuno's feminine face also does not discourage artists from making parodies involving male characters. The variety of characters becoming yandere is constantly expanding as artists post characters like Batman, Bumblebee, Pikachu, and Ronald McDonald.


The example of Kirino from the series Ore no Imouto
It's popularity can be likened to the exploitable images that came from other horror series like "Just as Planned" in Death Note and "Liar!" in When They Cry.
Outside Japan
This meme does not have a set name outside of Japan. Some fans who have watched the anime recognize the image as "yunoface" or "yuno'd" (though this often gets mixed results with Y U NO guy). However, parody illustrations in this series are usually named "Yandere Pose"[6] or "Yandere face"[7] in deviantART, and a large number of parodies are tagged as "yandere trance" in both Safebooru and Danbooru.[8] The pixiv Encyclopedia also recognizes the phenomena as "Yandere Trance".[9]
Notable Examples





From top left to bottom right: Marisa (Touhou Project), Mio Naganohara (Nichijou), Neji (Naruto), Seto Kaiba (Yu-Gi-Oh!)
Search Interest
The search terms "yandere face" and "yuno face" have not generated much volume. This probably due to Mirai Nikki airing in only in Japan coupled with no set non-Japanese term for the meme. However, the term 恍惚のヤンデレポーズhas generated a lot of interest since October.
External References
Facebook Comments