PROTIP: Press 'i' to view the image gallery, 'v' to view the video gallery, or 'r' to view a random entry.
This submission is currently being researched & evaluated!
You can help confirm this entry by contributing facts, media, and other evidence of notability and mutation.
About
Davidope is the pseudonym of animated GIF artist David Szakaly, who is known for posting his signature style of complex, psychedelic animations on the Tumblr microblogging platform.
History
On March 21st, 2007, Szakaly created the @davidope Twitter[9] feed. On December 2nd, 2008, Szakaly launched the DvdP Tumblr[1] blog, which initially highlighted still images for the first six months. On July 5th, 2009, Szakaly published his first original GIF[4] featuring water flowing out of a storm drainage pipe (shown below, left). On October 9th, he posted a GIF of a black-and-white sun shifting into a crescent moon, gathering more than 590 notes in the first five years (shown below, right).[5]


On November 1st, Szakaly published a set of black-and-white GIF animations featuring complicated three dimensional objects, a style of animation he later became associated with (shown below).[6][7][8]



On August 19th, 2010, the art and design blog I Want You[11] highlighted several of Szakaly's animated GIFs. On September 21st, Szakaly uploaded a video to his YouTube channel titled "From the visual chinatown of davidope," which featured several of his original animated GIFs accompanied by a variety of low and high pitched background noises (shown below).
On May 18th, 2011, Szakaly published an animated GIF homage to the "feathered" flight of Virgin Galactic's SpaceShipTwo,[2] which was subsequently highlighted on the Internet news blog BoingBoing[3] the same day (shown below, left). On October 11th, 2012, the arts and culture blog Societe Perrier[12] published an interview with Szakaly, who described how he began publishing his animated works on Tumblr. On December 24th, 2013, Redditor lisacolnett submitted a Davidope GIF resembling a Christmas tree to the /r/gifs[13] subreddit, where it garnered upwards of 16,700 up votes and 240 comments in the first two months (shown below, right).


In March 2014, several arts and culture blogs highlighted notable examples of Szakaly's GIFs, including This is Colossal,[14] Laughing Squid,[15] Policy Mic[16] and Neatorama.[17]
Notable GIFs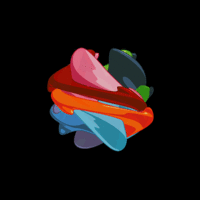 Search Interest
Not available.
External References
Recent Videos
There are no videos currently available.
Facebook Comments