PROTIP: Press 'i' to view the image gallery, 'v' to view the video gallery, or 'r' to view a random entry.
This submission is currently being researched & evaluated!
You can help confirm this entry by contributing facts, media, and other evidence of notability and mutation.
About
Doug is an American animated children's television series that originally aired on Nickelodeon (1991-1994), and later airing on ABC as Disney's Doug (1996-1999). The series follows preteen Doug Funnie (Billy West) and his experiences in the fictional town of Bluffington after he and his family move there from Bloatsburg. The first Nicktoon, the show has experienced a resurgence of popularity online due to the increase in '90s nostalgia
History
Jim Jinkins, a former storyboard artist for Nickelodeon, created Doug[1] as a series of doodles. Originally, the series was a book entitled Doug's Got a New Pair of Shoes, which Jinkins pieced together along with writer Joe Aaron. When he showed the rough draft to Nickelodeon executives, it instead became a TV series. The series premiere aired on Nickelodeon on August 11th, 1991, and ran for four seasons on station, airing it's final episode on January 2nd, 1994. The show was rebranded Disney's Doug, and began airing new episodes with a new voice cast on ABC on September 7th, 1996. The show's series finale aired on June 26th, 1999. On March 26th, 1999, the full length film Doug's 1st Movie was released.
Reception
Doug earned a score of 7.7 on IMDB.[7] The show was nominated for two Daytime Emmys for Outstanding Animated Program in 1992 and 1993. It won three Kid's Choice Awards in 1992, 1993 and 1995 for Favorite Cartoon. Disney's Doug earned a score of 6.1 on IMDB.[8] The show was also nominated for two Daytime Emmy's in 1999 and 2000.
Race Question
On August 11th, 2011, Buzzfeed[18] published an article titled "Is Doug Funnie a Racist?" which features a Facebook group Why the Fuck Does Doug Funnie Only Mack on White Chicks?[19] The group explains that because Doug is only interested in one white girl, Patti Mayonnaise, out of all the multicolored girls in his school, he must be racist. On May 30th, 2013, Jezebel[19] published an article titled "Why Was Doug from Doug White When Everyone Else Was Multicolored?" The article explored the fact the creators made a conscious decision to make their character multicolored to promote diversity, but made the main character white to connect him to wealthier, white viewers. The following day The Huffington Post[20] covered the issue in an article titled "Was 'Doug' And Its Central Character Doug Funnie Racist?"
Online Presence
Amazon Prime members can stream the first four seasons of Doug online.
Fandom
As of May 2014, DeviantArt[12] has over 44,000 fan art submissions tagged Doug. Much of the Doug fandom focuses on '90s nostalgia, particularly '90s Nicktoons. As of May 2014, the Facebook page for the '90s Nicktoon programming block, The '90s Are All That[14] has over 1.3 million likes. Many websites have published articles about their affection for the show, including Buzzfeed[15] and RetroJunk.[16]
Related Memes
Honk Honk!/Doug comic
Honk Honk!/Doug Comic is the name given to a particular set of panels from a fan-made Doug comic. In it, Doug's best friend, Skeeter Valentine, gives him some bad news concerning a fling with Patti Mayonnaise, before ending his otherwise-serious conversation with his signature "Honk honk!" The exploitable scene has led to countless mutations.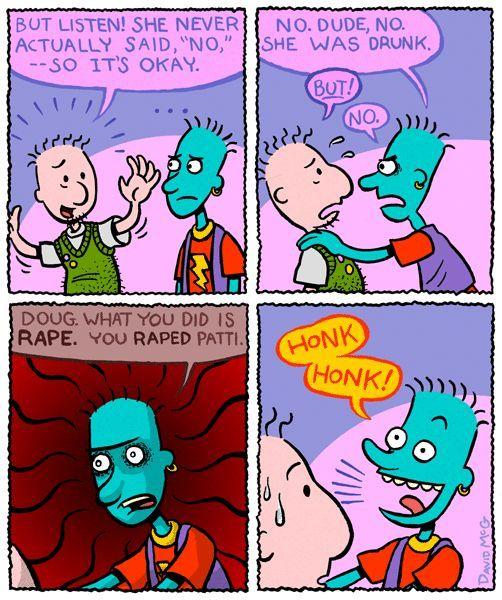 Success Doug
On February 7th, 2012, the Facebook page[9] for The '90s Are All That, a block of Nickelodeon programming that aired classic '90s shows like Doug posted an album of an advice animal image macro called Success Doug, which features Doug drinking a milkshake with captions describing instances when things had turned out improbably in his favor. The meme was reported on by Buzzfeed[10] and TheFW.[11]
@DougEpisodes
On May 9th, 2014, Twitter account Doug Episodes[5] sent out its first tweet. The parody account tweets fictional Doug episode titles and summaries. Some of the summaries poke fun at the simplicity of the show by creating almost no conflict, while some are NSFW, and thus obviously not part of a children's show. On May 20th, 2014, Buzzfeed[6] published a post on the account. As of May 20th, the account has more than 4,000 followers.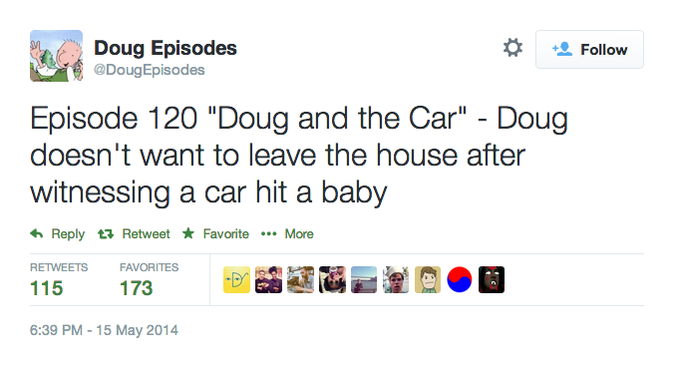 Search Insights
External References
Facebook Comments