PROTIP: Press 'i' to view the image gallery, 'v' to view the video gallery, or 'r' to view a random entry.
This entry has been rejected due to incompleteness or lack of notability.
To dispute this DEADPOOL flagging, please provide suggestions for how this entry can be improved, or request editorship to help maintain this entry.

About
Upset Asian Friend is a rage comic-style contour drawing of an asian man frowning.The image is typically used as a reaction face to convey a dejected attitude towards someone else's comment.
Origin
The drawing is based on a photo of some asian man taken in or around New Jersey sometime in 2012. On March 6th 2012 this new incredible meme was submitted to a little known website called Know Your Meme[1] and it took off from there.
The original photo has been found on 3/14/12 on facebook. This asian guy goes by the name of Dave and has a rather large following on twitter.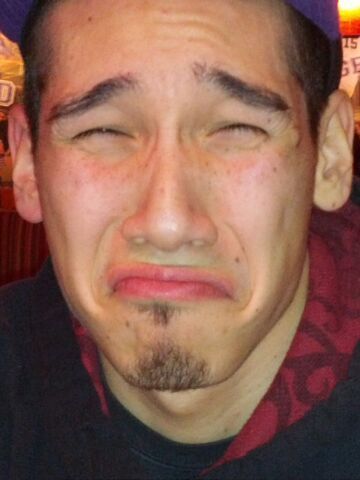 The facial reaction was caused by the rumor of someone stealing his car, which he loves extremely. He held this face for over 20 minutes before he was able to see if his car had actually been stolen or not.
Spread
Sometime in March 2012 the Upset Asian Friend was included in a rage template image post on Memebase[2] it then went viral and spread to other websites such as Funnyjunk[3] and Tumblr.[4]
Search Interest
External References
[1]Know Your Meme – Know Your Meme
Recent Videos
There are no videos currently available.
Facebook Comments