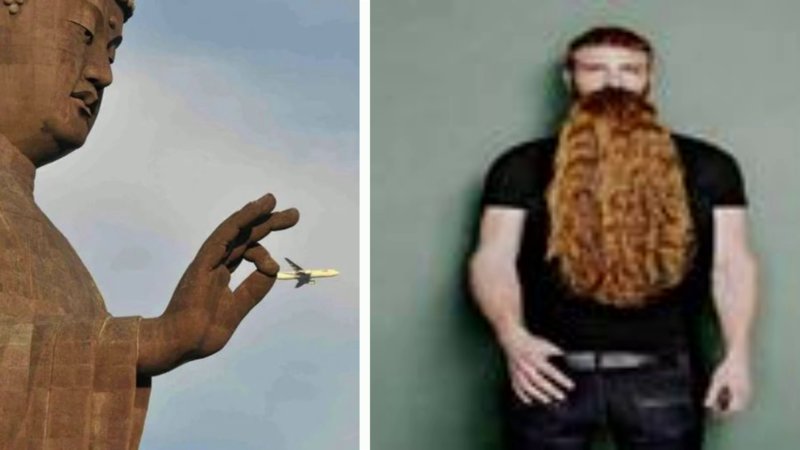 15 Optical Illusions To Test Your Brain
If you're a fan of mind-bending optical illusions, then you've got to check out Reddit's "Confusing Perspective" subreddit. This online community is dedicated to images that will make you do a double-take and question your perception of reality. The subreddit features all kinds of pictures that play tricks on your mind. You might see a photo of someone holding up the Eiffel Tower, or a picture of a giant cat towering over a city skyline. Or maybe you'll come across an image of a person standing on a beach, with the waves appearing to crash over their head.
But perhaps the best part of /r/confusingperspective is the way it challenges your assumptions about how the world works. You might see a photo of a road that appears to be going uphill, or a picture of a person seemingly standing on the ceiling. And of course, there's always someone in the comments section explaining the science behind the illusion. In short, if you're looking for a fun and mind-bending way to kill some time, head on over to /r/confusingperspective and prepare to have your perception of reality turned on its head. Just don't blame us if you start questioning everything you see afterwards.
Gotcha.
The airplane has to apologize to Buddha so he'll let go.
Bird's eye view.
Does this count as seafood?
Imagine having a billion-dollar yacht for dinner.
Just a dog grabbing a drink.
Hat when it happens.
Big cats.
Road or beach?
That ain't no beard.
Look close, he's just hugging someone.
Getting some love.
Look closely.
Interstellar-type road.
Look twice!
Height advantage
Tree-mendous afro.
So excited for a bin?
Hope the bin is worth it.