What Is The 'You, Artist!' Drawing Trend? The Penguins From 'Madagascar' Anti-Memes Explained
An image of a penguin pointing to the camera saying, "You, artist!" is being shared widely on animation and drawing circles on the internet. The meme began as a way to prompt artists to show their art processes, but evolved into increasingly cryptic in-jokes. Here's the larger history behind the meme that features Skipper from the 2005 film Madagascar and the Penguins of Madagascar.

Where Does The Penguin Pointing Meme Come From?
The image of Skipper the penguin saying something to the effect of "You!" stems from a scene in the movie Madagascar, released in 2005 and created by Dreamworks Animation. The meme was originally called, "You, higher mammal!" as seen in the film when Skipper the penguin calls out to a monkey (seen below).
The image quickly became a meme where penguins asked the reader questions with You, higher mammal! as the precursor.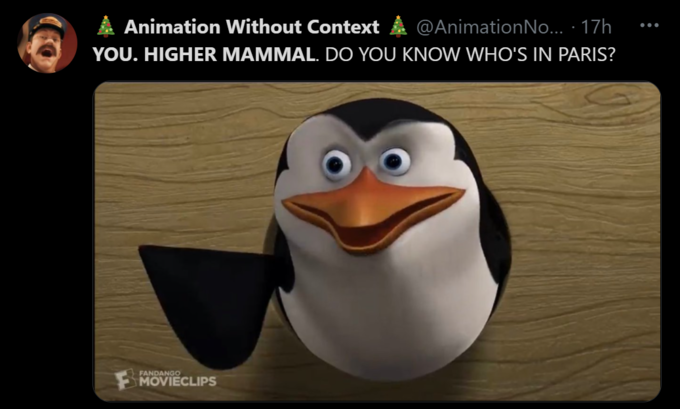 Where Did The 'You, Artist!' Meme Come From?
The "You, artist!" meme started in March 2023 when someone used the image to say, "WHAT'S YOUR FAVORITE THING IN YOUR ART PROCESS?" People spitballed with the format for consecutive weeks, asking other visual artists about their process as well.


But artists on Twitter love their gags, and they were not satisfied with sincere responses about form and process. People began making anti-memes using the format, muting Skipper entirely or ironically threatening the artist reading the message.


What Are Variations Of The 'You, Artist' Meme?
Some other iterations of the "You, artist" meme involved referencing the specific art style or pieces of media artists draw from, or commenting on the nature of the platform they share their work on. Other memes just found ways to ironically refer to the format itself.






---
For the full history of the "You, artist!" mene, be sure to check out our entry on it here for even more information.