This submission is currently being researched & evaluated!
You can help confirm this entry by contributing facts, media, and other evidence of notability and mutation.
About
You, Higher Mammal is an exploitable scene from the 2005 DreamWorks film Madagascar in which a penguin asks a "higher mammal" to perform a task. In edits, the task the penguin asks to be completed is changed.
Origin
In the original scene (shown below), the penguins find themselves on a cargo ship in a marked wooden box. Unable to read the markings, they ask the chimpanzee in the cage next to them if it knows how to read. The chimpanzee replies that he can't, but Phil could and calls for him. Phil is asked to read the box and responds using sign language that the other chimpanzee could understand.
Spread
On September 11th, 2020, Sheldon_Sempai posted an edit of the scene to Twitter titled "learning anime fighting game inputs". This edit has Phil decipher fighting game commands for Guilty Gear, which has Order-Sol perform Dragon Install.
learning anime fighting game inputs pic.twitter.com/QPbRgk3dFc

— King Of Fools (@Sheldon_Sempai) September 11, 2020
The meme would later see use in image macros which saw the penguin asking for various tasks to be completed. For example, Tumblr user linkyu[1] posted a Jojo's Bizarre Adventure edit that gained over 7,000 notes (shown below, left). Others used the meme as a snowclone. For example, user @AnimationNoContext[2] posted a meme asking "Do you know who's in paris," gaining over 3,000 retweets and 29,000 likes (shown below, right).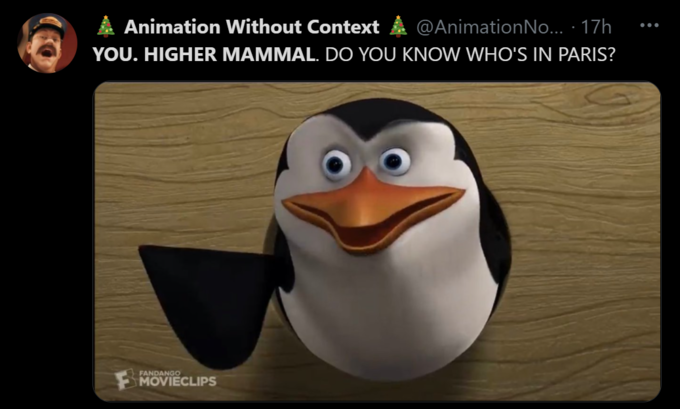 Various Examples






Search Interest
Unavailable
External References
[1] Tumblr – "Linkyu:"https://linkyu.tumblr.com/post/670174652486795264/original-tweet-by-pitosh2137
[2] Twitter – @AnimationNoCont